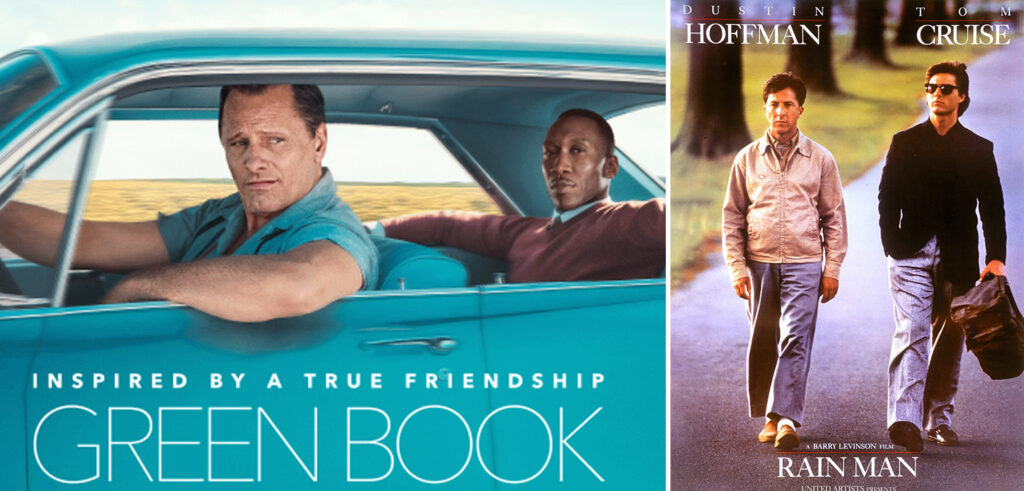 Because July and August are big travel times—especially after so many vacations got canceled last year—Lycoming Critic's Corner this month takes up the venerable category "road movies."
Here are 12 such stories—6+6, in honor of America's legendary Route 66, from Chicago to L.A.
Almost Famous (2000)
Cameron Crowe landed a well-deserved Oscar for his screenplay to this comical charmer about an 11-year-old prodigy who wheedles his way into a writing assignment for Rolling Stone magazine. Said gig has young William traveling round the country with the fictitious rock band Stillwater, pursued by anxious phone calls from his tough-talking mother (Frances McDormand). This acclaimed film co-stars Kate Hudson, Anna Paquin, Billy Crudup and (briefly) Philip Seymour Hoffman; Jimmy Fallon is almost unrecognizable in an early role.
Rated R for language and sexuality.
Chef (2014)
The accomplished actor-director Jon Favreau ("Iron Man I" and "II," plus the live-action "Jungle Book" & "Lion King") doesn't always write his own films. But he took up the pen for this winsome winner about a talented chef who has a public meltdown and thereafter hits the road in a food truck in order to lie low for a while; and then this trip—from Florida to L.A.—winds up enabling Chef Carl (Favreau) to reconnect with his pre-teen son.
Laced with luscious food footage and a tasty soundtrack, "Chef" is a bona fide crowd-pleaser. Co-starring Scarlett Johansson, John Leguizamo, Oliver Platt, Dustin Hoffman, Sofia Vergara and in a terrific cameo, Robert Downey Jr.
Rated R for language.
Green Book (2018)
Winner of the Academy Award for Best Picture, this sleeper fires on every cylinder. Loosely based on actual events, it stars Viggo Mortensen as a burly and somewhat bigoted nightclub bouncer hired to drive a black pianist on a concert tour of the American South—in 1962, at the very height of the civil rights era.
Equal parts buddy movie, travelogue, musical tribute, nostalgia piece and indictment of racism, "Book" features an Oscar-winning performance from Mahershala Ali as pianist Don Shirley. (His playing, however, was done by keyboard virtuoso Kris Bowers, whose hands were spliced into Ali's concert footage.)
Rated PG-13 for racial epithets, some language and mature subject matter.
Harry and Tonto (1974)
After entertaining generations as Ed Norton on TV's "The Honeymooners," Art Carney grabbed a late-career Oscar playing Harry Coombes—a role turned down by Cary Grant, James Cagney and Laurence Olivier. Harry's an aging widower who, forced to vacate his Manhattan apartment, hits the road with his cat, dropping in on his three children and also connecting with a cross-cultural cast of kooky characters.
Directed by Paul Mazursky ("An Unmarried Woman," "Moscow on the Hudson"), the film is wistful, funny and utterly without an agenda—except to paint a portrait of mid-seventies America … and maybe make us fall in love with Harry too.
Rated R for language, and brief nudity & sexuality.
It Happened One Night (1934)
Starring Clark Gable and Claudette Colbert, the screwball rom-com concerns a ditzy heiress (Colbert) fleeing home to reach her new husband, whom she has married against the wishes of her very wealthy father. Boarding a Greyhound, Ellie meets up with an apparently unscrupulous reporter (Gable), who promises help and secrecy—if he can later have exclusive access to her story. But while the two don't hit it off at first, of course they eventually fall in love—with some complications!
This Frank Capra classic is one of only three films to win all five major Academy Awards: Actor, Actress, Director, Script and Picture (the other two are "One Flew Over the Cuckoo's Nest" and "Silence of the Lambs").
Not rated.
Midnight Run (1988)
This quintessential buddy movie was a major box-office hit, pairing Robert De Niro and Charles Grodin as, respectively, a low-rent bounty-hunter and his latest quarry, a big-time embezzler who turns out to be more scrupulous than we first thought.
Directed by Martin Brest ("Beverly Hills Cop"), "Run" is not only very funny but also loaded with exciting action; and Grodin—who passed away in May after a long career—steals virtually every scene he's in.
Co-starring Yaphet Kotto, Dennis Farina and a young Joe Pantoliano.
Rated R for pervasive language.
The Peanut Butter Falcon (2019)
Louisiana backwaters stand in for "the road" in this sleeper that unites two misfits—a troubled petty thief named Tyler (Shia LaBeouf) plus a stout & stalwart lad with Down syndrome (Zack Gottshagen) who has fled his institution with only a pair of tighty-whities. And get this: Zak's goal is to reach his personal hero, a professional wrestler nicknamed the Salt Water Redneck—so he too can take up a grappling career! Meanwhile, the pair is joined by a kindly staffer who'd like to return Zak (Dakota Johnson)—and two vicious thugs are also coming after Tyler. The cast is excellent, highlighted by an irresistible Gottshagen—who met the filmmakers at an acting camp and insisted they make a movie about him.
Which they did.
Rated PG-13 for language.
Pee-Wee's Big Adventure (1985)
Pee-wee Herman was a surprise TV hit with his quirky "Playhouse" program in the eighties—which led to this offbeat road movie, an early score for director Tim Burton. Here the inimitable Pee-wee—an overgrown child with a gurgling voice and inexplicable wardrobe—pursues his stolen bicycle all the way to Texas … because a fake psychic told him he would find it in the basement at the Alamo!
With a foretaste of Burton's typically idiosyncratic visuals, "Big Adventure" also offers many priceless scenes and unforgettable characters … especially "Large Marge."
Nuff said.
Rated PG.
A Perfect World (1993)
Kevin Costner is sensational in this lesser-known triumph from director Clint Eastwood and writer John Lee Hancock ("The Blind Side," "The Highwaymen," "Saving Mr. Banks").
Set in 1963, "World" focuses on Butch Haynes, a career criminal who, after escaping from jail, takes a preteen boy as hostage; but like young Phillip, we can see that Haynes is not all bad, and this gripping crime thriller shortly morphs into an equally gripping road movie as Haynes takes the fatherless child under his wing.
Eastwood co-stars as a Texas Ranger in pursuit, with help from a criminologist (Laura Dern) and a cocky sharpshooter (Bradley Whitford).
Along with its solid cast and script, the film boasts gorgeous production design by the legendary Henry Bumstead ("The Sting," "To Kill a Mockingbird," "Vertigo," "Unforgiven")—plus a fine musical score that effectively keeps quoting "How Great Thou Art."
Rated PG-13 for language, violence and sexuality.
Planes, Trains and Automobiles (1987)
No list like mine would be complete without this beloved John Hughes comedy starring Steve Martin and John Candy as mismatched travelers suffering through every on-the-road mishap imaginable. While the film is not perfect, it does feature countless classic scenes involving pillows, shower-curtain rings, a chipper rental-car clerk and a pregnant woman in a pick-up truck. It's also one of Candy's most winning performances.
Watch for an early cameo from Kevin Bacon.
Rated R for language.
Rain Main (1988)
If you, like me, have friends who do not care for Tom Cruise, this four-time Oscar-winner just might change their minds.
Cruise plays Charlie Babbitt, a fast-talking hotshot who suddenly discovers he has an older brother; their wealthy father has died and left nearly everything to that other sibling, an autistic savant whose rigid routine wreaks havoc with Charlie's attempts to get him back across the country in their regal 1949 Buick Roadmaster. Things get slightly out of hand when the boys hit Vegas and Charlie discovers his brother's uncanny ability to count cards.
Dustin Hoffman won Best Actor playing the older Babbitt, while the film itself also took Best Director, Best Screenplay and Best Picture.
Rated R for language, and brief nudity & sexuality.
Road to Perdition (2002)
This neglected masterpiece is my ultimate "best movie you never saw," a galvanizing crime drama in which Tom Hanks is cast against type—as a Depression-era hitman.
Hanks's Mike Sullivan works for mob-boss John Rooney (Paul Newman), head of a Capone-related syndicate near Chicago. When Sullivan's 12-year-old son accidentally witnesses a hit, the syndicate goes after his family, forcing Sullivan and son to take to the road—where they become 20th-century Robin Hoods, vengefully nailing banks in which Capone stashes dirty money.
Everything about this film is top-notch: direction by Sam Mendes ("American Beauty," "Skyfall," "1917" ); meticulous period detail; a dandy score by the brilliant Thomas Newman (just look up his résumé sometime); and then there's that cast: Hanks, Newman, Jude Law, Daniel Craig, Ciaran Hinds, Dylan Baker, Jennifer Jason Leigh, Stanley Tucci … and, as the boy, a young Tyler Hoechlin—later more famous for TV's "Teen Wolf" and "Supergirl."
Topping it all off is Oscar-winning cinematography by lensing legend Conrad Hall. You won't soon see finer photography anywhere.
And you won't soon see a better film than this one, either.
Rated R for some violence.
Happy travels!