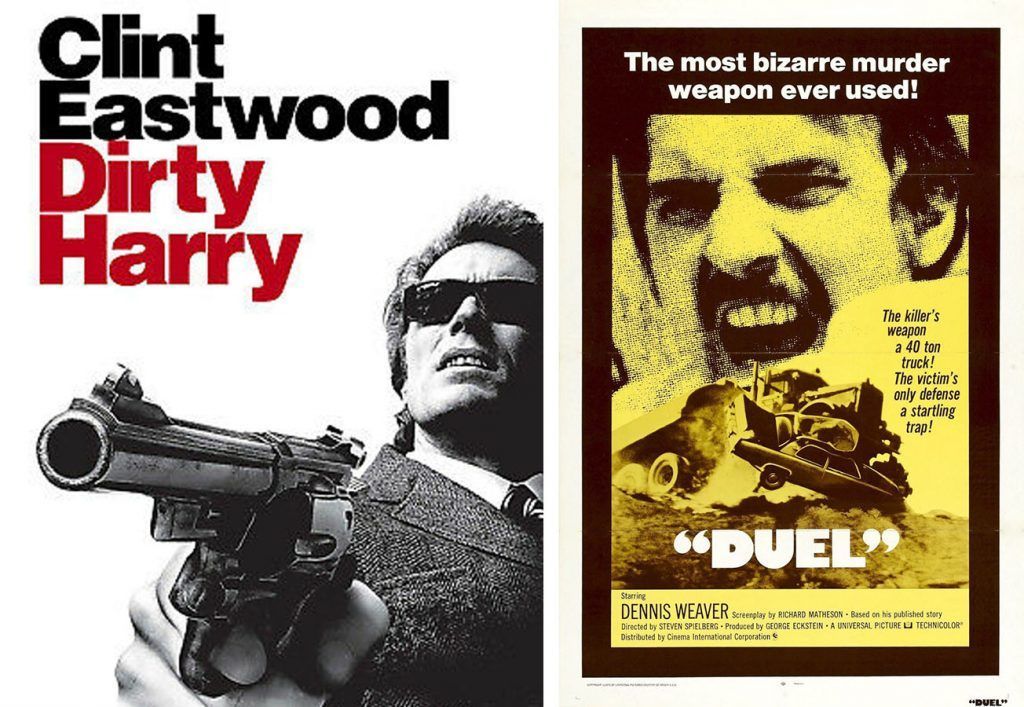 Quick, think of some classic movies over the past several decades: goodies from the 1960s, 1970s, 1980s and 1990s … maybe even a few gems from the new millennium.
Does one particular decade stand out?
If you're like me, it's the 1970s, which sometimes feels like a miniature "Golden Age" for Hollywood productions:
"Chinatown," "Network," "Jaws," "Manhattan," "The Taking of Pelham 123," "Five Easy Pieces," both "Godfather" films and "One Flew Over the Cuckoo's Nest" — to name just a few. It really is an impressive list.
So with all that in mind, Lycoming Critic's Corner took a look back at 1971 to see what was happening on screen exactly five decades ago.
Quite a lot, as it turns out!
While "Fiddler on the Roof" was the top box-office draw that year, '71 also marked the directorial debut of three Hollywood giants: Clint Eastwood, George Lucas and Steven Spielberg.
Eastwood — already a major star in front of the camera — directed himself and Jessica Walter in the expert chiller "Play Misty for Me," notching strong reviews and solid receipts. (Walter, best known for her later work in TV's "Arrested Development," passed away last month at the age of 80.)
On the whole, it was a watershed year for Eastwood, whose smash-hit "Dirty Harry" landed in the top 10, kicking off a five-film franchise that ran all the way up to 1988. That first Harry Callahan actioner was directed not by Eastwood but by the veteran Don Siegel ("Invasion of the Body Snatchers"); remarkably, Seigel had earlier in '71 overseen Eastwood in yet another fine thriller: "The Beguiled." Remade with a strong cast in 2017, "Beguiled" focuses on an injured Union soldier in the Civil War who is being sheltered at an all-girl school in Mississippi. Seigel's version is a terrific under-the-radar chestnut!
Likewise stepping behind the camera for his first feature was George Lucas — who bowed with the lesser-known sci-fi piece "THX 1138." Lucas, of course, would shortly thereafter found the "Star Wars" empire with "A New Hope" in 1977.
His first film's alpha-numeric title is referenced in several "Star Wars" movies and also shows up as a license plate in Lucas's subsequent film — 1973's nostalgia hit "American Graffiti," which in turn helped launch the popular TV series "Happy Days."
As for Spielberg, he actually made his directorial debut on television.
Baby Boomers like me may recall ABC's Tuesday night "Movie of the Week," which offered nifty made-for-TV features in a 90-minute time slot. In 1971, this venue produced the beloved "Brian's Song," with James Caan and Billy Dee Williams as real-life Chicago Bears Brian Piccolo and Gale Sayers — as well as the animated gem "The Point!" With a marvelous soundtrack of Harry Nilsson hits (including "Me and My Arrow"), the latter film was originally narrated by Dustin Hoffman, whose voiceover was eventually replaced by Ringo Starr and then by Alan Thicke. (The Thicke version is available free on YouTube.)
Best of all, in November of that year, "Movie of the Week" gave us Steven Spielberg's first full-length film: his nail-biting "Duel," starring Dennis Weaver as a mild-mannered motorist being harassed by a murderous trucker on a lonesome desert highway.
1971 likewise cemented the reputation of American directors Peter Bogdanovich, Robert Altman and William Friedkin, who that year gave us, respectively, "The Last Picture Show," "McCabe and Mrs. Miller" and "The French Connection" — the latter taking Oscars for Best Picture, Best Director and Best Actor. And '71 also marked the first feature-length Monty Python film, a collection of uproarious TV sketches appropriately titled "And Now for Something Completely Different."
(Likewise emerging in the cinematic forefront was Stanley Kubrick with "A Clockwork Orange," though Lycoming Critic's Corner finds it hard to recommend that gloatingly sadistic feature.)
Other classics from the same year include "Willy Wonka and the Chocolate Factory," "Klute," "Carnal Knowledge," Woody Allen's "Bananas" and the relevant-as-ever virus thriller "Andromeda Strain."
And finally, three lesser-known notables from '71:
"The Omega Man," second of three different movies based Richard Matheson's classic sci-fi novel "I Am Legend"; while by no means a great film, "Omega" did feature a ground-breaking interracial love affair between Charlton Heston and Rosalind Cash
Monte Hellman's existential "Two-Lane Blacktop," a cult-fave car-chase caper starring Warren Oates; an unusual movie with a truly surreal ending, it is perhaps most notable for starring two major figures from pop music: the Beach Boys' Dennis Wilson and singer-songwriter James Taylor. But this film belongs to the wonderful Oates, of whom critic Leonard Maltin wrote that his performance here "is about as good as you'll ever see"
The unjustly neglected "Fools' Parade," a late-career triumph for James Stewart as a Depression-era ex-con drawing unwanted attention for a large cash-payment he's carrying from his many years of work in jail; with a fine supporting cast (George Kennedy, Strother Martin, Anne Baxter and a young Kurt Russell), "Parade" was long unavailable but is currently free on YouTube.
In conclusion, it's worth noting that 1971's debut directors are still going strong: "Star Wars" continues to generate successful spin-offs, while Eastwood is finishing the neo-Western "Cry Macho" and Spielberg has just wrapped a remake of "West Side Story."
---
Smith is a local author, speaker and teacher; his latest book is "The Best Movies You Never Saw: 300 Under-the-Radar Films That Were Overlooked, Unjustly Trashed or Just Plain Terrific." He can be reached at robbwhitefan@gmail.com.