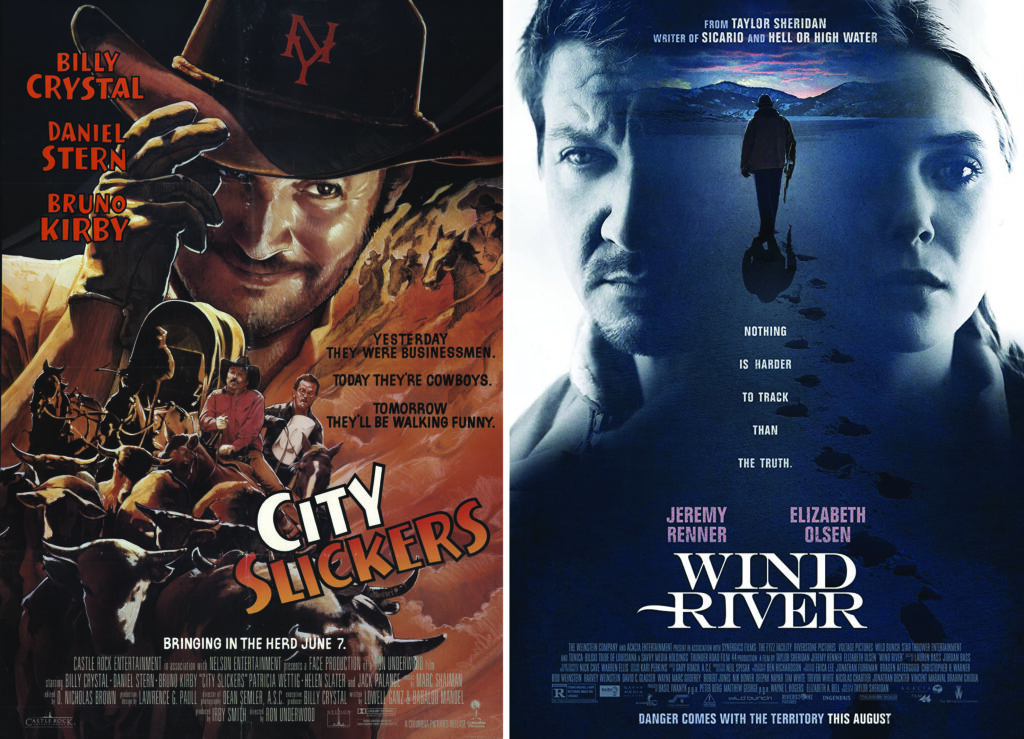 Despite such masterworks as "Gran Torino," "Richard Jewell" and "Changeling," Clint Eastwood is still perhaps best known for the Westerns he either starred in or directed (or both).
Eastwood's latest, "Cry Macho," is a "neo-Western"—that is, one that has common themes and tropes from the genre but is set in modern times.
In honor of that new title from the beloved actor-director, here are 10 other neo-Westerns at are all worthwhile.
(Note: Except for "Let Him Go" and "Perfect World," which both take place in the 1960s, all titles here are set in the era in which they were made.)
BAD DAY AT BLACK ROCK (1955)
Spencer Tracy's John J. Macreedy debarks from a Southern Pacific streamliner at the titular desert town—and walks right into more than he bargained for in seeking a Japanese farmer named Komoko. "Bad Day" is a brief, bracing, bare-bones tale of bigotry, heroism, patience, complicity and redemption—with strong direction by the veteran John Sturges ("The Magnificent Seven," "The Great Escape," "Ice Station Zebra"). Top-notch support from Walter Brennan, Robert Ryan, Lee Marvin, Ernest Borgnine and Anne Francis.
81 min. Not rated.
CITY SLICKERS (1991)
This Billy Crystal comedy won an Oscar for Golden Age supporting stalwart Jack Palance—who famously ripped out several one-armed push-ups while accepting his statue.
Palance plays Curly, hardened trail-hand on a modern-day cattle drive designed to give urban middle-agers a taste of cowboy life. But when this trek goes awry, the pampered slickers have to man up fast, mixing action and excitement with the laughs. (My favorite lines include the one about Picasso—and Crystal's short prayer regarding Curly.)
Cast includes Daniel Stern, Bruno Kirby, Helen Slater, Patricia Wettig and Jeffrey Tambor.
113 min. Rated PG-13 for language and sexuality.
HELL OR HIGH WATER (2016)
Deservedly nominated for four Academy Awards—including Best Picture—this galvanizing crime drama concerns Texas brothers who embark on a series of low-rent bank robberies in an effort to save their foundering family ranch. Chris Pine and Ben Foster play the bandits, with Gil Rodriguez and Jeff Bridges as lawmen in pursuit.
Bridges was Oscar-nominated, along with the talented writer Taylor Sheridan ("Sicario," TV's "Yellowstone" and the below-mentioned "Wind River").
102 min. Rated PG-13 for language, violence and overt sexuality.
HOLES (2003)
Though it offers only a few Western elements—including a comical cowboy wannabe played by Jon Voight—this adaption of Louis Sachar's young-adult novel is one of my all-time favorite movies.
"Holes" has a dizzying jigsaw plot with about five different strands that all come together in breath-taking fashion at the end. Its backbone is the palindromic Stanley Yelnats (Shia LaBeouf), a teen sent to juvie bootcamp, where the worthless warden has kids digging holes in the desert all day; she and they are seeking buried treasure with roots that reach into nearly every character's past.
Terrific cast includes Sigourney Weaver, Tim Blake Nelson, Dule Hill, Patricia Arquette, Henry Winkler—and the redoubtable Eartha Kitt as Madame Zeroni.
117 min. Rated PG; pretty family friendly.
LET HIM GO (2020)
Another spell-binding crime drama—this one with Kevin Costner and Diane Lane as grieving parents who set out to rescue their grandson from an abusive clan in remote North Dakota. Suspense is keen, with a shattering climax; but what's strongest here is the portrait of a husband utterly committed to his bull-headed wife, willing to follow her to the gates of hell—because he knows she simply cannot be dissuaded.
113 min. Rated R for graphic violence.
LONELY ARE THE BRAVE (1962)
Kirk Douglas plays a jail-breaking (but good-hearted) cowboy pursued across mountain and desert by local police in this first-rate thriller.
Highlights include stunning black-and-white photography; terrific music by young Jerry Goldsmith; incredible stunt work from Douglas himself, bravely wrestling his horse ("Whisky") up steep, crumbling cliffs; and a cast to die for:
Walter Matthau as a pursuing sheriff with a grudging admiration for his quarry; William Schallert; George Kennedy; Gena Rowlands; a pre-All in the Family Carroll O'Connor; an uncredited Bill Bixby; and Bill Raisch as a one-armed fighter. (Raisch went on to play a similarly crippled nemesis in TV's "The Fugitive.")
Exciting and literate script by Dalton Trumbo—one of the famous "Hollywood Ten" who were blacklisted after refusing to testify before the House Un-American Activities Committee. (Two years before "Brave," Douglas helped end the blacklist by insisting Trumbo get credit for "Spartacus.")
Douglas always considered this one of his finest—though he was chagrined that many viewers preferred the horse.
"Whisky sold the picture," insisted the mighty star—who outlived nearly everyone else from Hollywood's Golden Age, passing away in 2020 at the age of 103.
107 min. Not rated.
LONE STAR (1996)
My favorite film from maverick writer-director John Sayles, best known for idiosyncratic indies such as "Return of the Secaucus 7," "Matewan" and "Eight Men Out."
Sayles's mid-career masterpiece features a rare lead role for Chris Cooper—one of our finest living actors—as Texas border-town sheriff Sam Deeds. In the midst of nearly a dozen story-strands, Sam stumbles upon evidence implicating his own late father—essentially a local legend—in a long-ago murder.
No plot summary could do justice to the tapestry Sayles weaves around this core, except to stress that much of it arrives unexpectedly—and that everything remains quite clear, despite multiple characters and narrative shifts.
Excellent cast includes Matthew McConaughey, Kris Kristofferson, Clifton James, and, in a small role, Frances McDormand.
135 min. Rated R for language, violence and sexuality.
A PERFECT WORLD (1993)
Though it stars Clint Eastwood as a Texas Ranger, "Perfect World" is really less a Western than a crime thriller; and a road movie; and a coming-of-age tale.
Kevin Costner does first-rate work as an escaped convict fleeing with a fatherless boy as hostage—then slowly growing fond of the lad, who likewise takes to this unlikely father figure.
Directed by Eastwood, it features Laura Dern and a young Bradley Whitford, plus peerless period detail from veteran art director Henry Bumstead ("To Kill a Mockingbird," "The Sting," "Vertigo," "Unforgiven"). Best of all is its exciting script by the reliable John Lee Hancock, who worked on "The Rookie," "Saving Mr. Banks," "The Blind Side" and Netflix's "The Highwaymen."
That's a sterling resume, and this is one of Eastwood's best—understandably tapped by film journal "Cahiers du cinema" as the finest film of 1993.
138 min. Rated PG-13 for violence, language and sexuality.
THE RIDER (2017)
Quiet, slow and fairly downbeat, "The Rider" is nonetheless an uplifting portrait of living with brokenness. It's the little-seen bio of rodeo-rider Brady Jandreau, who fought his way back to hope after a near-fatal injury in the ring.
Jandreau plays himself, joined by his real-life father and comically opinionated autistic sister; I cannot recall any other film with such a touching, tender and truthful portrait of autism. Directed by Chloe Zhao, who went on to win an Oscar for 2020's "Nomadland."
Jandreau, incidentally, is fully Lakota Sioux—which makes him both a cowboy and an Indian.
Whoa.
104 min. Rated R for language and drug use.
WIND RIVER (2017)
"Wind River" stars Jeremy Renner as a conservation officer helping an FBI agent (Elizabeth Olsen) investigate a young woman's death on a desolate Indian Reservation in Wyoming.
Turns out Renner's hero is also a crack shot who picks off coyotes and cougars preying on local livestock; and he had a daughter who long ago died in much the same way as the principal victim here. Plus, he's an expert at reading tracks and clues—not to mention piloting a snowmobile at death-defying speeds.
Written and directed by Taylor Sheridan (see "Hell or High Water," above), this beautifully acted, utterly gripping thriller features a dandy late-film time shift and a dazzling climax. My favorite film that year.
107 min. Rated R for language, violence and a fairly graphic rape.