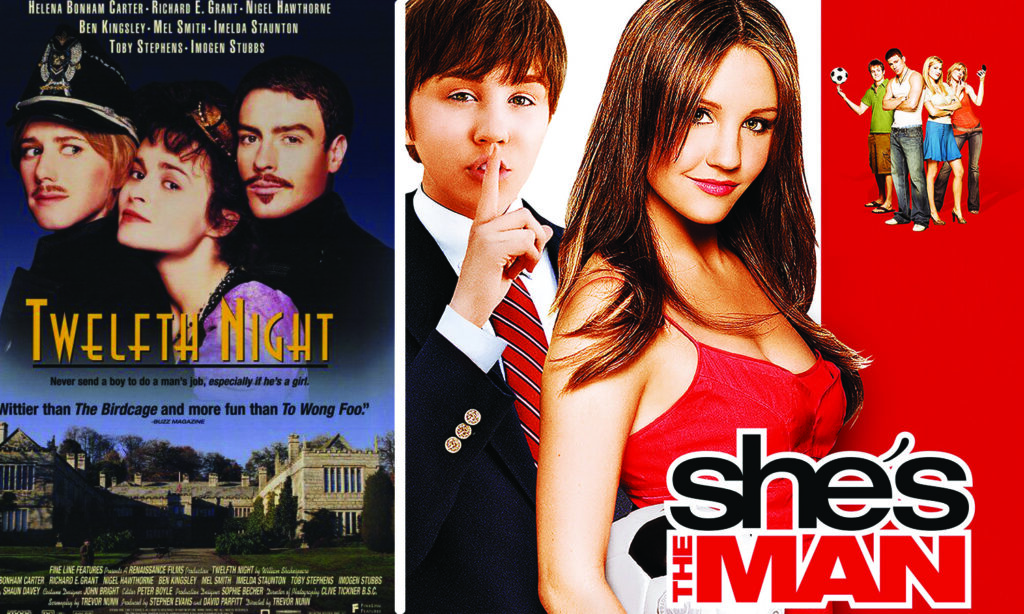 "Some are born great, some achieve greatness, and some have greatness thrust upon them."
 This famous quote from Shakespeare's "Twelfth Night" is nicely borne out by many available versions of the Bard's beloved late-career comedy.
To some degree, these diverse productions are all "born great," because Shakespeare's original multi-strand story is so rich, so funny and so painful—staunchly standing the test of time after more than four centuries.
Some achieve greatness through terrific direction, casting and music, while others have greatness thrust upon them as fan-faves of the play … or of certain actors.
No doubt Williamsport's Studio 570 seeks all three paths to greatness in its current staging, with six performances of "Twelfth Night" Sept. 16-19.
In honor of this local production, Lycoming Critic's Corner presents a few worthy versions of the play—all readily available for viewing. And for the very first time, it is LCC's pleasure to offer one blurb (the fourth below) by a guest writer—Studio 570 founder and producing artistic director Jared Whitford.
"TWELFTH NIGHT or WHAT YOU WILL" (1997, live at Lincoln Center)
Free on YouTube, this dazzling live production features Helen Hunt, Kyra Sedgwick, Philip Bosco and Paul Rudd, among many others.
Sedgwick is a bit shrill—though that may be an effect of live performance, which doesn't always translate well to electronic media. Rudd is a revelation as Orsino, looking pretty buff as he slips into the chest-deep swimming pool that figures prominently onstage; this actor is always so pleasant and self-effacing, I never imagined he could play the sort of irritating narcissist that he develops so swiftly from the character as written.
Max Wright is uproarious as the dim-witted Andrew; thanks largely to his stellar work, the production itself is often laugh-out-loud funny.
And for Hunt devotees, this staging is a dream come true: It showcases the actress's glowing passion and comedic chops while her hapless Viola, disguised as a man, falls in unrequited love with Orsino—and then becomes the romantic obsession of a woman who thinks Viola is male.
And that's just part of Shakespeare's insanely complicated plot.
Fans of the play should not miss this one; just search "Twelfth Night Lincoln Center" on YouTube.
168 min. (in two parts). Not rated.
 "TWELFTH NIGHT" (1992, animated)
One of 12 animated shorts adapted from Shakespeare for British TV in the early 1990s, this enchanting little gem manages to capture all the magic, romance and wonder of the play in a mere 26 minutes of stop-motion animation. The voice cast features Fiona Shaw and (as Viola's twin) a fine Hugh Grant. Makes a nice introduction to the Bard for kids.
Other titles in the series include "Romeo and Juliet," "Hamlet," "Taming of the Shrew," "Richard III," "The Tempest," "Julius Caesar," "Midsummer Night's Dream" and "The Winter's Tale." Episode intros were handled by Robin Williams when they aired in the U.S. on HBO.
Happily, most of these are available free online; just google the title and "animated short."
26 min. Not rated; very family friendly.
"SHE'S THE MAN" (2006, feature film)
Modernizations of Shakespeare have been popular for decades; two of my favorites are "Men of Respect" (1991), a galvanizing Brooklyn-gangster update of "Macbeth"; and "10 Things I Hate About You" (1991), a snappy and very funny teen-age take on "Taming of the Shrew"—starring Heath Ledger, Julia Stiles, Joseph Gordon-Levitt and Allison Janney.
From the writing team that gave us "10 Things" comes "She's the Man," a winsome high-school version of "Twelfth Night," with Amanda Bynes as a young lady disguising herself as her own twin brother to secure a place on an all-male soccer team. The ever-appealing Bynes is well cast here, swiftly snagging our sympathy while also engaging her ample skills at slapstick shenanigans.
"Man" features a few nice touches paying tribute to the source (including the "greatness" speech) and a solid cast, including Julie Hagerty, David Cross and a then-largely-unknown Channing Tatum, who was cast at Bynes's insistence.
105 min. Rated PG-13.
"TWELFTH NIGHT" (2018, filmed live)
When choosing material to perform, especially Shakespeare, I watch as many productions as I can get my hands on. Luckily, with my Broadway HD subscription through Amazon Prime, I fell upon the 2018 filmed live production of the Royal Shakespeare Company's production of "Twelfth Night."
The costumes, the set, THIS cast—it is a must-see for any Shakespeare aficionado. I was swept away with the fast-paced visual feast. The film had a new breath to the text; it felt very contemporary, with a touch of the past. Would recommend to anyone who is wanting to expand their Shakespearean knowledge.
141 min. Not rated.
"TWELFTH NIGHT" (1996 feature film)
Alternately titled "What You Will," "Twelfth Night" almost qualifies as one of the Bard's "Problem Plays"—something like "Measure for Measure" or "All's Well That Ends Well," billed as comedies but featuring unresolved troubles that really aren't very funny. Written late in life, when the author was churning out such tragic titles as "Othello," "Lear" and "Hamlet," "Twelfth Night" is truly comical—but toward the end it turns somewhat dark, with a pair of pranks getting painfully out of hand, several characters left in the lurch and at least one plot point still firmly up in the air.
This fabulous 1996 version, directed by stage veteran Trevor Nunn, captures that heady blend of humor and sadness with a first-rate cast including Helena Bonham Carter, Imogen Stubbs, Imelda Staunton, Nigel Hawthorne and Toby Stephens.
Nicholas Farrell is perfect as the loyal Antonio—and Richard E. Grant, perhaps best known for a brief role in the final "Star Wars" film, is both likable and sad-eyed as Sir Andrew. But the biggest surprise here is Ben Kingsley, having a riot playing the jester while perfectly bald and not looking very much like a clown.

Shakespeare's text contains lyrics to several songs, for which each production must write its own tunes. The versions in this film are particularly strong; when Kingsley's Feste trots out the last few stanzas while winking at the camera against windswept cliffs above the sea, it's a moment that, for me, is just about perfect.
 134 min. Rated PG.
Studio 570's live staging is directed by Ashley Larson. It stars Elizabeth Rebeck, Nick Buckman, Sam Griffith, Pete Zerbe, Eric Tuller, Brad Heffner, Lauri Rintelman, Sierra Barnes, Beau Schemery and four kids sharing the role of Feste: Jovina Fox, Luci Fox, Alex Zerbe and Amelia Zerbe.
The show runs at 140 West Fourth St., 8 p.m. Sept. 16-18, with 2 p.m. matinees on Sept. 18 and 19, plus a final 6 p.m. show on the 19th.
Tickets are available at studio570.theater.