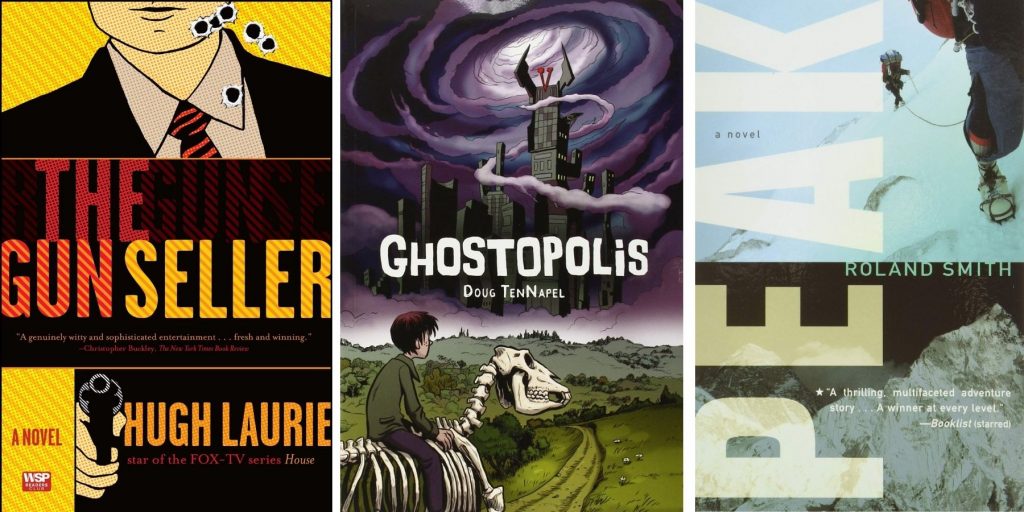 Although this space generally deals with cinema, the imminent approach of summer always makes Lycoming Critic's Corner start recommending books—particularly if certain worthy picks have never actually been made into a film.
So as folks now consider vacations they were not able to take last year, LCC presents—instead of films—a list of great summer reads that have not made it to the big screen (or in some cases—not yet!).
CROOKED LETTER, CROOKED LETTER, Tom Franklin
A galvanizing Southern drama addressing race, guilt, friendship and redemption, "Crooked" centers on long-ago high-school chums Larry and Silas—and a young woman's unsolved disappearance that tragically drove them apart. The likable Larry has lived under a cloud of suspicion ever since, though we can see from the outset that he couldn't possibly have done it; then things get even uglier when another woman disappears 20 years later—and Silas, now the town sheriff, must re-enter Larry's life to investigate.
CUTTING FOR STONE, Abraham Verghese
A sprawling masterpiece ranging from India to Addis Ababa to Los Angeles, "Stone" focuses on abandoned twin boys who wind up in love with the same girl. Verghese is a distinguished physician, and his gripping, often graphic story has the two men helping many patients through disease and deformity, while also grappling with a ruinous family legacy—not to mention the brutal Ethiopian civil war. If Dickens had lived in the 20th century, he might have written "Cutting for Stone"—that's how good it is.
DEAD SILENCE, Randy Wayne White
The best-selling White, author of 27 thrillers about marine biologist and retired NSA agent Marion "Doc" Ford, is my go-to writer for beach reading. Set in an evocatively rendered seaside locale around Florida's Sanibel Island, this popular series combines gorgeous writing, nuggets of hard-won wisdom and page-turning plots. "Dead Silence" is the best of the 19 I've read—and frankly, I can't wait to plow through several more this summer!
ESCAPE UNDER THE FOREVER SKY, Eve Yohalem
Glorious young-adult adventure about the kidnapping and subsequent escape into the wilderness of one Lucy Hoffman, teenage daughter of a U.S. Ambassador in Ethiopia. Loosely based on actual events—including Lucy's astounding encounter with a trio of wild lions—this is a perfect pick for reluctant young readers.
FIRE UNDERGROUND, David DeKok
As a reporter for the Shamokin News-Item, DeKok filed more than 500 stories about the decades-long coal fire that famously turned the village of Centralia into a ghost town. "Fire Underground" distills those years of research into a gripping and at times infuriating tale of danger, devastation and governmental cluelessness.
GHOSTOPOLIS, Doug TenNapel
A wildly imaginative graphic novel, this sci-fi extravaganza boasts TenNapel's typically inventive drawings, plus an otherworldly plot involving ghosts, romance, terminal illness, mystery, megalomania, comedy and a compelling Christ figure—the gentle-giant Tuskegee airman named Joe. One of my all-time favorite books, this is great stuff for kids—and it is in development as a film, with Hugh Jackman currently attached.
THE GIRL FROM THE SEA OF CORTEZ, Peter Benchley
Benchley, of course, is most famous for the classic summer blockbuster "Jaws"—but I like this better; it's the enchanting, carefully researched and often fiercely suspenseful tale of young Paloma and her friendship with a massive and mysterious manta ray in the Gulf of California.
THE GUN SELLER, Hugh Laurie
Yes, THAT Hugh Laurie—star of TV's "House" and more than two dozen movies; three-time Golden-Globe winner; and a multi-instrumentalist with two blues albums to his credit. Oh yeah, and he can also turn out a crackerjack spy thriller—like this beautifully written tale of a former Scots Guard who lurches into a labyrinthine international conspiracy. If you can imagine Douglas Adams and P. G. Wodehouse teaming up on espionage, you might get something like "The Gun Seller"—though I'm not sure the gentlemanly Wodehouse would've included quite so many F-bombs.
A HIGHER CALL, Adam Makos
Montoursville native Adam Makos wrote this galvanizing true-life account of a damaged B-17 and a Messerschmitt fighter that met over the skies of Europe in 1943. As the shot-up Allied craft limped homeward—with a visibly wounded crew—German ace Franz Stigler simply could not bring himself to shoot down his enemies. I won't say more about this jaw-dropping story, which brought me to tears more than once—especially during its denouement roughly 50 years later. Makos followed "Higher Call" with other nonfiction bestsellers, including 2019's equally incredible "Spearhead," about the first Pershing tank to enter combat in World War II.
PEAK, Roland Smith
Another page-turning young-adult adventure that's a terrific choice for reluctant teen readers. Smith's dazzling narrative recounts an attempt by its 14-year-old protagonist to become the youngest person ever to summit Everest. Heartfelt, thrilling and meticulously researched, the popular "Peak" was followed by three sequels; fans might also wish to sample some of Smith's 40+ other books.
THE PENDERWICKS, Jeanne Birdsall
Winner of the National Book Award, this is the delightful first volume in the five-book series about its titular family: widowed father and four growing girls—a brood which grows considerably through the equally excellent sequels. Subtitled "A Summer Tale of Four Sisters, Two Rabbits and a Very Interesting Boy," this tasty debut takes the family on a lovely New England vacation, blending a modern setting with an old-fashioned sensibility that will have readers checking the copyright to see if it came from the same era as "Little Women" or "Anne of Green Gables." It certainly belongs on the same shelf!
RED MARS, Kim Stanley Robinson
My all-time favorite sci-fi novel, this is a sprawling saga about the colonization of Mars—equal parts adventure, science, speculation, character study and breath-taking excitement. First in an impressive tetralogy, followed by "Green Mars," "Blue Mars" and 2000's "The Martians." Sure would make a great movie!
RIFLES FOR WATIE, Harold Keith
One final young-adult gem, in this case centered on a Civil War-era lad from Kansas. Sixteen-year-old Jefferson Davis Bussey joins the Union Army and winds up deputed to serve as a spy by joining the Confederate forces—where he learns that these alleged "enemies" are just ordinary men like himself. This Newbery-winner has a little of everything: combat action, family drama, young love, period detail, effective comedy, a little-known historical episode (Stand Watie and his repeating rifles)—plus a very lovable dog near the end. Another of my all-time favorite books!
A THOUSAND SPLENDID SUNS, Khaled Hosseini
Hosseini rocketed to fame with his 2003 debut "The Kite Runner"; but he says this more intricate tale was harder to write. Set in Afghanistan just as the Taliban was coming to power, it's the story of Mariam and Laila, both married to the cruel and much older Rasheed—and struggling in a society that has institutionalized the oppression of women. At times painfully brutal, "Suns" nonetheless holds out transcendent hope. A film is currently in the works, with a script by Steve Zaillian ("Awakenings," "Mission: Impossible," "Schindler's List").
THE UNDOMESTIC GODDESS, Sophie Kinsella
While my list is chock-full of adventure and young-adult choices, I just had to include one piece of genuine chick-lit—and I can't think of a better pick than this rollicking romance from the author of the popular "Shopaholic" books. "Goddess" focuses on a London lady lawyer who makes a costly mistake at her firm and flees to the British countryside, where she inadvertently hires on as a housekeeper and cook—even though she can scarcely tell a platter from a placemat. Like the Shopaholic series, it's more than a little ridiculous—but also really funny. And romantic.
Happy reading!
---
Smith is a local writer, speaker and teacher whose latest book, "The Best Movies You Never Saw," is available at Amazon. He can be reached at robbwhitefan@gmail.com.