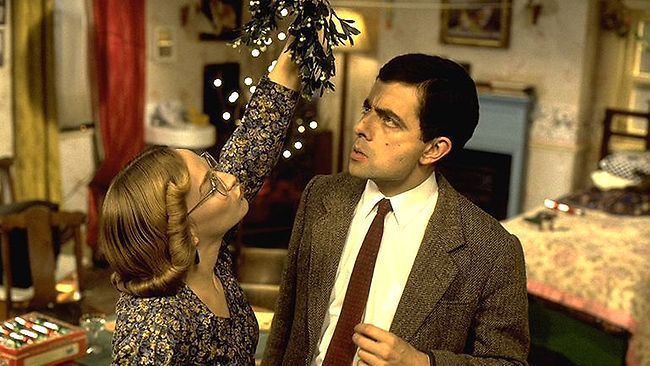 Your favorite On the Pulse movie critic is currently penning a book about under-the-radar movies (The Best Movies You Never Saw, due in 2020); so in this cinematically-crowded holiday season, the latest installment of Lycoming Critic's Corner presents a handful of lesser-known Christmas chestnuts for your viewing pleasure:
THE HOLIDAY (2006)
Writer-director Nancy Meyers has made some irresistible films — including 1998's "Parent Trap," which catapulted Lindsay Lohan to stardom; and 2003's hilarious "Something's Gotta Give," successfully teaming Jack Nicholson, Diane Keaton and Keanu Reeves.
"The Holiday" is not as well known — and that's a shame. Like those others, it leaves you floating on a cloud: in this case, a cloud of wintry, pine-scented, candle-lit snowflakes.
Kate Winslet and Cameron Diaz star as Iris and Amanda, two hurting women who live on opposite sides of the planet. Hailing respectively from London and L.A., they swap homes one winter in order to get away from guys, guy problems and specifically the guys who've made them miserable.
Needless to say, this backfires in spectacular fashion.
Iris meets Amanda's co-worker, played by Jack Black, while Amanda bumps into Iris's handsome but apparently roguish brother (Jude Law). So, yeah: Winslet, Diaz, Black and Law — a cast to die for; to which you can add Edward Norton, Rufus Sewell (as Iris's appallingly scum-baggy crush) and 90-year-old scene-stealer Eli Wallach.
At 138 minutes, this is one long romantic comedy; but there's plenty of plot to fill that out, and the ending is a joy. Earlier moments of equal delight include some belated appreciation for Wallach's washed-up writer. And watch out for the emotional flash-flood with Sophie and Olivia in their tent; you can scarcely believe what a wallop this scene packs.
If you've never watched "The Holiday," put it beneath your tree this Christmas.
Or better yet … under the mistletoe.
PREP AND LANDING (2009)
"Prep & Landing," a terrific 22-minute animated gem, plays like the Pixar short you never heard of.
And indeed, except for some behind-the-scenes work from Pixar guru John Lasseter, the film doesn't feature any well-known names either in its cast or its technical credits; but, as overseen by Disney Animation, it looks splendid — and the story is a joy.
Wayne the elf is a 227-year North Pole employee whose job is to go ahead of Santa prepping houses for his arrival. One year, passed over for a promotion and paired with a good-hearted rookie, Wayne decides to slack off on one home — with nearly disastrous results.
Followed by two sequels — "Operation: Secret Santa" in 2010 and "Naughty vs. Nice" in 2011 — "Prep" is loaded with heart and soul; it also boasts a sleigh-full of references to other holiday classics! The complete list of these at Wikipedia will make you want to watch it again.
As if you didn't already.
JOYEUX NOEL (2005)
By now, most folks know of the famed "Christmas truce" during World War I — when troops from both sides not only observed a ceasefire but even crossed trenches to exchange greetings, food, carols, sports and in some cases, prisoners.
Many Baby Boomers first learned of this when Paul McCartney recounted it in his 1983 hit "Pipes of Peace."
Perhaps fewer viewers are aware of this wonderful French film that memorialized the historic event. To some degree, "Joyeux Noel" (English title, "Merry Christmas") fictionalizes the episode — though the Reich did in fact send a leading Berlin tenor to the front lines to sing for the troops, generating applause from French soldiers as well as Germans.
This handsome and inspirational feature was Oscar-nominated for Best Foreign Film. Its cast includes Daniel Bruhl, Diane Kruger and Ian Richardson.
Christmas viewers should be advised that "Joyeux Noel" does not shy away from the ugliness of war; but for me, that just makes its message of peace all the more poignant and powerful.
A CHRISTMAS CAROL (1999)
Charles Dickens's beloved 1843 story has been adapted literally hundreds of times, generating stage shows, operas, radio broadcasts, graphic novels and book sequels — along with dozens of TV and film versions starring everyone from Michael Caine and George C. Scott to Fred Flintstone, Bill Murray and Mr. Magoo.
This lovely, lesser-known iteration allowed the talented Patrick Stewart to adapt his successful one-man stage show for TNT — and it's amazingly faithful to the Dickens text. It also boasts solid performances, especially from veteran character actor Richard E. Grant as Bob Cratchit.
The computer graphics look a bit cheesy (let's face it, this was 20 years ago!); but this 1999 rendering manages to incorporate much of Dickens's prose in the form of dialog (even the famous "dead as a doornail"). It also includes several rarely filmed scenes from the book: the second ghost's visit to a lighthouse and ship, plus the couple — Scrooge's debtors — seen briefly rejoicing over their creditor's death.
Fun fact: That key moment with the couple also finds its way into the splendid 2009 Jim Carrey version — which Dickens's great-great-grandson, doing his annual one-man reading at Lewisburg's Country Cupboard, told me face to face was a favorite version of his.
ARTHUR CHRISTMAS (2011)
"Arthur Christmas" is a Santa Claus tale for the 21st century, with St. Nick's global operation gone high-tech: a massive invisible aircraft, an army of elves working with internet-era speed—plus a dizzying array of computers, technicians and view-screens coordinating everything back at the Pole.
On one particular Christmas Eve, just as Santa is grooming his no-nonsense older son to take over the family business, Mr. & Mrs. Claus's younger boy — a kindly klutz named Arthur — discovers that one present somehow failed to reach its intended child; rousting his irascible grandfather out of retirement, Arthur also enlists a lovable elf, an old-fashioned sleigh and an ancient reindeer to help get the gift to its rightful owner.
In this way, "Arthur" feels both futuristic and nostalgic at the same time. Its winning blend of action, comedy and good cheer should already have placed it on many lists of holiday faves.
Strong vocal cast includes James McAvoy, Hugh Laurie, Jim Broadbent, Imelda Staunton, Laura Linney, Eva Longoria, Michael Palin, Robbie Coltrane, Andy Serkis and Dominic West.
The only negative here is that the film engages in the usual ridiculous deification of Santa, with Arthur dubbing him "the greatest man ever" — twice!
It seems to me that this description might be more fittingly applied to Someone Else — especially at Christmas time.
MERRY CHRISTMAS, MR. BEAN (1992)
If you don't know Rowan Atkinson or his paralyzingly funny bumbling boob from the eponymous British TV show, this short Christmas episode is a good place to start.
It's one uproarious gag after another, starting with Bean deconstructing a department-store manger display, continuing as he leads a Christmas band through a jazzy rendition of "God Rest Ye Merry, Gentlemen" and finishing up with the holiday-dinner mishap to end all mishaps — of which I will only say, put down your drink so you don't choke with laughter; I'm not kidding.
There isn't much Christmas sentiment in this madcap farce, but Bean's side-splitting antics make a breezy breather at this busy and bustling time of year.
DR. SEUSS' THE GRINCH (2018)
I guess any film that made half a billion dollars worldwide hardly qualifies as "under the radar." But I sense folks have already forgotten about this computer-animated winner from last year — the third screen version of Dr. Seuss' beloved book about the titular grouch and his attempt to steal Christmas from the good-hearted village of Whoville.
With its lead voiced by Benedict Cumberbatch, the movie stumbles somewhat in ditching many of Seuss' carefully composed rhymes, substituting more straightforward voice-over by the capable Pharrell Williams. So no, it's not as good as the peerless 1966 TV version directed by Chuck Jones and narrated by inimitable Boris Karloff.
But it gives its love-to-hate misanthrope a compelling backstory; and — together with a larger role for little Cindy Lou Who — presents its viewers a fine seasonal message about how much we need each other … and how Christmas, perhaps, doesn't come from a sleigh.
Here's hoping your hearts grow three sizes that day.
---
Smith is a writer, speaker and teacher in Central Pa. His latest book is "Transparency: A Cure for Hypocrisy in the Modern Church." You can learn more about him and his work at josephwsmithiii.com.