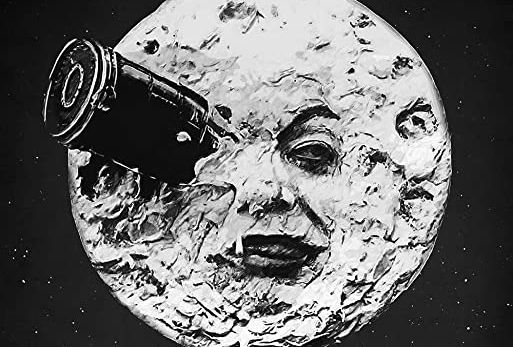 The favorite movie venue of Lycoming Critic's Corner — Lewisburg's lovely Campus Theatre — is closed right now due to the pandemic.
But you can still support the Campus by renting streamed movies through its website — or if you attend "Movies by Moonlight."
This free set of outdoor screenings runs Monday nights at 7:30 through Sept. 28 — with such classics as "Shrek," "Jurassic Park" and "Field of Dreams" showing in Lewisburg's Hufnagle Park.
And in case that's not enough to scratch your cinematic itch: In honor of this cool new series, here are eight worthy viewing selections with "moon" in the title (one for each phase of our faithful satellite).
A TRIP TO THE MOON (1902)
Utilizing chronological order, this legendary silent comes first on my list. It was overseen by cinematic pioneer Georges Melies, perhaps best known to modern viewers from the Ben Kingsley character in Martin Scorsese's "Hugo" (2011).
Loosely based on two lunar tales by Jules Verne, it now seems terribly dated; yet with this landmark short, Melies blazed the trail for such standard techniques as multiple exposures, the tracking shot, dissolves and the substitution splice — not to mention narrative story-telling on film. He even had some prints tinted with color!
Available in its entirety on YouTube, "Trip" narrates a bizarre expedition in which the moon is discovered to have mushrooms, volcanoes, snow flurries and arguably the most outlandish race of alien beings ever to appear on screen. After this surreal piece of cinematic lunacy, you may need a little oxygen — which the top-hatted, umbrella-bearing "astronauts" apparently didn't.
13 min. Not rated.
BY THE LIGHT OF THE SILVERY MOON (1953)
Sequel to 1951's similarly beloved "On Moonlight Bay," this colorful Golden Age musical stars Doris Day as Margaret Winfield, a small-town tomboy fumbling her way toward marriage with a handsome neighbor (Gordon MacRae) who just got back from World War I. Like many musicals, it's sometimes silly and doesn't have much plot — at least not until the second hour, when a misunderstanding about Dad threatens to ruin several relationships.
Day was nearly 31 when she took on the role of a gal barely out of high school; but the actress pulls it off in her usual winsome way — with excellent help not only from MacRae (star of "Oklahoma" and "Carousel"), but also Leon Ames, Mary Wickes and Billy Gray. 
The latter plays Margaret's younger bro, who among other things wants to save the family turkey from its late-November fate — making this a decent Thanksgiving-movie pick.
108 min. Not rated.
PAPER MOON (1973)
In the early 1970s, Peter Bogdanovich was one of the hottest directors on earth.
Having made the cult-classic "Targets" (1968), the Oscar-feted "Last Picture Show" (1971) and the uproarious screwball farce "What's Up, Doc?" (1972), the filmmaker again struck gold with this Depression-era comedy starring real-life father and daughter Ryan and Tatum O'Neal.
Fresh off his own recent success in "Love Story," Ryan plays con-man Moses Pray, who agrees to transport a young orphan (Tatum) to an aunt — though it seems likely Moze is actually her father.
When she turns out to be just as good a trickster as he (maybe better), the two go into business together, also falling in with a flashy floozie (Madeline Kahn) and her black maid.
Filmed in luscious black-and-white by Laszlo Kovacs (one of the finest lensmen in the business), "Paper Moon" scored an Academy Award for Tatum, making her the youngest ever to win a competitive Oscar.
102 min. Rated PG for language and sexuality.
MOONLIGHTING (1985-89)
Just before the "Die Hard" franchise kicked off in 1988, this popular TV show propelled Bruce Willis to stardom, even as it revived the floundering career of movie actress Cybill Shepherd. She plays a former model who partners with a slacker private detective (Willis) on Blue Moon Investigations, where the pair squabble their way through a variety of mysteries even as they are clearly falling in love.
The 66-episode series is stronger in its earlier seasons, as later installments suffered due to Shepherd's new motherhood (twins) and Willis's burgeoning film career. But the show eventually did rope in an impressive array of guest stars, including Orson Welles, Eva Marie Saint, Paul Sorvino, Whoopi Goldberg, Demi Moore and John Goodman — along with Ray Charles, Peter Bogdanovich and Dr. Joyce Brothers, all playing themselves.
THE MAN IN THE MOON (1991)
If you're a Reese Witherspoon fan, don't miss this absolutely wonderful sleeper — the actress's debut, which she made at the tender age of 15.
Reese plays Dani Trant, a tomboy growing up with her sister and parents (Sam Waterston, Tess Harper) on a Louisiana farm in the 1950s.
Carefree but romantic, Dani falls hard for a handsome neighbor (17-year-old Court Foster, played by an impressive Jason London); things get interesting when Court also takes a shine to Dani — until he meets her older, prettier sister.
Director Robert Mulligan seems to have a knack for coming-of-age tales with a nostalgic setting, as he mastered the milieu in this film, "Summer of '42," and of course "To Kill a Mockingbird."
99 min. PG-13 for brief nudity, sexuality and some language.
MOON (2009)
When Sam Rockwell took an Oscar for "Three Billboards Outside Ebbing, Missouri," it was recognition long overdue. The astoundingly consistent actor should at least have been nominated for this excellent sci-fi mindbender about the lone attendant coming to the end of his three-year stint at a lunar mining facility — and apparently coming to the end of his wits as well. As technical glitches have prevented him from live contact with Earth, the poor man suddenly starts seeing other people on the base — including an alternate version of himself.
Kevin Spacey — voicing a robotic manservant — is listed in the cast (along with eight other actors); but, excluding videos and flashbacks, no one else ever actually appears on screen with Rockwell.
Except Rockwell.
97 min. Rated R for language and some gore.
MOONRISE KINGDOM (2012)
For me, this is the most thoroughly charming film from idiosyncratic writer-director Wes Anderson ("Royal Tenenbaums," "Grand Budapest Hotel"). Though it does frontline Anderson's usual quirky characters and self-conscious visuals, it's also the heart-warming story of two teen misfits who run off together, resulting in a massive manhunt on the fictitious "Island of Penzance" — and a tender if somewhat oddball romance.
Like most of Anderson's work, "Moonrise" features a cast to die for: Bruce Willis, Frances McDormand, Tilda Swinton, Jason Schwartzman, Edward Norton, Bob Balaban, Harvey Keitel, Lucas Hedges and Bill Murray. Phew!
But it's actually the two youngsters — newbies Kara Hayward and Jared Gilman — who impart that lunar radiance to this winner.
And if you wind up thinking maybe Anderson has some sort of antagonism toward canine characters — well, his later "Isle of Dogs" is an answer. (Say that title out loud and it turns into a sentence.)
94 min. Rated PG-13 for some sexuality and violence.
MAGIC IN THE MOONLIGHT (2014) 
Set in 1928, his good-not-great Woody Allen film is of interest principally because we get to watch two acting champs play off each other: Colin Firth and Emma Stone. Because of that, it mostly works — with help from lovely production design, handsome photography and a decent plot in which Firth's skeptical illusionist (who refuses to believe in anything supernatural) is asked to debunk an apparently talented mentalist (Stone).
Film clearly wants to explore and affirm Allen's publicly avowed atheism; and yet, like so much of the writer-director's work, it cannot quite dispense with the notion that there must be some greater spiritual component to human existence and relationships.
97 min. Rated PG-13 for drinking, smoking and mild sexuality.
And finally, in case readers wonder about omissions here: I can't personally recommend the Oscar-magnets "Moonstruck" (which won Cher Best Actress) or "Moonlight" (which took Best Picture); regarding those titles, let's just say I wasn't exactly over the moon.
---
Smith is a local writer, teacher and speaker. His fourth book, "The Best Movies You Never Saw," is available at Amazon. For more information, visit josephwsmithiii.com, or write to robbwhitefan@gmail.com.