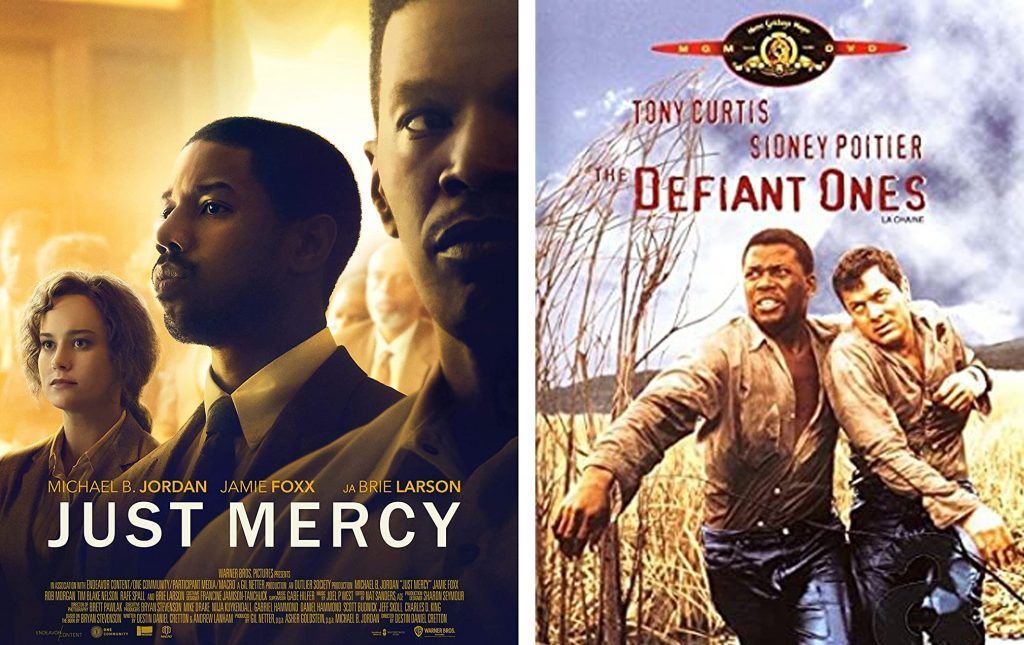 One reason Lycoming Critic's Corner loves movies is their power to heal: to make us think; to challenge assumptions and biases; to hold out hope; to show us both the horrors of life and what we can do to soften these — or get rid of them altogether.
So at this moment of cultural crisis, here are 10 films promoting racial harmony:
The Defiant Ones (1958)
Silver-screen icon Tony Curtis—just about the handsomest guy who ever came out of Hollywood—took a gamble by playing a dislikable racist who has to reevaluate his stance when he escapes from jail handcuffed to a black man. In a rare double-nod for one film, both Curtis and Sidney Poitier were Oscar-nominated for Best Actor, and this popular drama nailed six other noms as well—including screenplay, director and picture.
42 (2013)
There was an earlier film about Jackie Robinson that starred the aging athlete himself; but this enthralling biopic—starring Chadwick Boseman and Harrison Ford—nails it all: the era's stomach-churning bigotry; Jackie's astounding fortitude in the midst of so much anguish and hate; and especially the way most of his teammates rallied round the legendary hero. After the famous moment in Cincinnati with Pee Wee Reese, I concluded that sometimes, there really IS crying in baseball.
Belle (2013)
Incredible true story of England's Dido Elizabeth Belle. Illegitimate daughter of an African slave and an 18th-century British admiral, Dido was raised a free gentlewoman in the upper-class household of her uncle, William Murray; and then, as England's Lord Chief Justice at the time, Murray presided over a notorious court case involving slavery. Not just a story about race, this beautifully acted film also covers young love and sibling rivalry. With Gugu Mbatha-Raw, Tom Wilkinson, Emily Watson and Matthew Goode.
The Best of Enemies (2019)
Set in 1971, this inspiring true story relates how a North Carolina civil rights activist and a local Ku Klux Klan leader learned to cooperate after a disastrous public-school fire. Poignancy is heightened by the man's disabled, institutionalized son (to whom he is devoted); by Taraji P. Henson and Sam Rockwell in the lead roles; and by closing-credit footage of the real-life pair fighting together for civil rights.
Crash (2004)
Never mind the controversy over how this galvanizing urban drama beat "Brokeback Mountain" to the 2005 Oscar for Best Picture. With its to-die-for cast and carefully interconnected, multi-strand plot, this really was the better movie. Starring Matt Dillon, Ryan Phillippe, Terrence Howard, Thandie Newton, Sandra Bullock, Brendan Fraser, Michael Pena, Jennifer Esposito, Tony Danza, Don Cheadle and Chris "Ludacris" Bridges.
A United Kingdom (2016)
Lesser-known true story of Seretse Khama, heir to the throne of Botswana, and Ruth Williams, a British white woman. Meeting in post-World War II London, the pair fall in love and marry, precipitating a crisis on two continents. Beautifully acted by David Oyelowo ("Selma") and Rosamund Pike ("Gone Girl").
Grand Canyon (1991)
Kind of a "'Crash'-lite," with a fine ensemble cast, plus first-rate writing and direction from Lawrence Kasdan, who worked on several "Star Wars" films along with his own "Big Chill" and "Body Heat." Kevin Kline and Danny Glover play L.A. men from opposite sides of the track who strike up a friendship that both challenges and heals. Co-starring Mary McDonnell, Mary-Louise Parker, Alfre Woodard and Steve Martin.
In the Heat of the Night (1967)
Searing crime drama in which a seasoned Philadelphia detective (Poitier again) inadvertently wanders into a murder investigation in a racially charged Mississippi town. One of mainstream Hollywood's finest products, this is a virtually perfect film: dynamite acting (Rod Steiger won an Oscar as the sharp-tongued white sheriff); terrific cinematography; score by the legendary Quincy Jones (with title tune sung by Ray Charles!); and a crackerjack murder mystery with a very unexpected solution.
Green Book (2018)
Another Best-Picture winner—and another film loosely based on a true story. Mahershala Ali—taking a second consecutive Supporting-Actor Oscar—plays pianist Don Shirley, who plans a risky concert tour through the South in 1962. His bodyguard will be the somewhat dim-witted blue-collar driver Frank Vallelonga, played to perfection by Viggo Mortensen. While it really stretches the facts, and also veers toward the "white savior" stereotype, "Green Book" is very funny—and let's face it: Frank has a lot to learn from Shirley, too.
Just Mercy (2019)
Though it doesn't specifically address racial harmony, this gripping courtroom drama is so insanely relevant right now that its distributors are streaming it free across several platforms. Michael B. Jordan plays real-life lawyer Bryan Stevenson, who works to overturn the unjust murder conviction of an Alabama lumberjack (Jamie Foxx). Directed by Destin Daniel Cretton ("Room," "The Glass Castle"), it features stellar performances all around, with an exceptional Tim Blake Nelson. I can't imagine why this masterpiece wasn't nominated for a pile of Oscars. What's especially amazing (and ironic) is that it takes place in Monroeville, Alabama—birthplace of Harper Lee and inspiration for her novel "To Kill a Mockingbird." This isn't quite as good as that; but it's pretty dang close.
---
Smith is a local teacher, speaker and author. His fourth book, "The Best Movies You Never Saw," is due out this summer. For more information, contact Joe at robbwhitefan@gmail.com