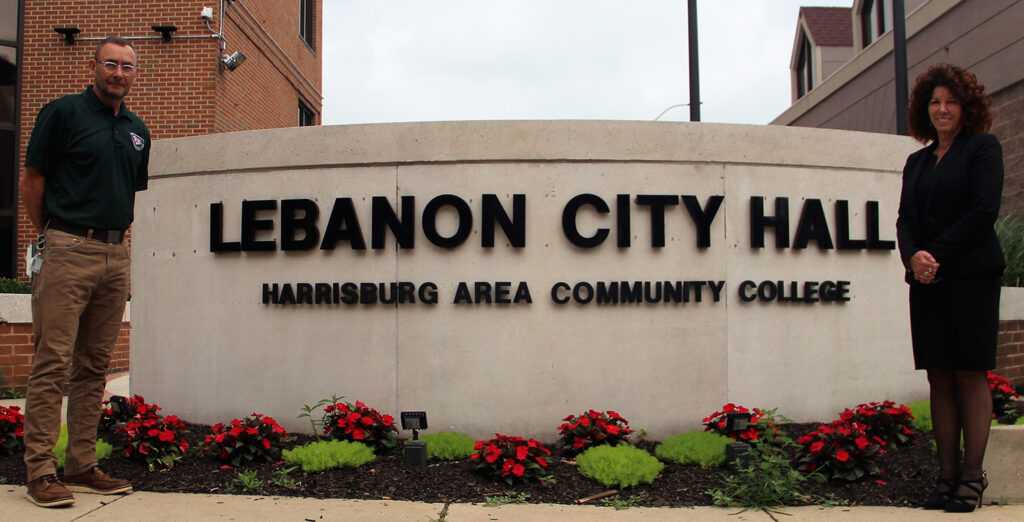 LEBANON – More than two months have passed since the city of Lebanon officially moved its headquarters and government offices downtown. And while it still feels fresh, the full impact of the move won't be realized for years to come.
The move was a city's shared vision brought to life through one woman's leadership and execution. But the truly inspirational element to the whole chain of events revolves around a community rallying around that leadership and coming together to make the hypothetical move a reality.
"Most cities have city halls downtown," said Lebanon Mayor Sherry Capello. "It was the perfect storm. It was like all these moving pieces came together. We had a lot of people who believed in the vision. It's very satisfying. I'm so, so grateful people believed in it."
In early May, the city of Lebanon relocated its offices from the courthouse at 400 S. Eighth St. four blocks north to 735 Cumberland St., the long-time home of Harrisburg Area Community College. The city purchased the three-floor, 66,000-square foot building from HACC and became the local community college's landlord.
The cost of the project, including sale and renovations, exceeded $6.5 million, a sum which was largely offset by grants and the sale of assets, according to Capello.
"It ended up being a win-win-win for everyone," said Capello. "We all got what we needed. There's more room. It's better technology. The space is just lighter and brighter. I think it's better for the county, we got to keep HACC here and we met one of our early initiatives of 'Downtown Lebanon – A Place to Grow.'"
"I can only speak for council, but we're thrilled," said Joe Morales, Lebanon City Council's chairperson. "I think the impact is something we're going to see as time goes on. It's nice to see the plans work out. We were all in agreement that this was the right thing to do. For me, being a lifelong resident of Lebanon, I remember how the downtown used to be."
Open and airy, the new Lebanon City Hall houses a handful of departmental offices, including the city police department and council meeting/multi-purpose room, on its two bottom floors. The city employs more than 60 full-time and part-time local residents across all of its departments.
As part of the project, the city of Lebanon also created parking from formally condemned properties nearby, while a planned police garage remains in the works.
"There are just so many positives," said Capello. "It involves a lot of components of teamwork, just all these moving pieces coming together. We had a vision, and here we are. We met our goal. It's very satisfying. This is probably the biggest thing I'll ever accomplish. We believe this is actually going to make a difference in our downtown, our urban core."
In addition to providing city employees with better working conditions, keeping HACC in Lebanon and providing the business district with a greater police presence, the creation of the new city hall will inject some much-needed life and money into a downtown area that's been seeking to rediscover its mojo for decades. Since businesses began leaving downtown Lebanon in the 1980s, numerous attempts to revitalize the business district have met with varying amounts of success.
"We're hoping – and we're already hearing from some businesses – that there will be increased expenditures in their businesses," said Capello. "Before it was just HACC. Now it's us and HACC. Increasing purchases at downtown businesses will help revitalize downtown. What we're hoping is already starting to happen.
"One business has already relocated to the downtown and we asked them why," added Capello. "And they said, 'Because we wanted to be part of the move downtown.' I think our downtown businesses have struggled even more since COVID-19. I'm worried. I'm concerned. We still have a lot of work to do, but we're here. We're dedicated to the downtown area."
On many levels, the timing of the city's move downtown was just right.
For nearly 60 years, the city of Lebanon had shared space with the county of Lebanon on South Eighth Street. It was under somewhat similar circumstances that the city of Lebanon had moved its offices from Ninth and Scull streets to the then brand-new Lebanon courthouse during the 1960s.
"There were too many offices for a small area," said Capello of 400 S. Eighth St. "The city would've had to renovate space there or go someplace new. We looked at other buildings, but they didn't work because we needed a police garage.
"Now, all of the leadership is together," continued Capello. "The working conditions have improved, and the quality has gone up a level. I think our employees are happy to have a new modernized work area. It's not common for a city and a county to be together, sharing the same space."
"It was an old building that hadn't been renovated," said Morales, a 59-year-old resident of the city. "The county was out of space, and we wanted to come downtown. This even looks like a city hall. We're investing in the city. We're setting the stage for future generations to come."
Lebanon city's move downtown is very much Capello's 'baby', one whose completion she takes great pride in.
Capello's vision of moving downtown predates her election as mayor in 2010, and in some small part may have even provided a degree of inspiration to run for the office. Over the last 12 years leading up to the move, Capello was instrumental in founding the 'Downtown Lebanon – A Place to Grow' initiative and securing funding for the relocation, while working with fellow civically-minded engineers and advocates.
"It was my vision, but it took a lot of help to get it here," said Capello, a 58-year-old resident of the city. "We have a lot more to do yet. But we're moving forward. We're looking ahead. Now, we truly are a place to grow."