FREDERICKSBURG – Northern Lebanon School District has embarked on a building project that could change the face of education and affect learning within the district as well as across the county.
Northern Lebanon is constructing a new, all-encompassing elementary school east of School Road in Union Township, directly across from the Northern Lebanon Middle and High School building. The new Northern Lebanon elementary school will house district students in grades kindergarten through sixth, and when completed will create a sprawling campus that serves every student in the school district.
The $55 million building project, which began in the spring of 2021, is slated to be ready for the start of the 2023-24 school year. Northern Lebanon's 2022-23 academic year – the final year for Fredericksburg Elementary, Jonestown Elementary, East Hanover Elementary and Lickdale Elementary – begins on Monday, Aug. 30.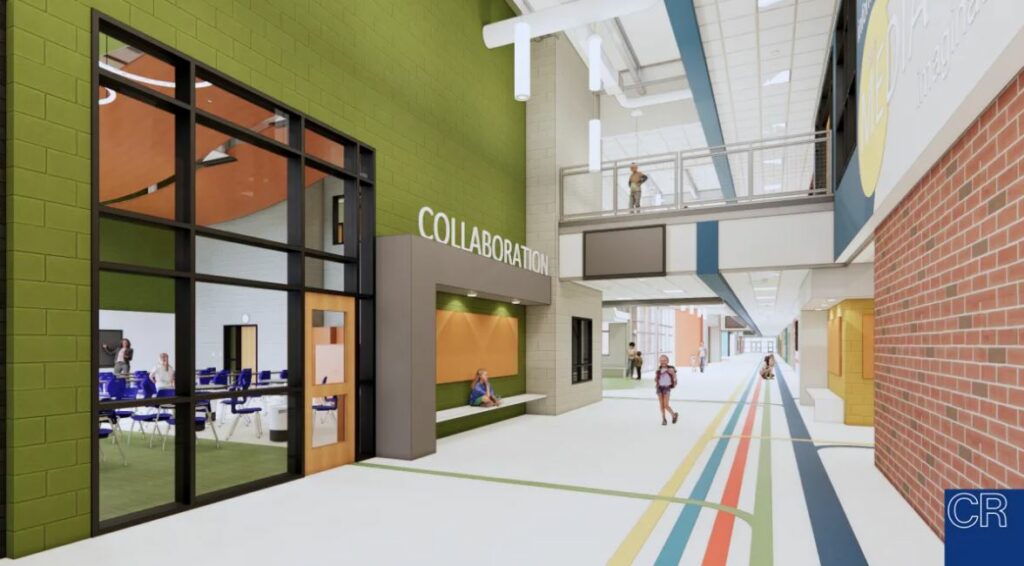 When Northern Lebanon Elementary school is completed, Northern Lebanon will become the first of the six public school districts in Lebanon County to house all of its elementary students under one roof.
"There are certain things new facilities allow you to do, just in keeping up with educational needs," said Gary Messinger, who's been the Northern Lebanon school district's superintendent for three years. "Teaching isn't the same as it was in 1957. There's more collaboration. There's more technology. Certainly, we had that in mind, from a consolidation standpoint.
"The new building will give teachers and educators greater access to colleagues," continued Messinger. "It opens a lot of doors for us from an educational standpoint. You're looking into the future."
The 190,000-square foot Northern Lebanon Elementary is being built on 50 acres of land that the school district purchased about 30 years ago. The facility will feature seven or eight classrooms for each grade, a pair of large group collaboration spaces, two music classrooms, a couple of art classrooms, two STEM classrooms, a special education area, a full-sized gymnasium, a separate cafeteria, a two-sided stage, a media center and a television studio.
The site will also host the new Northern Lebanon school district offices, as well as a 284-vehicle parking lot, two soccer/field hockey fields and a couple of youth baseball/softball fields.
"This is certainly the biggest project we've undertaken since those original buildings were constructed," said Messinger, of the current elementaries. "It was just time. One of the biggest concerns when I got this job was how poor the facilities had become. We had a choice; to band-aid everything and keep things going the way they were or new construction. It was a short turnaround because it was expressed to me as such a high need.
"Right now, it's a mess. There's dirt everywhere," added Messinger. "But it's exciting at the same time. What's going on across the street doesn't really impact what's going on here (in the high school/middle school). The contactors have done a good job of working around school activities. "
Messinger said the school district serves about 170-180 students in each grade at the elementary level, an enrollment figure that is expected to drop slightly over the next few years.
After the 2022-23 school year, Northern Lebanon will sell each of its four current elementary school buildings, all of which were originally constructed in the 1950s and 1960s. While those potential sales could be used to offset the cost of the new construction, Messinger said the new Northern Lebanon Elementary will also save the school district millions of dollars in long-term operational costs.
"There used to be almost this rivalry between the buildings," said Messinger. "Each community was proud of its elementary school. But new developments have been built and I think our townships have changed. We lost a little bit of that community-school feel. But I think this will bring the communities together.
"We had a decision to make, whether to put money into the old buildings or take advantage of land that we already owned," Messinger continued. "We decided we were going to build a new building, but that we were also going to develop a maintenance schedule so 50 or 60 years from now Northern Lebanon doesn't have to build another new building."
"From an educational perspective, the new consolidated elementary school will maximize more equal opportunities for all students," said Northern Lebanon school board president Barry Naum, "through balanced class sizes and collaborative learning spaces, in addition to potential beneficial interactions with the broader district community on a single campus. From a fiscal perspective, the new school is projected to save the district and its taxpayers $30 million over the next 30 years, in 2020 figures."
A consolidation of the former Jonestown High School and the former Fredericksburg High School, the current Northern Lebanon High/Middle School building was constructed around the same time as the current elementary schools, in 1957. Messinger said that future renovations of the High/Middle school are in the design phase and that architects have told him that the building 'has some good bones.'
"As a member of the community, I understood that our facilities needed an upgrade," said Messinger, a graduate of Northern Lebanon High School and a 53-year-old resident of Fredericksburg. "Having kids in the district, I knew there were issues. But as the superintendent you can't do anything if the school board isn't willing to spend money. The school board has to be on board, and at the design level, the vote was 10-0.
"It's a big project and I've gotten a lot of positive comments about the new building," Messinger added. "We're not just casually spending money. It's really nice, but there are a lot of financial decisions about this that make sense. I think this makes us fiscally responsible for the foreseeable future and sets up the district for future success."