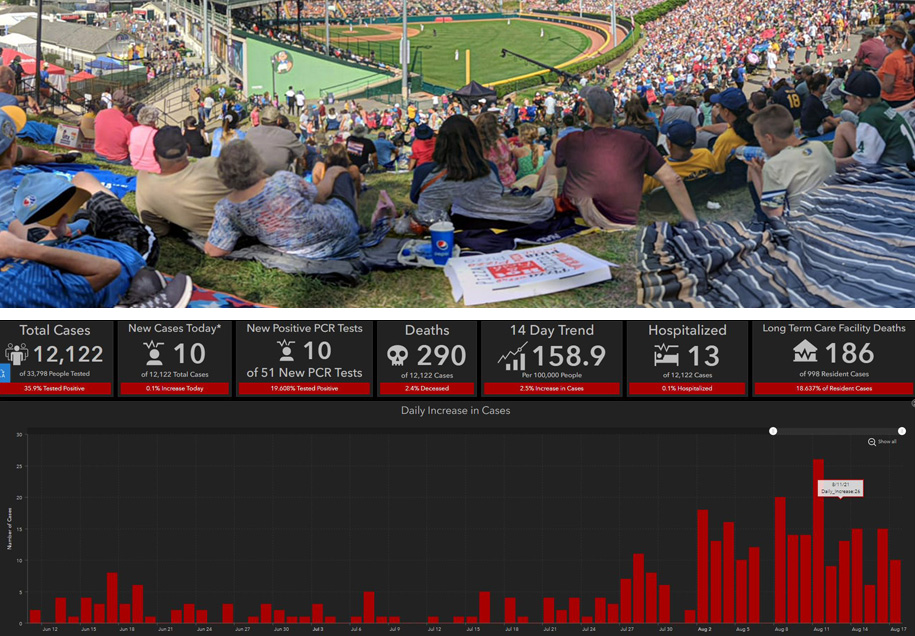 As the region gears up to welcome Little League teams from across the country, and as the spike in COVID-19's delta variant causes shutdowns and hospitalizations, Lycoming County has remained relatively unscathed, according to local experts and state data.
On Aug. 19, 2021, there were 10 new cases and 13 people remained hospitalized in the county. The last death was recorded on Aug. 4. 
The county's daily death rate has remained minimal, with between two and five deaths recorded each month since June. The county's largest daily spike for deaths was in early January at a peak of 8 deaths in one day.
Since the beginning of the pandemic 290 COVID-19 deaths have been recorded in the county, 186 of those were residents in long-term care facilities. 
"We have seen a slight uptick in COVID-19 positive cases across the UPMC system in the U.S. Almost all COVID-19 patients who are getting admitted to the hospital are unvaccinated," said Tyler Wagner, Public Relations manager for UPMC's North Central Pa. Region.
"We are assuming most cases are delta, but we are not doing variant testing on every inpatient. The treatment options do not change for the variant," he added.
Just over 48,700 people are fully vaccinated in Lycoming County, which has a population of roughly 113,000. However, over 84% of seniors in the county are fully vaccinated.
Find local vaccine locations here.