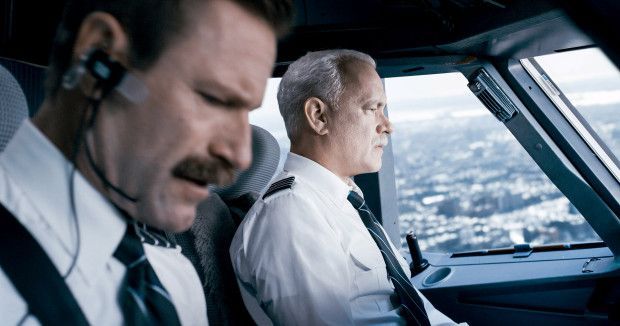 This week, Lycoming Critic's Corner celebrates May Day with a list of films about … plane crashes!
LCC frankly admits that the well-known distress call derives from the French "m'aider" ("help me") — and thus, it has nothing to do with the ancient spring festival celebrated on May 1. Still, it's a great excuse to trot out some of these plane-crash favorites:
"FLIGHT" (2012)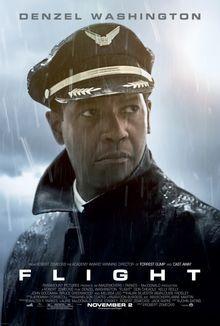 This lesser-known gem stars Denzel Washington as a commercial pilot who's also a rip-roaring alcoholic. Despite this, he's hailed as a hero when his plane suffers a drastic mid-air failure and he manages to land it with little loss of life. But as the subsequent investigation hones in on his drinking problem, Capt. "Whip" Whitaker faces a moral crisis with a rather unexpected resolution.
Directed by the veteran Robert Zemeckis ("Back to the Future," "Forrest Gump"), "Flight" has a fine Oscar-nominated script by John Gatins, who himself battled drugs and drink. There's a moving note on the need for divine assistance in this struggle, plus strong supporting work by Kelly Reilly, Don Cheadle, John Goodman and Bruce Greenwood.
"FATE IS THE HUNTER" (1964)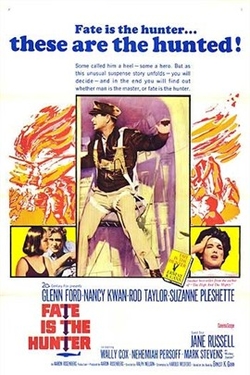 An effective black-and-white melodrama, which concerns a crash that killed nearly everyone on board. Evidence points to pilot error, perhaps also involving alcohol; but an intrepid investigation works to prove otherwise — including a dramatic re-enactment of the flight and its mishaps.
The solid cast includes Glenn Ford, Nancy Kwan, Rod Taylor, Suzanne Pleshette and — playing herself — Jane Russell.
Directed by Ralph Nelson ("Lilies of the Field," "Father Goose," "Charly").
"SIX DAYS, SEVEN NIGHTS" (1998)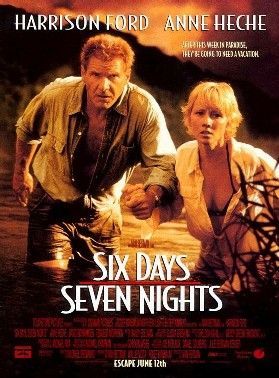 In a sort of reboot of "The African Queen," a tough and cynical small-craft pilot (Harrison Ford) and a somewhat scatterbrained New York journalist (Anne Heche) wind up crashed and stranded on a remote Polynesian isle — where their seemingly inevitable romance is hampered by the gulf in age and lifestyle, along with the fact that Heche is about to get married. (Her fiancé, nicely played by David Schwimmer, did not accompany her on the last-minute flight.)
Directed by the reliable Ivan Reitman ("Meatballs," "Stripes," "Ghostbusters"), the film is very funny, with exotic locales and exciting action (turns out the island is a hideout for vicious modern-day pirates). Despite generally miserable reviews, this charmer deserves a wider audience; I could watch it twice a year!
"SULLY" (2016)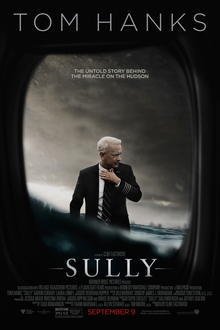 No plane-crash movie-list would be complete without Clint Eastwood's entertaining film about 2009's "Miracle on the Hudson." Tom Hanks plays heroic pilot Chesley Sullenberger, who — after a flock of geese wiped out both engines — landed on Manhattan's East River with no loss of life. Eastwood and company mine a surprising amount of tension from the 208-second episode, partly by villainizing the investigators. (In reality, they weren't nearly so aggressive toward Sully, who after reading the script insisted that their names be fictionalized for the film.) Co-starring Aaron Eckhart and Laura Linney.
"THE FLIGHT OF THE PHOENIX" (1965)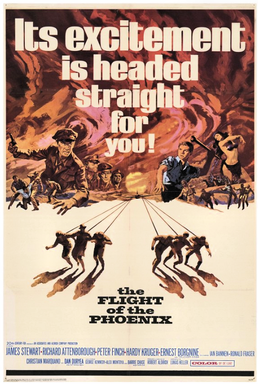 Something of a box-office failure on release, this terrific movie has grown in status over the years and is my personal favorite movie in the plane-crash genre.
The story involves a mixed-bag of passengers on a Fairchild Boxcar that crashes in the desert — after which the men actually manage to rebuild a new and smaller plane that could get them to safety … if they can get it off the ground!
Directed by Robert Aldrich ("The Dirty Dozen," "The Longest Yard," "What Ever Happened to Baby Jane?"), the film assembles a jaw-dropping cast: Ernest Borgnine, Peter Finch, Dan Duryea, George Kennedy, Richard Attenborough and Ian Bannen, with especially strong work from James Stewart and Hardy Kruger as, respectively, the pilot and the new plane's designer.
The 2004 remake, starring Dennis Quaid, Giovanni Ribisi and Hugh Laurie, is good; but this classic actioner is not to be missed.