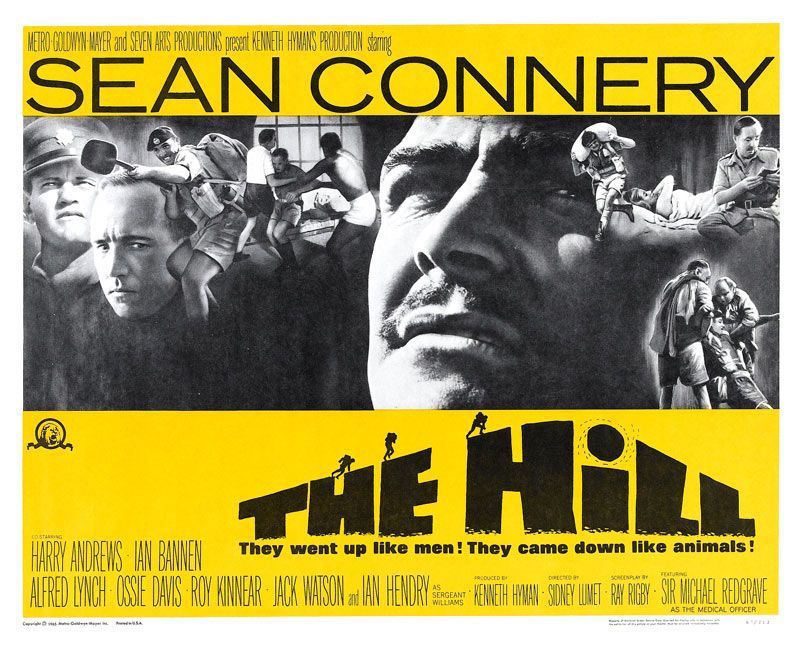 It would be easy to compile a long retrospective on the film career of Sir Sean Connery, who passed away Oct. 31 at the age of 90.
But my specialty these days seems to be under-the-radar titles; so here, in chronological order, is a handful of worthwhile Connery vehicles that are somewhat lesser-known:
DARBY O'GILL AND THE LITTLE PEOPLE (1959)
Several years before he rocketed to fame as renowned super-spy James Bond, Connery co-starred in this delightful live-action Disney piece about an aging Irish villager who insists he can communicate with leprechauns.
The film features sterling visual effects and an amazing performance from the fresh-faced Janet Munro, who — playing the old fellow's daughter– simply lights up the screen every time she steps on.
Many middle-agers have a soft spot for this entertaining film, so it's not exactly under-the-radar; but "Darby" is quite an unusual film for Connery, who actually gets to sing at one point — and fairly respectably too. (There is some contention that he was dubbed, but that voice sure sounds like his!)
93 min. Rated G.
WOMAN OF STRAW (1964)
After cementing his secret-agent persona with the first three 007 films, Connery sought to branch out with this title and the next, both of which saw release between "Goldfinger" and "Thunderball."
Despite its fascinating cast, "Woman of Straw" takes a while to get going: Its first half fumbles through the melodramatic tale of a sadistic old tyrant (the great Sir Ralph Richardson), his nephew (Connery) and his soft-spoken nurse (Gina Lollobrigida); the latter two are scheming to inherit millions by having her marry the oldster, get his will changed and then patiently wait till he kicks off.
But right around the 75-minute mark, this film suddenly kicks into high gear, becoming quite a suspenseful little thriller — and a whole lot smarter than it seemed at first.
Connery is something of a cipher, with our interest considerably dampened when he smacks the nurse for no good reason. Somehow, Lollobrigida emerges unscathed from her abasement in this story — which includes several absurdly gratuitous scenes lounging about in attractive lingerie. Even as Connery's character wrestles for control, this remains her movie — proof positive that she was more than just a world-class sex symbol.
122 min. Not rated.
THE HILL (1965)
An early effort from veteran director Sidney Lumet ("Network," "12 Angry Men," "Serpico"), this searing, brilliantly acted tale is almost unbearable; yet at the same time, you can hardly look away.
Connery stars as one of five newly court-martialed World War II soldiers who arrive at a scorching desert prison-camp run by a bunch of maniacs.
The flint-hearted overseer wants to discipline his charges for eventual release; but his methods are horrific, crowned by the titular edifice — a giant man-man mound of sand which the prisoners must regularly run up and down, generally wearing all their gear and often finally collapsing from sun-stroke and exhaustion. Yet when one of them actually dies under this punishment, Wilson and his staff refuse to back down.
The suffering is briefly offset by manful intercession from one decent officer (Ian Bannen) — and by the fortitude of Connery's Joe Roberts, plus another of the new arrivals, a black soldier played by Ossie Davis. This trio fights valiantly against a stacked system, and we spend the film's grueling 123 minutes hoping for relief which, I feel compelled to tell you, is not going to arrive.
That's probably why this black-and-white drama never caught on with viewers — though critics were justifiably impressed; the acting is stellar, with Davis and Bannen special standouts — and the camerawork is top-notch. As this makes clear, location shooting in 115-degree desert was arduous — and frankly the film is almost as tough to sit through.
123 min. Not rated; not for kids.
THE MAN WHO WOULD BE KING (1975)
A hit with crowds and critics, this grand old-fashioned epic united Connery with co-stars Michael Caine and Christopher Plummer, plus legendary Hollywood director John Huston ("The Maltese Falcon," "The African Queen," "The Asphalt Jungle," "The Treasure of the Sierra Madre"). Huston also co-wrote the script, adapting Rudyard Kipling's 1888 story about two bold adventurers (Connery and Caine) with a plan to infiltrate, win over and eventually pillage the isolated far-Eastern country of Kafiristan.
Arriving after a wild overland journey, Connery survives an arrow attack and is mistaken by locals for a god — and then later, for the long-awaited descendant of Alexander the Great. Before long, Connery's Daniel Dravot — despite having access to a massive cache of gold — decides he sort of prefers godhood … while also falling for a lovely local lass played by Caine's wife Shakira (to whom, incidentally, the star remains married after nearly 50 years).
Stellar production values and some death-defying stunt work highlight this terrific film that proved once and for all, Connery would do just fine after exiting the Bond franchise.
129 min. Rated PG for brief nudity.
ROBIN AND MARIAN (1976)
Returning to the screen after an eight-year hiatus, the beloved Audrey Hepburn plays Maid Marian opposite Connery's Robin Hood in this tale of his later years. Retired from his famed exploits, the aging archer is working for Richard the Lionheart, with whom he quarrels but eventually reconciles in the film's first act.
Thereafter, the legendary Robin returns to Sherwood Forest, reuniting with Will Scarlet, Friar Tuck and eventually Marian, who is about to be arrested by Robin's long-time nemesis, the Sheriff of Nottingham. So of course there will be a final stand-off between the lawman's gang and Robin's — though this is swiftly replaced by single combat between the old foes.
Can't reveal the outcome of that bold brawl; but I will say the very end is quite questionable, morally. Nonetheless, critics were fond of the film, and it does indeed have many virtues: fine photography by David Watkin ("Catch-22"); solid direction from Richard Lester ("A Hard Day's Night," "The Three Musketeers," "Superman II"); a great John Barry score; and a supporting cast to die for: Richard Harris, Denholm Elliott, Nicol Williamson, Ian Holm and Robert Shaw as the sheriff.
106 min. Rated PG for some violence and brief nudity.
NEVER SAY NEVER AGAIN (1983)
As a die-hard Bond fan, I just couldn't wrap this list without one 007 entry; in any case, "Never Say Never Again" is a bit unusual, since it isn't technically part of the franchise, coming from a different studio than Eon, the usual Bond purveyor.
So while Roger Moore was still cranking out official films in the series, Connery (who had last played Bond in 1971's "Diamonds Are Forever") returns to his most famous role — with considerable success.
Using a title that references the star's stated determination not to play this character anymore, "Never Again" mines considerable comedy from Connery's advanced years (though he was actually younger than Moore!). Having failed a training exercise, the aging agent is ordered to a health clinic, where he stumbles onto a SPECTRE-sponsored plot involving nuclear missiles.
With a fine supporting cast that includes Max von Sydow, Kim Basinger, Barbara Carrera, Edward Fox, a young Rowan Atkinson and Klaus Maria Brandauer as the bad guy, "Never" was a huge hit with reviewers and fans — though it didn't make quite as much money as the next Moore vehicle, "Octopussy," which came out later that same year. In retrospect, it certainly stands the test of time as one of the better Bonds.
Kinda like its long-lived star.
Smith is a writer, speaker and teacher in Central PA. His latest book, "The Best Movies You Never Saw," is available at Amazon.