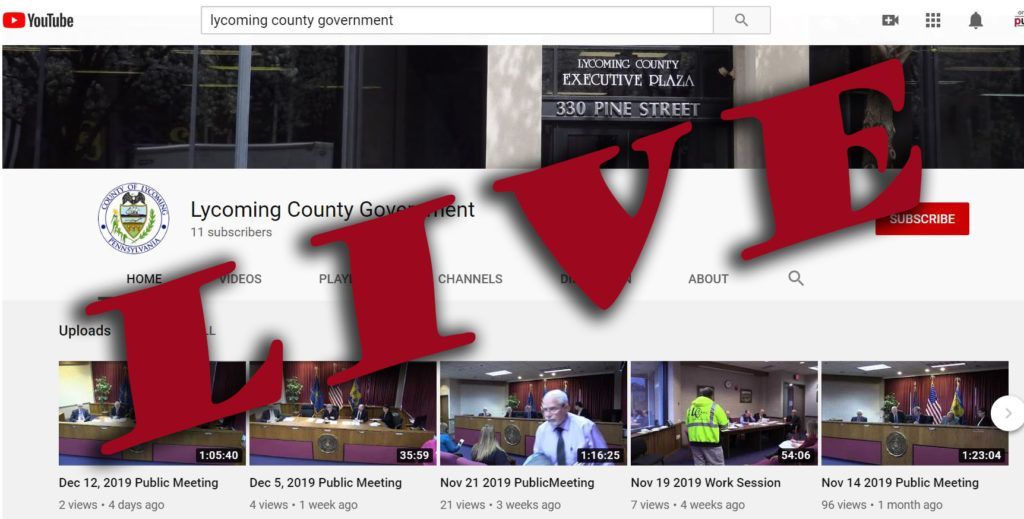 After a few months of experimenting with various video streaming options, Lycoming County held its first official live-streamed public meeting Thursday.  
Requests for the meetings to be live streamed have trickled in over the years, but it wasn't until this past August when a camera showed up at a Thursday public meeting. There were a number of test runs before the meetings would be officially streamed live. 
The new system cost about $2,000 to install, according to Karl Demi, director of Information Technology for the county. He added that annual costs for the system would be roughly $1,400 per year. 
In the past, requests have been made by the public for the meeting to be switched to the evening, rather than 10 a.m., so that more residents could participate. 
Commissioner Rick Mirabito championed the effort saying it would increase transparency in the county. However, commissioners Jack McKernan and Tony Mussare voiced some initial concerns about how it would affect the flow and order of the meetings, specifically with public comment. 
The county follows Robert's Rules of Order for its meetings, however, since there are often very few members of the public who attend the meeting, the rules rarely are used. A stricter format would have to be used if the meetings are streams, McKernan said.  
A few other municipalities live stream their public meetings, including the City of Williamsport, which broadcasts on a local cable channel, and Jersey Shore School Board, which live streams to Facebook. 
The county's meetings will be streamed directly to YouTube and, at present, will only be used for the Thursday public meeting, not the Tuesday work session. 
The first streaming session only received two views, both from people who were also sitting in the room. However, this is to be expected because the streaming option had not yet been made public. 
Commissioner-Elect Scott Metzger also said he was apprehensive about the new streaming option, but said he would give it a year to see how many people use the service.