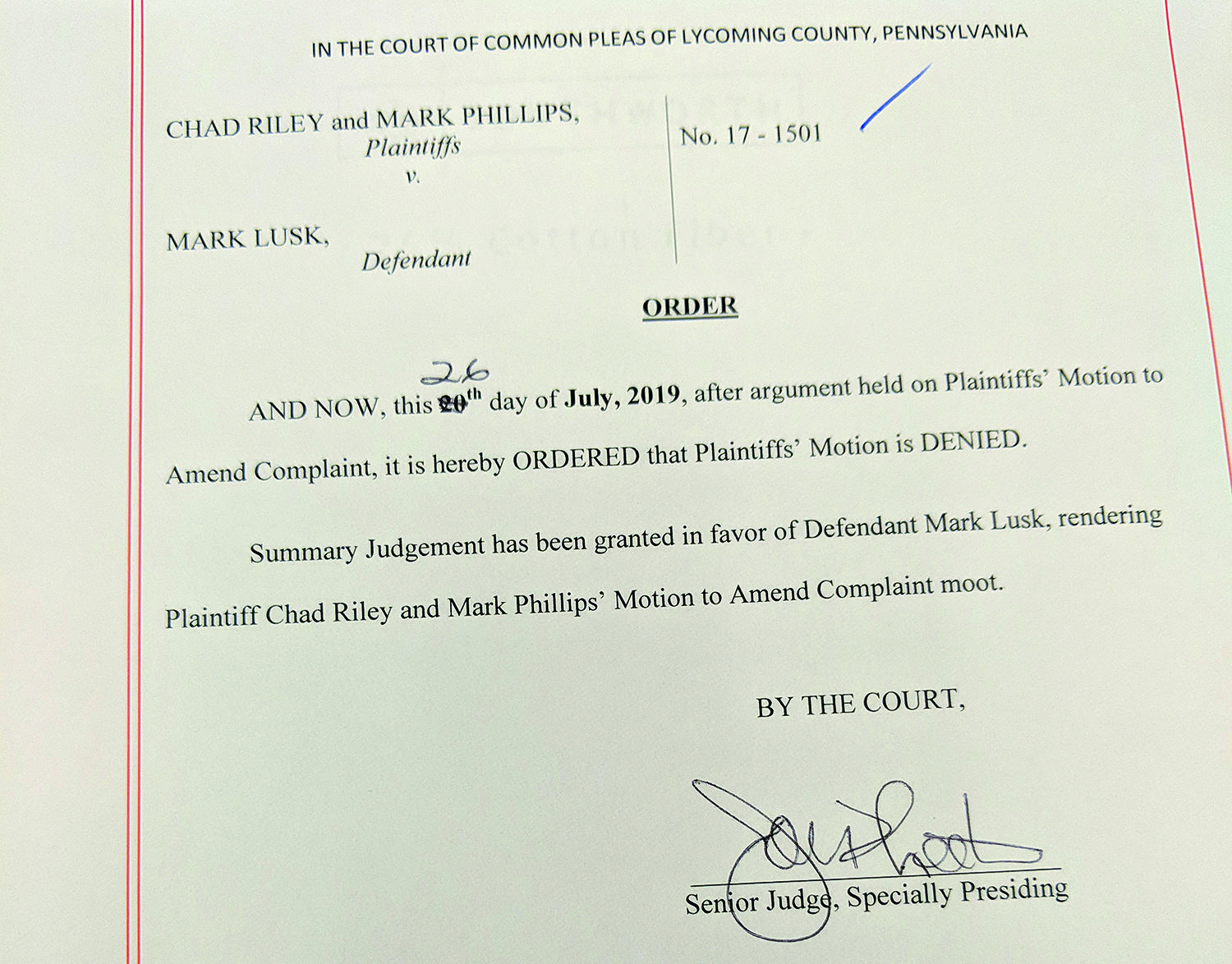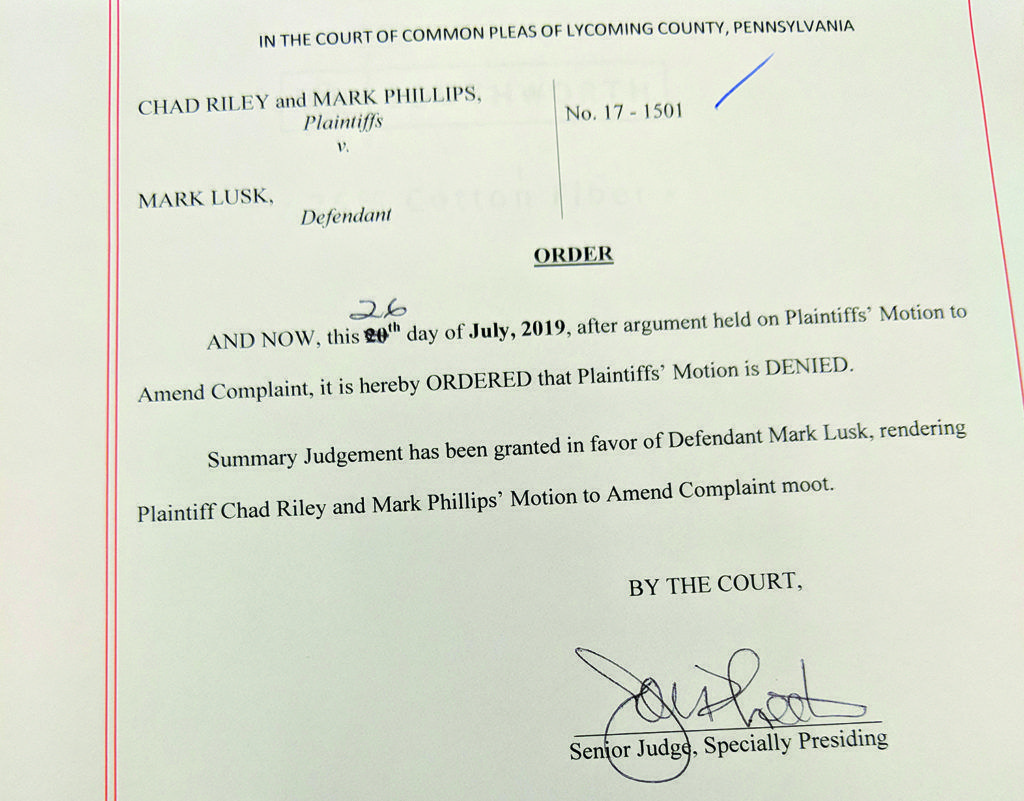 Three lawsuits claiming abuse of power by the Lycoming County sheriff were denied due to insufficient evidence, according to two judges. The suits, filed by two constables, sought over $2 million in damages.
Constables Chad Riley and Mark Philips have until August 12 to amend a civil rights case with the U.S. Middle District Court and about 30 days to appeal the decision in two county-level civil cases against Lycoming County Sheriff Mark Lusk.
The ruling is a hard blow to Riley and Philips, who claimed Lusk abused his power of office when he stopped giving them warrants in 2018 after a failed bid by Riley for the county sheriff seat.
Lusk took over criminal warrants in 2010 when he became sheriff. It previously was handled by the district judges. While serving warrants is not a requirement for constables, who also are elected officials, it is built into their optional responsibilities and provides the majority of their income.
The lawsuit also claims that Lusk does not have the authority to determine which constables get warrants and which do not, saying that is the responsibility of the county magistrate judges.
Potter County Senior Judge John Leete contradicted this and agreed with witness testimony from Lycoming County President Judge Nancy Butts who said that even though there was not a written policy pertaining to the constables' working arrangement with the sheriff, it was understood by everyone.
"Organizing the constables (had) been an issue for many years before the defendant became sheriff, so when he offered to take on the task, I didn't object. However, the system (that) developed is solely in place because it has proven convenient for the parties involved, and is not the result of any court policy," Butts is recorded saying during her testimony.
The ruling states that Butts was given authority over the constable program, which she then allows the sheriff to manage. Leetes went on to add that the constables are not independent contracts who can act without supervision.
In a further ruling, Leete said Lusk is "protected from lawsuits arising in the course of his official duties and within the scope of his authority as sheriff."
U.S. Middle District Judge Matthew W. Brann ruled Friday that insufficient evidence was provided to prove Lusk violated Riley and Philip's free political speech by ceasing to give them warrants after the 2018 primary.
Brann also critiqued the three separate cases saying that they all stemmed from the "common nucleus of operative facts" and wasted the court's time with multiple filings.
Riley plans to appeal the decisions, saying both judges left the case open to more evidence, which could change the ruling.
"We are given 30 days by the judge to come back with a more direct, specific pleading and he would hear the arguments again and make another ruling, which would lead one to believe that he believes that there could still be something there. We could have a case," Riley said.
The ruling also doesn't answer why he and Philips were dismissed, Riley said, adding that this was a key part of the case.
"I think the judge's ruling is setting a precedent that an elected official in a high position can pretty much do whatever they want without any repercussions, which is a very scary day for our democracy, if you ask me," he said.
Lusk declined to comment, at this time, on the outcome of the lawsuit.