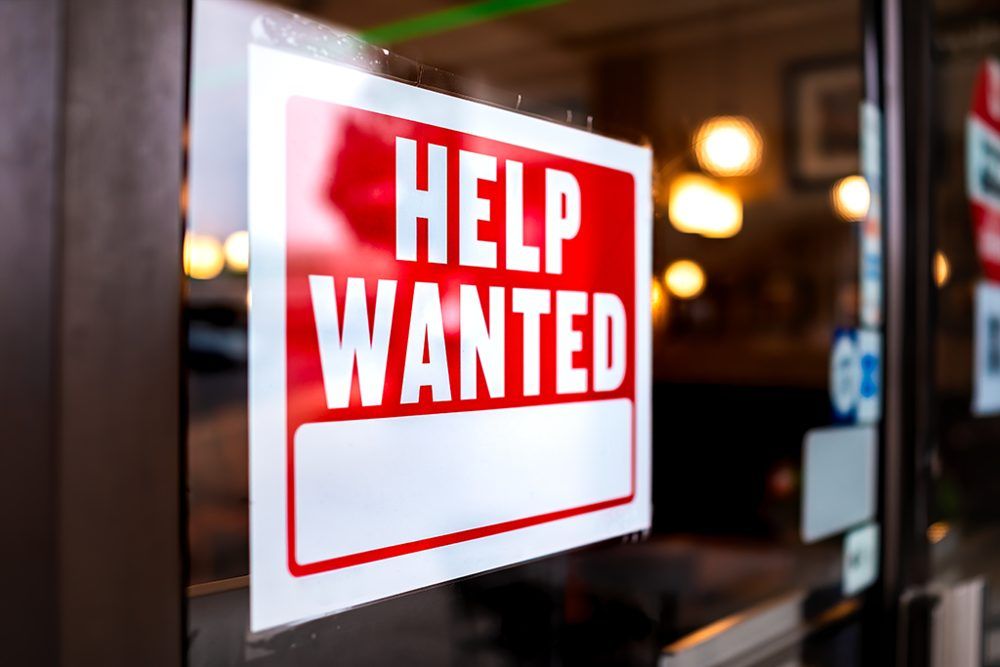 Help wanted. Now hiring. Apply today.
The signs of an economy opening back up can be seen in windows, on billboards and job search websites. But an abundance of open positions does not mean there is an abundance of workers.
The national unemployment rate rose to 6.1% in April and, in Pennsylvania, the rate is 7.3%. But Lycoming County is higher than both the state and national averages, recording a 7.8% unemployment rate in March. 
In April 2020, the county reached a record high unemployment rate of 16%, spiking due to the economic shutdown brought on by the COVID-19 pandemic.
As the economy rebounds and customers begin coming back, businesses are finding that replenishing their employee ranks is difficult.
"Nearly all employers with open positions are affected by the shortage of workers," said Rachel Ulmer, site administrator with PA CareerLink. "We are finding that businesses across all industries are struggling — from manufacturing to hospitality to health care and construction."
Job-seekers market
It's a job-seekers market, Ulmer said, adding there are a number of reasons for this. Perhaps the most discussed reason is the current level of unemployment benefits, which include an extra $300 per week in addition to the standard unemployment rate. 
The extra $300 check is set to expire Sept. 4, 2021.
But staffing shortages may not only be due to unemployment benefits, Ulmer added. Remote learning days for schools and unpredictable child care make it hard for parents to plan a reliable work schedule.
She added that other potential workers may not want to return to work for health concerns.
"There is such a wide variety of well-paying positions available, job seekers have the ability to choose almost any industry they are interested in and find a new position," Ulmer said.
Local impact
The staffing shortages have had a direct impact on the hospitality industry. A number of area restaurants have been forced to close their doors early, or simply not open a few days a week, due to insufficient staff.
At Liberty Arena, refilling the staffing complement is a slow process, according to Jerry Clark, asset manager for The Liberty Group.
"Currently, we are operating at limited days/hours to assist with coming back from the shutdown," Clark said. He added that the Scorz Bar and Grill, located in the arena, has struggled to hire and retain employees.
"It has been very challenging having a full roster of employees whether because some have left for other opportunities, some voluntarily quit on the spot or some did not come back at all due to the incentive of making more money while receiving unemployment benefits and extra benefit payments," he said.
At Barrel 135, on West Third Street, bringing back previous employees was successful, but trying to fill new positions "has been a little more of an issue for us," said owner Josh Auker.
While Auker said many customers have been understanding of the scarce staff and longer wait time for food, he is continually trying to find ways to lighten the load on the short-handed staff. 
"Hopefully people will be ready to start working again soon, so this doesn't have a long term affect on business," he said.
If worker shortages continue, it may be the beginning of an "economic nightmare" for the region and the nation, according to Steve Brady, business strategist and executive director of the Covation Center.
A decrease in employees coupled with an escalation in demand for products and service will result in higher prices, he said, adding that while many individuals are making their own smartest financial decision to stay home and collect more in unemployment, businesses, in turn, need to maintain their profit margins.
"My advice to a small business that keeps selling out of a product is to keep raising the price until they don't sell out anymore," he said.
But it's a short-term solution, he cautioned. A short-term increase in profit margins will be recorded as inflation with the Federal Reserve and an increase in inflation rates likely will result.
Prices have already begun to increase for lumber and other essential items such as beef and gas.
Solutions
For many businesses, the worker shortage problem is, in part, satiated by an increase in wages. While Brady added that it's not a solution every business can provide, finding ways to increase profits and pay employees more will help in the future.
At Bullfrog Brewery, owner Steve Koch has worked to develop employee loyalty over the past year through pay increases and bonuses for extra work.
However, while he was able to remain open by providing curbside pickup and delivery, Koch added that the unemployment benefits that began in April 2020, which included an extra $600 per week, made it hard for many restaurants to find new people.
"That's not a wage you can compete with in the restaurant industry and that was very crippling," he said.
"Like many businesses we were forced to get leaner anyway so we could operate with less manpower to work efficiently," Koch said.
As the Bullfrog did, South Side Restaurant and Pizzeria found ways to keep employees over the past year.
Still able to operate with limited staff at 75% capacity, owner Brian Haller said he also hopes to bring on a few new employees before businesses are expected to open to 100% after Memorial Day.
With just one position sitting empty, the pizzeria is able to make things work, especially because Haller steps behind the counter into the kitchen to pick up some of the empty shifts.
He admits that's not something that should last for long, but finding qualified workers is an uphill battle.
"Once the (federal government) kicked in the extra money… that's when it all changed," he said. "This undoubtedly is the result of the additional unemployment and the stimulus money."