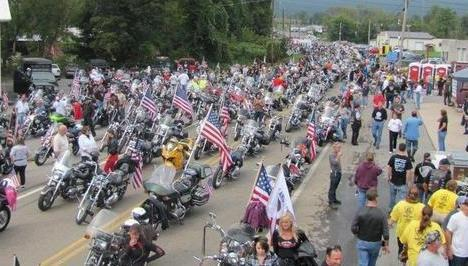 Many years after the tragedy of Sept. 11, 2001, the decline of memorials and ceremonies could be due to "human nature." In Lycoming County, the 9/11 Motorcycle Memorial Ride continues to grow and shine as one of the largest rolling tributes in the country.
"9/11 rides in general, 9/11 memorials, have decreased and they have decreased drastically," said Tom "Tank" Baird, president of the 9/11 Memorial Coalition. "I think it's just part of human nature."
Eighteen years later, Baird said the emotions of the Sept. 11 terrorist attacks still are raw for many people. But he added that it's natural for some to want to move on.
In Lycoming County, the 9/11 ride has continued to grow over the years, still attracting riders from throughout the state and across the country. But Baird added that many are attracted to the ride as a show of patriotism for the region, giving them something to rally around and encouraging them to never forget the lives lost to terrorism.
"I think we have put as much of a positive healing effect on it as possible," Baird said, adding that "we're still losing military personnel" and terrorist attacks continue to plague the country and the world.
In years past, as many as 20,000 people from the community turned out to line the streets as the bikes pass. Regardless of rain or sweltering heat, the crowds never seem to diminish, Baird said.
The ride takes on new meaning this year as it serves as a dedication to Father John Manno, who passed away this year. Manno was one of the founding members of the ride and always wanted it to continue, and the coalition's goal is to live that out.
"We made the commitment to ride every year and that's what we're doing," Baird said.
No matter how many people turn out along the road, Baird said, the riders will still be on the tarmac. But the symbiotic relationship between rider and spectator helps to improve the experience for everyone.
Some stand in silence, while others cheer and wave flags in support.
"Some people, they just come out to see the motorcycles … but whatever works," Baird said.
Find a map of the ride here. Gates open at 10 a.m. and the ceremony begins at 5 p.m.