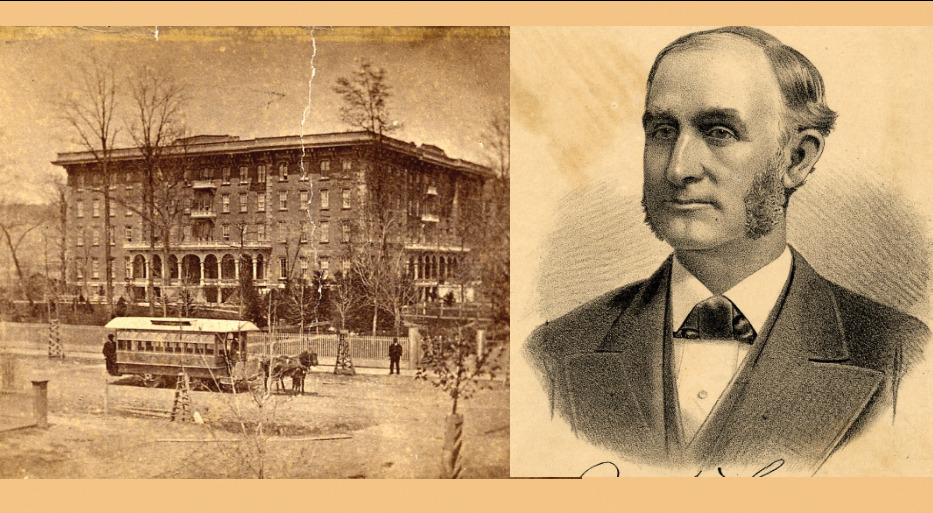 WILLIAMSPORT – Peter Herdic is a name that has spanned Williamsport for three centuries. He was mayor from 1869 and 1870, but his contributions are still felt today, thanks to the buildings he had commissioned to be built and the restaurant and inn that still bear his name.
According to the 'History of Lycoming County' that was edited by John Meginness, Herdic was born on Dec. 14, 1824, in Fort Plain, New York.
"His father, Henry Herdic, died when Peter was 18 months old," according to Meginness. In 1826, the Herdic family moved to Ithaca and Peter attended school.
Some normalcy returned to his life when Peter Herdic's mother remarried in 1830. He was described as having "displayed great energy and pluck. When but 10 years of age he could cut his cord of wood a day, and, in addition, would frequently walk to Ithaca, to dispose of small game in the market."
He learned frugality at a young age and only spent on "what was necessary to his existence."
Tragedy struck again when Herdic was 13, as his stepfather died. The family moved to a farm in Pipe Creek, New York. His mother bought the farm, and Herdic spent the next seven years working the land.
At 20, he was "hired out to Ransom Light, who was the agent of William Ransom , the owner of a saw mill at the head of Pipe Creek." He worked here and other places for the next few years.
"He continued to add to his capital by working for various parties. In 1846, when less than 23, Mr. Herdic came with William Andress to Cogan House township, Lycoming County," the "History of Lycoming" book said.
He purchased a shingle mill and made $740 that first year. In three more years, he had saved $2,500 (the equivalent to over $96,000 today).
"He then purchased a farm of 154 acres on Lycoming Creek, erected thereon a modest little house, and, December 25, 1849, he married Amanda Taylor," according to Meginness's book.
The following year, he had a steam saw mill built, which he sold in 1853 for $10,000.
Settling in Williamsport
In 1853 Herdic "settled in Williamsport, then a town of less than 1,700 inhabitants, and from the hour of his advent down to the close of his wonderful career, his busy brain and restless body worked and toiled both for his own and also for others' pleasure and profit."
He spent the next decade buying up land, building saw mills and creating other businesses. A great deal of the town was built by Herdic.
He gave the "town an impetus that sent it upwards with a boom that was the wonder and the talk of everybody."
Herdic's first wife, Amanda Taylor, died on Dec. 6, 1856. He soon met Encie Maynard, the daughter of Judge J.W. Maynard and they married Jan. 12, 1860. They had two sons named Peter and Henry.
While he continued working in the city, Herdic "induced the Philadelphia and Erie Railroad Company to move their passenger station to a plot of ground he gave them nearly a mile west of the old one."
'Sprung up like magic'
Between 1864 and 1865, Herdic had architect Eber Culver construct the famous Park Place building which stands today. According to www.800parkplace.com, "The lavish structure stood on five acres of land with flower gardens, a fountain, gas fixtures, its own telegraph office, and in the front, a deer park that never contained less than three or four deer."
It was estimated that the hotel cost $225,00 to be built. "Herdic had also built a gas manufacturing plant across the street to light the hotel and other buildings in the city. Everything had been tested and it was expected that the hotel would be in a blaze of glory from the gas lights. During the day of the opening night, the gas plant took (caught) fire and burned to the ground. Herdic had his entire staff scurrying around town buying oil lamps and candles to make the hotel light up as planned," the Park Place website.
Meginness's book said it was as if "blocks of buildings sprung up like magic, street railways, paving jobs, political jobs, manufactures, newspapers, gas companies, water works; banks, and stores grew up at once. Everywhere he was the busy, the mysterious, the energetic, the wonderful Peter Herdic."
It should be no surprise that in 1869 he was elected the mayor of Williamsport. In that time, he obtained an estimated 54,000 acres in Potter, Tioga, Cameron and Lycoming counties. The purpose of this was to find coal to heat and power the city.
He was credited for donating the land and having the Trinity Episcopal Church built "at his own expense."
For most of the 1870s, he "continued in the successful tide of his operations." However with the Panic of 1878 he went into "bankruptcy in the spring of 1878."
Herdic did not stay down for long. According to the Sentinel (Carlile, Pennsylvania) on Jan. 2nd, the "energetic Peter Herdic, In Spite of Former Reverses He Plans for Money Making."
The Sentinel called him a "the once millionaire lumber dealer, who over a dozen of years ago made Williamsport the liveliest town in the northern tier." The newspaper said he was "on the ascendance again, and promises to make things hum during the coming year."
A surprising death
Herdic was in the process of having homes built on some local farmland that had belonged to the Maynard family and also was making plans to begin work with the city's "electric lighting contact."
However, the following month, Herdic was in New York City. Meginness's book records that he was "superintending the construction of water works at Huntingdon (Water Works), (when) he slipped on the ice and fell down an embankment, receiving a severe concussion of the head." He died on Feb. 2, 1888.
The Kane Leader newspaper said on March 8, 1888, that "The announcement of the death of Peter Herdic was a great surprise to the people of Williamsport, as only a few days ago he was apparently in excellent health, and in the full flush and vigor of manhood."
The article concluded that there would be "thousands in Williamsport who will sorrowfully and sincerely mourn the death of Peter Herdic."
Virtues exceed faults
Thomas Lloyd said in his book, also entitled "The History of Lycoming County" that Herdic "had his faults – he was human. But his virtues far exceed these."
An example of Herdic's kindness came when one day on the street he was "conversing with several gentlemen on the street." A young girl "came along begging." Immediately, Herdic gave the girl a silver half dollar.
One of the men chastised him for it. "Herdic you ought not to do that. That girl's father is a professional beggar. He sends his children out on the street to beg and practically lives on what they gather in."
"I know that," Herdic replied. "But if that child goes home without any money, she will probably get a whipping. I gave her the half dollar to save her the whipping."
Thomas would lament that the "world never knows its greatest men. It could with equal truth be affirmed that the world often forgets its greatest men. Williamsport, seems, indeed, to have forgotten its greatest man."
He explained that Herdic was the man "who made it possible for its citizens to enjoy the present business and social advantages which the city possesses."
Lloyd said that Herdic found a "little slumbering sluggish village" and by "the magic power of his own individuality and his indomitable pluck and restless energy, transformed it in a few short years into a thriving, bustling growing city."