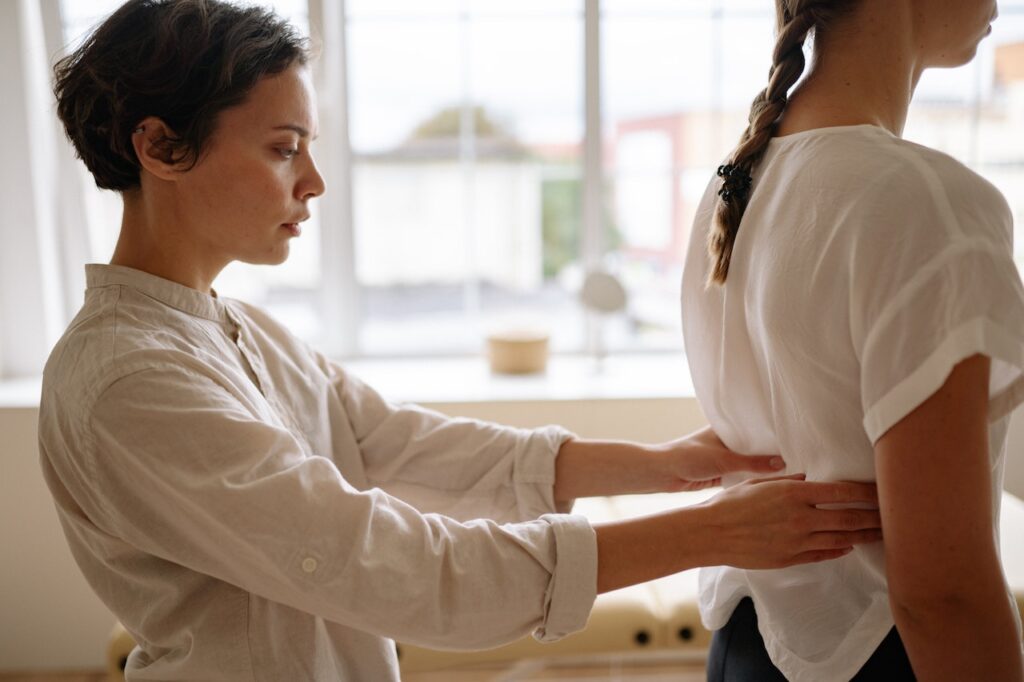 Back pain isn't just uncomfortable – it can impact your productivity and keep you from doing things you enjoy. As of 2019, 39 percent of adults have reported back pain, which is most commonly located in the lower back area.
When you lift, reach, or twist, it is possible to hurt anywhere below the ribs and above the legs. Lower back pain can be sharp, dull, or spastic and be in one small area or over the whole region. It can even cause tingling, numbness, and leg pain.
Back pain is present in the middle and upper back as well, but less common since these bones don't move as much as those in the lower back. Nerves in these areas can get pinched, irritated, or injured causing pain in the area between the base of your neck and the bottom of your rib cage. Your arms, legs, chest, and abdomen can also be affected if the compromised nerve travels that far.
Causes of Back Pain
Whether you move all day at work or if you sit at a desk, your back will feel the effects. Overusing, straining, or injuring the muscles, ligaments, and discs that support your spine are the main sources of back pain. If you move too fast, bend awkwardly, pick something up that is too heavy for you, move in a certain way repetitively, or have poor posture and ergonomics these strains can be caused and lead to pain.
Other causes may be related to:
Arthritis or osteoarthritis
Herniated discs that put pressure on spinal nerves
Myofascial pain affecting muscles
Rare cases like gallbladder issues, infections, diseases, or cancer
Relieving Back Pain
It's possible to help your back pain before surgery is in the picture. Take a break from strenuous movements, but do not give up moving altogether. Walking is a great way to exercise the lower back by getting your blood moving and strengthening your muscles.
Other at-home remedies include the use of over-the-counter medicines like acetaminophen for pain or an anti-inflammatory option like ibuprofen. Make sure to consult your doctor about long-term use of these medications and read the labels thoroughly. Using an ice pack or heating pad can also help with any swelling, stiffness, and pain.
If these options don't work, seek a referral to a physical therapist. They can recommend exercises to help strengthen the muscles that are causing your pain and stabilize your core. Care from a behavioral health professional may also be an option if you are feeling anxious or depressed about chronic pain that is affecting your everyday life. If therapy and a home exercise program are not helpful to restore function or reduce pain, pain management services may be an effective, non-operative treatment.
If all else fails, surgery may be suggested by your doctor. Severe symptoms include extreme numbness or weakness, loss of bladder and bowel control, trouble walking for a distance, or standing for a length of time. Each surgical case is personalized to the patient's needs with consideration of age, overall health, and other factors. Your surgeon will choose the best procedure for your specific diagnosis.
To help avoid back problems in general or after surgery, practice good posture, exercise regularly, monitor your weight, and use the correct techniques for bending, reaching, and lifting. If you have any concerns, your doctor will always have your back.
---
Ronald DiSimone, M.D., is a surgeon with UPMC Orthopaedic Care and sees patients in Williamsport. To schedule an appointment with Dr. DiSimone, call 570-321-2020. For more information, visit UPMC.com/OrthoNCPA.