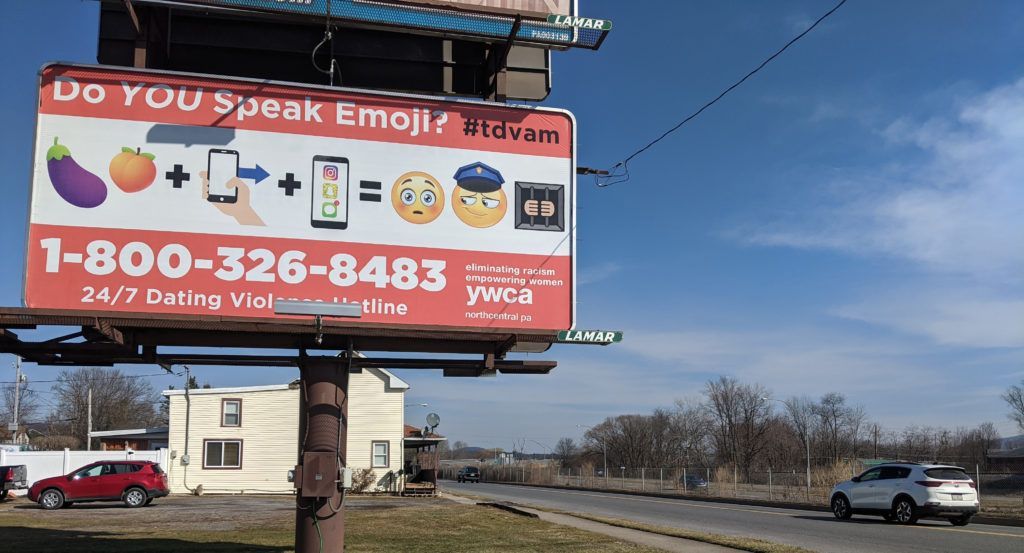 WILLIAMSPORT – Two billboards in Williamsport are meant to spark "car conversation" between parents and teens this month – highlighting the dangers of domestic violence.
"Their teens may be speaking in a language they don't understand," said Erin Scholl, advocacy and education supervisor with the YWCA's Wise Options.
The "Do you speak emoji" billboards are set up on East Third Street near Blackberry Alley and on West Fourth Street going into Newberry.
The billboards contain a combination of texting emojis often used to solicit nude photos from someone, and emojis used to illustrate police and jail. This is a prevalent issue, said Amber Morningstar, program director at Wise Options.
Nude photos of teens are often used by their partners as a form of control over the other person and may be shared among other teens and students at their school – often hundreds of times.
Pennsylvania law passed in 2012 states that teens who take or distribute nude photos of another teen can be charged with child pornography.
Across the country, 33% of teens experience domestic violence from their partner, either through physical, sexual or emotional abuse. Abuse can happen in person, through text messages or via social media, Scholl said.
Teens suffering from domestic abuse often struggle with depression, drug and alcohol abuse, and are at risk of suicide.
Many individuals' domestic violence cases begin when they are teens and progress into their adulthood, according to Lycoming County Judge Joy McCoy.
McCoy was one of the founding members of the Lycoming County Domestic Violence Fatality Review team, which assesses domestic assault cases that progressed from violence to homicide and works to identify warning signs that may indicate violence is intensifying.
Of the six homicides reviewed, "much of their abusive relationships went back to their teenage years," McCoy said. "They never had the opportunity to recognize what a healthy relationship was."
The billboards are meant to spark conversation between parents, or guardians, and their teenagers, even uncomfortable conversations, Scholl said.
A quarter of all parents fail to discuss domestic violence with their teens, according to the Lycoming County commissioners, which recently brought attention to the issue by sharing a resolution on the issue.
Scholl hopes the billboards will teach parents how to interpret what teens may be texting to each other and also help adults explain what constitutes a healthy relationship. In addition, many teens don't realize that they could be charged with a crime if they share a photo of another teenager, even if they didn't take the photo.
Building awareness and education among teens and parents is what McCoy and Scholl say they are working toward in February.