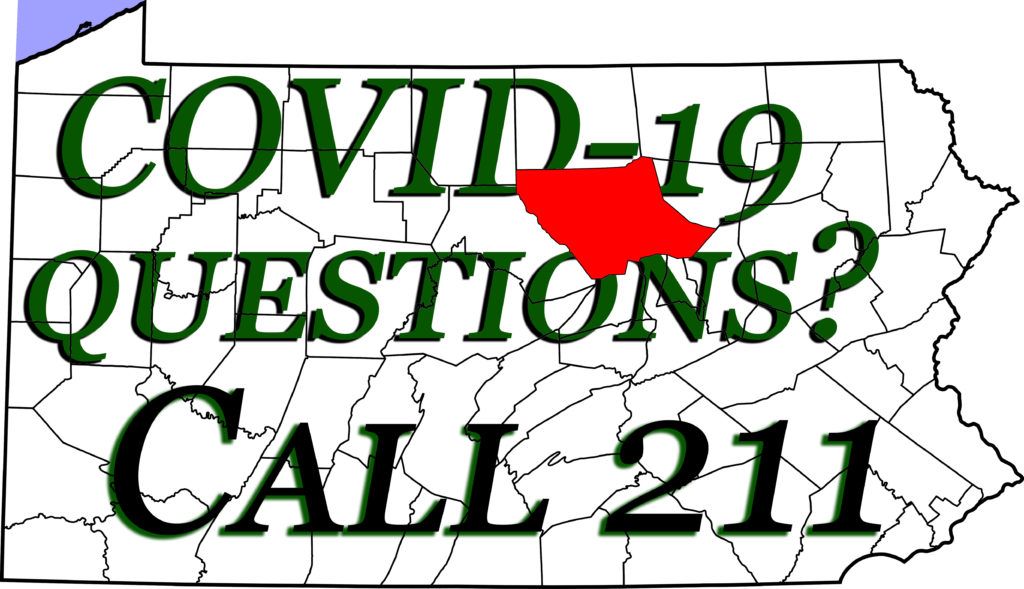 WILLIAMSPORT – As the public struggles with the confusion and constant changes brought by the COVID-19 pandemic, easy access to information is vital.
Public health emergencies are one way that the 2-1-1 information and referral service is helping. The 2-1-1 service is part of a nationwide network, and in Pennsylvania, PA 2-1-1 is powered, and in a large part funded by United Way of Pennsylvania and the United Way network, including the Lycoming County United Way.
PA 2-1-1 is a free, confidential, 24-hour information and referral service that connects Pennsylvanians to health and human service needs. While 9-1-1- is reserved for emergency services, 2-1-1 is the call to make for health, human services and disaster relief. The information service is designed to serve three major objectives:
1. Connect people in need to health and human service assistance available through government programs and private nonprofit organizations in their communities;
2. Provide assistance to communities in time of disaster, allowing 9-1-1 to work primarily with first responders; and
3. Connect volunteers and donors with organizations who can leverage these resources to meet the needs of the community.
According to Kristen Rotz, president of United Way of Pennsylvania, PA 2-1-1 assists with community members that are Asset-Limited, Income Constrained and Employed, or ALICE®.  
The United Way of Pennsylvania ALICE report found that 37% of households are employed but still struggle to afford the essentials and make a living on a full paycheck. The economic fallout of COVID-19 on ALICE households will last for months after normal routines resume, according to Rotz.
"PA 2-1-1 is there for everyone, including ALICE, regardless of need or income, to try to connect people in need to support in their community," Rotz said, adding that "2-1-1 also helps document needs and provide data so that United Way and all of our partners know how best to provide support during an unprecedented challenge for working families across our state."
To find local resources, including COVID-19 assistance, dial 2-1-1 or text your zip code to 898211.
Service providers in the area should contact 2-1-1 to update information on hours and schedules due to COVID-19 and other essential information that may be able to help those in need.