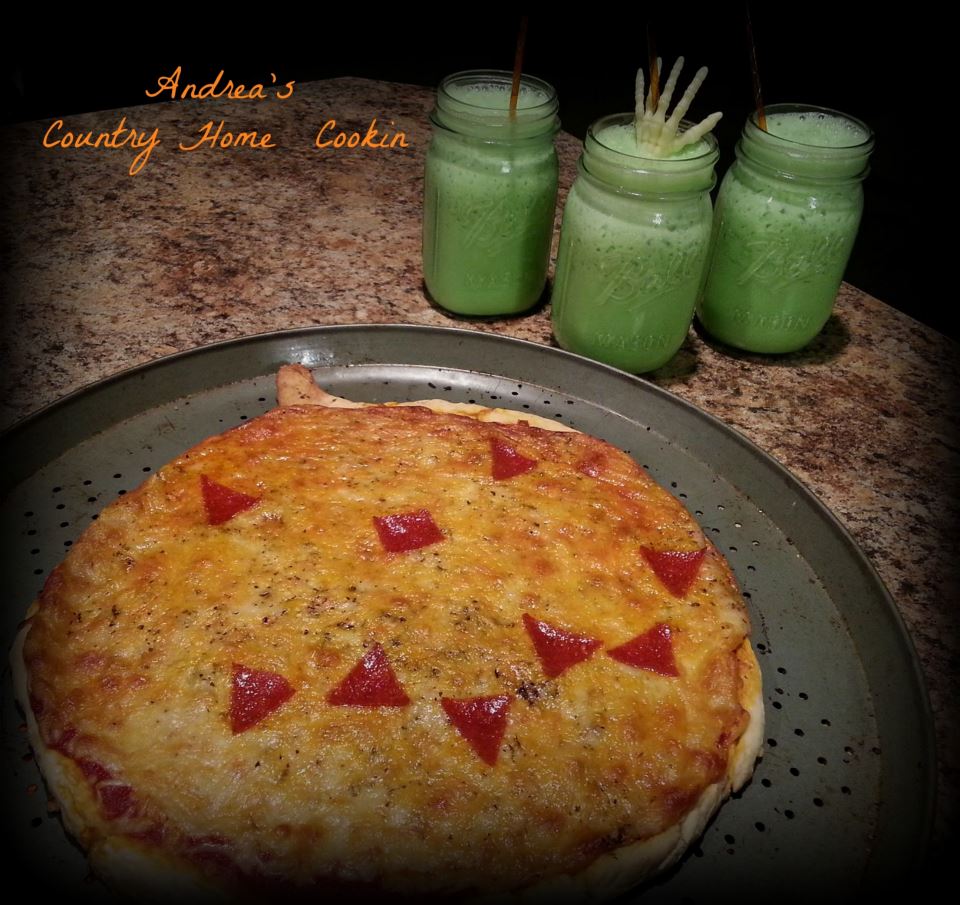 Halloween is a hard night to try and finish homework, grab something to eat, and get those creative costumes together by 6 p.m. It's like a marathon till you head out the door, and if you are anything like me, I always have to get a picture of my kids in their costumes with that year's jack-o-lantern lit.
I have done this every year since my kids were babies! Now, I make a Halloween dinner, but typically do it the week of Halloween because my kids didn't get home until 4:20 from school and I like them to enjoy this special treat! This year it's on a Saturday, so I am going to do a mid-afternoon lunch full of ghoulish foods.
Let me give you some adorable, quick ideas that your family is sure to love!
Jack O'Lantern Pizza
This is one of my favorites, and it doesn't get any easier than this. The best part is your kids can have fun with it! Get all your family's favorite toppings, and make a pumpkin! Homemade pizzas are so simple, and a quick grab to eat with a spooky twist. You also could do them on English Muffins!
Slime Drink
Oh man, a slime drink with a slice of pizza? Yes please!
My kids go crazy for these!!
½ Quart of Vanilla ice cream (or yogurt for a healthier version)
1 ½ cups of orange juice
½ cup milk
2 bananas
2 cups of ice
Green food coloring
Place in your blender the first 4 ingredients. Mix well until bananas are blended. Then add your ice and food coloring. Place in glasses, and chill in the freezer for 10 minutes.
This made 3 to 2 cup servings.
Mummy Hot Dogs
1 can (8 oz) Pillsbury™ refrigerated Crescent Dough Sheet
Hot dogs
Cooking spray
Mustard or ketchup, if desired
Roll out the sheet and cut into four even blocks. Cut long slices from each block making about 10 strips from each square. Wrap 4-5 pieces of the long strips on each hot dog to look like a bandage. Make sure you leave an opening for the face.
Spray a cookie sheet and place it face side up. Bake for 13- 15 minutes at 375 degrees.
Make eyes out of mustard or ketchup with a toothpick.
Halloween Pasta Bowl
This time of year you can find special Halloween pasta's in a lot of local stores. Make your favorite mac n cheese, soups or any favorite pasta dish with it!
Terrifying Quesadillas!
Soft shells can create anything! Get a cookie cutter and create bats, cats, ghosts, tomb stones and even jack-o-lantern faces from just the circle shell. Fill it with a few different cheeses like a sandwich, and bake. Makes for a different kind of grilled cheese that the kids will love.
Hallow's Eve Chicken Pot Pie
Who doesn't love a good chicken pot pie? Make it extra special on Halloween by making the dough on top into a pumpkin face! Or, use a cookie cutter to shape the dough and place a cat or ghost on top, and bake.
This is what I'll be making this year, but getting super creative with the top! My recipe is in a 9 by 13 pan and can feed a large family. Check it out here.
Remember, this year Halloween is on a full moon and a Saturday! Plus,we gain an hour because of daylight savings time. Be safe out there and have fun! This Halloween is surely one of a kind. Happy Halloween!!