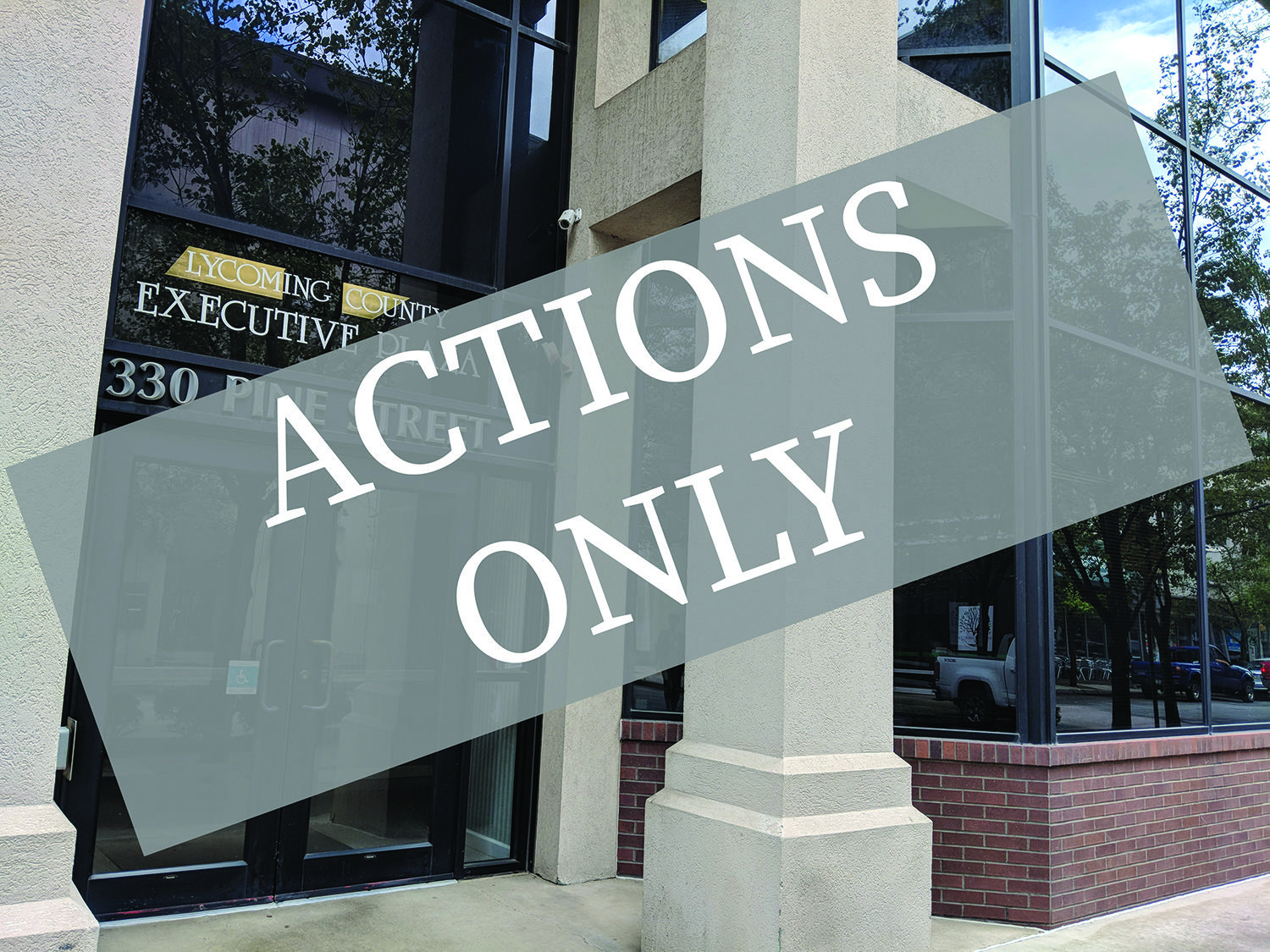 WILLIAMSPORT – Below are the action items, including a brief description about each item, from the Lycoming County commissioners' 10 a.m. Thursday public meeting. On the PULSE will provide a brief list of action items and votes after each Thursday meeting.
Approve PSA 2019-2020 George Junior Republic to provide child welfare services. PASS 3-0

The service provides residential and special needs programs, behavioral modification and a home-like atmosphere for the youth. The contract renewal includes a 2.5% increase this year.  
Approve professional services agreement 2019-2020 Community Solutions, Inc. PASS 3-0

This service provides therapy services for youth and families three times a week. The contract renewal includes a $1 rate increase.
Approve professional services agreement 2019-2020 C. Townsend Velkoff, M.S. PASS 3-0

Townsend provides counseling services for youth. There is no rate increase. counseling services.
Approve professional service agreement for 2019 TRANE INC. for the HVAC BCU upgrade in the Executive Plaza. PASS 3-0

This agreement is for a building control unit In Executive Plaza that went bad 3 months ago. The county has a loaner at present.  
Approve Cisco Smartnet contract. PASS 3-0

Annual renewal of the county's Nexus 7,000 for $17,902. This is a budgeted cost. The county also is considering replacing the entire unit for a cost of about $150,000, according to Karl Demi, county director of information technology.  
Approve Resolution 2019-08 Opposition to the changes being made to the Medical Assistance Transportation Program (MATP). PASS 3-0

This is a resolution opposing a state resolution that may change the medical assistance transportation program, which Step, Inc., currently runs for Lycoming and Clinton counties, thereby jeopardizing the local program.
Approve Resolution 2019-09 YWCA Rapid Re-Housing – DCED ESG Grant application. PASS 3-0

This is an emergency shelter grant for the YWCA
2.8 Approve professional services agreement with June Elcock-Messan, M.D., FAAP. PASS 3-0
Elcock-Messan will provide child abuse pediatric services not to excede $20,000 on an as-needed basis for the Lycoming County Public Defender
County commissioners present: Jack McKernan, Tony Mussare, Rick Mirabito
The next commissioners meeting will be the planning session at 10 a.m. Tuesday, June 25.