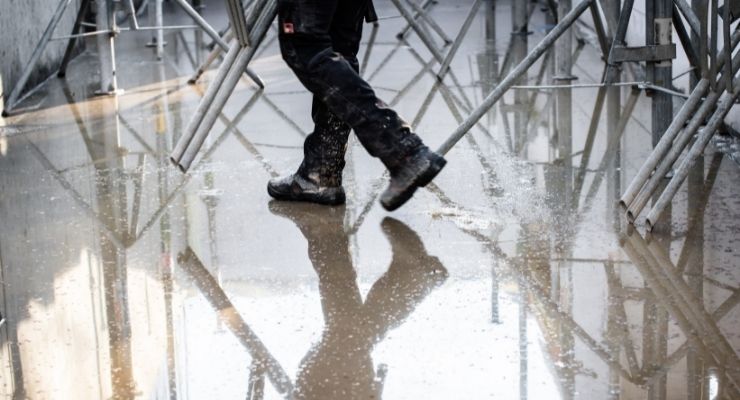 The construction industry is already rife with hazards that construction workers have to prepare for, so when the weather takes a turn for the worse, it merely adds to the existing dangers.
To prepare for rain, it's essential that your construction site knows ways to keep construction workers safe in the rain, considering factors like low visibility or slick surfaces. Here's what you need to consider.
Workplace Safety
To protect yourself and your workers, you need to ensure that you equip your construction site to handle the rain. For example, the very basic necessity is a shelter to which workers can retreat from the rain. During conditions like rain and strong winds, construction workers should operate outdoors for shorter durations, breaking down larger projects into smaller tasks if necessary.
Working in bad weather can be incredibly fatiguing, and being wet from rain can make cold winds far more agonizing. The shelter should provide a heated area for workers to warm up with. At the end of the day, you should thoroughly inspect your construction site for any damage caused by the weather.
When it's cold and rainy, a warm cup of coffee can be very tempting, but it's detrimental because the caffeine will make workers' heart rates spike. Instead, it's important that workers drink ample amounts of water to stay hydrated and energized while working in the rain.
Employee Safety
First and foremost, the best way to keep construction workers safe in the rain is with the right protective gear. For example, wearing reflective vests over a raincoat isn't enough in such conditions where visibility is so impaired.
Workers need to wear high-visibility raincoats and pants to make them visible in the rain and distinguish their forms as people. Furthermore, consider giving your workers gear like goggles to keep them from being blinded by rain in their eyes. You should also give them harnesses when surfaces may be slick and workers are at greater risk of falling.
Make sure to train your workers to recognize when conditions can get bad enough that they need to seek shelter and keep themselves safe while working outside. Furthermore, they should report any dangerous conditions that form as a result of the weather right away.
Operating Machinery
If machinery and construction vehicles need to be used in the rain, it's important that workers carefully pay attention to slippery surfaces while entering and exiting the machinery.
Ensure that you clearly label where workers should place their feet and hands climbing into or off a machine. Drivers and operators of vehicles, cranes and more need to be extra aware of their surroundings when visibility is low.