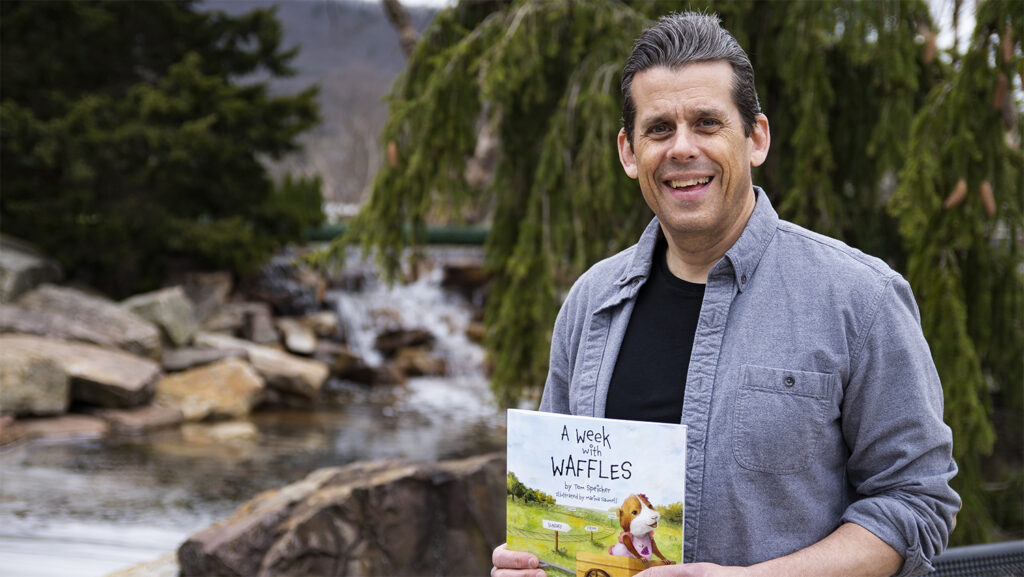 Tom Speicher, co-author of "Bucky Deacon's Dilemma", holds his most recent book, "A Week with Waffles." ANNE REINER/OnthePULSE
When Tom Speicher learned that the late Bill Byham had left behind an unpublished manuscript, he knew he had a mission.
What he didn't know was that this mission would help realize his own dreams as well.
Byham was a beloved Lycoming County teacher, coach and radio personality who spent 56 years as broadcaster for the Little League World Series. He passed away in 2017, having tried unsuccessfully to publish a young-adult sports novel he'd written three decades ago.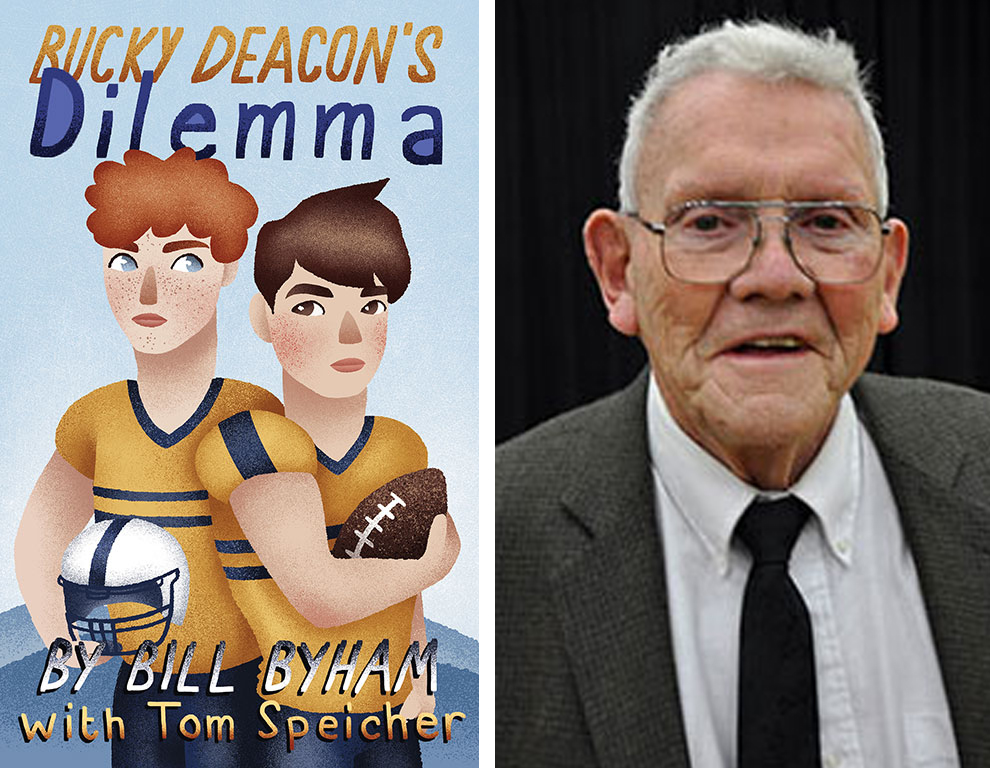 Long lost material
Enter Speicher, a Pennsylvania College of Technology writer and video producer who for 20 years served as "Man in the Crowd" on Byham's LLWS broadcasts.
"My first point of contact was Bill's son, Rob," Speicher recalled in a recent interview. "He enthusiastically endorsed the project. Rob was the one who unearthed Bill's original typewritten manuscript, which was missing one chapter. Nobody knows where that chapter is!"
Fleshing out this long-lost material was only one of the tasks Speicher undertook as he carefully transferred the story to his computer, shortening chapters for a more contemporary feel and modernizing the 30-year-old story by adding, for example, cell-phones and Instagram.
What eventually emerged was "Bucky Deacon's Dilemma," the beautifully written tale of the titular teen and his efforts to earn and keep a spot on his middle-school football team.
The engaging tale features plenty of familiar adolescent angst, including first crushes, bullying, the nitty-gritties of gridiron drama and especially the protagonist's "dilemma," which emerges when a fellow-player—Bucky's rival and eventual friend—is accused of theft.
One of the book's triumphs is the way Speicher has worked in subtle tributes to Byham.
Bucky lives in Southland, Pennsylvania—named for South Williamsport, where Byham taught high-school social studies for many years. What's more, Southland's squad is called the Wolves, in honor of the mascot at PA's Kane High, where Byham himself played ball.
And the Wolves compete at Nellie Stadium (the name of Byham's wife)—while Southland, says Speicher, was modeled partly on Montoursville; it even has a green bridge, along with "pedestrians crossing the two-lane street from a family-owned tavern to a bakery that looks like it did the day it opened forty years ago." (That would be Johnson's and Rosencrans, for readers who haven't had to negotiate this busy spot.)
Geared for ages 10-14—but entertaining for adults as well—"Bucky Deacon's Dilemma" is available at Amazon, and at Otto's in downtown Williamsport.
But "Bucky," it seems, was only the beginning.
"I guess BDD gave me the publishing bug," Speicher admitted—though he actually credits the idea for his second book to a co-worker.
"A Week with Waffles"
Aimed at much younger readers, Speicher's new title, "A Week with Waffles," is the copiously illustrated story of a guinea pig and her various activities from Sunday through Saturday.
"In a roundabout way," says Speicher, "I got the idea from a co-worker at Penn College: Megan Rogers. Last fall, I wrote a story about Megan and her children's book, 'Meet Mason.' The book is about her son, Mason, who has been blind since birth. It's a beautiful book, thanks to Megan's creativity and the illustrations produced by Marina Saumell.
"One day it just hit me that I should write a book about my pet guinea pig, Waffles, and have Marina illustrate it. My goal was for it to be a fun and educational book for kids in teaching them the days of the week and encouraging them to think of things they may have in common with Waffles."
Though it was much shorter than "BDD," the newer project offered its own unique challenges.
"It took me a couple days to devise the written content and visual ideas for each page. I emailed the manuscript to Marina, who lives in Argentina, and I was thrilled that she agreed to illustrate it.
"I also sent Marina lots of photos of Waffles and other chars in the book. All the people and critters in the book exist in my life. Marina then sketched a black-and-white storyboard. After receiving my input, she finalized the drawings and added vivid colors. She's an amazing talent. I can't overstate how significant her contribution was to the project."
"The illustrations are painted digitally," Saumell said in an interview. "I start by creating the drafts and first sketches by hand and then start working on my computer with a drawing tablet."
And how has the book been received since its release in February of this year?
"Several adults have remarked that they enjoyed the book and look forward to sharing it with kids," Speicher told On the PULSE. "Everybody says they love Waffles. I think she might end up with an entourage."
As for the future:
"I would love to do a series of books based on Waffles," the writer continued. "I have ideas for at least six more books. However, I need to find a publisher to finance that dream. I'm hoping this self-published book might generate interest in an agent/publisher to make it a series."
"A Week with Waffles" is also available at Amazon and Otto's.
Portions of the proceeds from both that book and "BDD" will go to Penn College's Emergency Scholarship Fund for students facing unforeseen financial burdens.
Like these two titles, this is yet another factor in Bill Byham's ongoing legacy—and maybe that of Waffles as well.
I don't know, can guinea pigs even have a legacy?
I guess we'll find out.