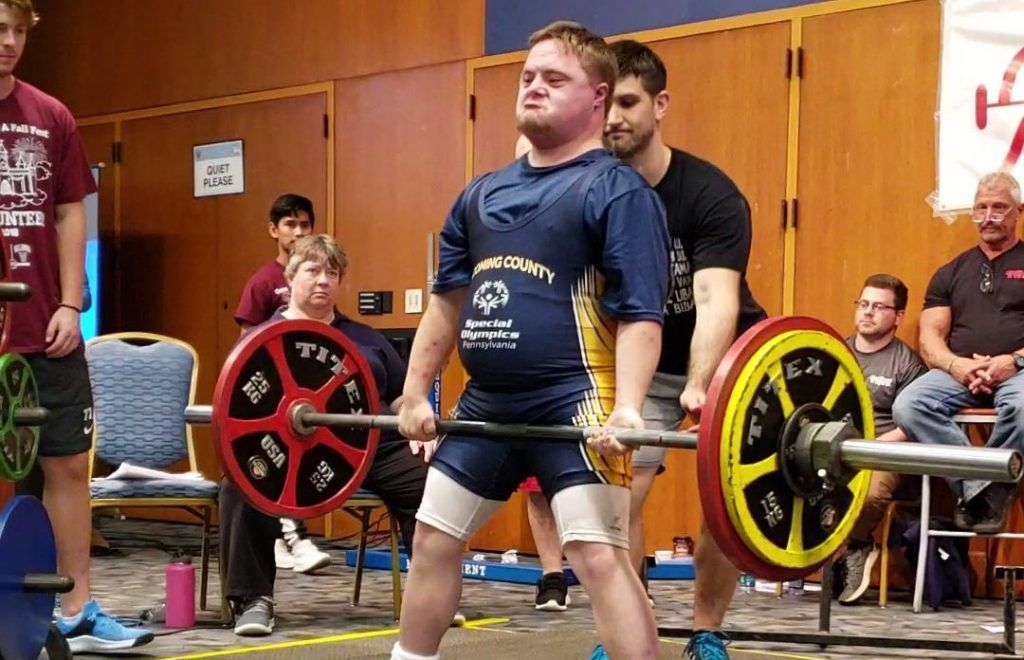 Stay-at-home orders and cancelled sporting events haven't stopped special Olympians from training and staying fit, albeit with certain adjustments.
The Special Olympics was founded in 1968 and has grown to over 6 million athletes and unified partners in more than 190 countries around the world. It also boasts 32 Olympic-style sports where athletes and partners compete in over 100,000 competitions annually.
Like all athletes, special Olympians have had to make adjustments to keep their training on track during this difficult time. One of the recent initiatives Special Olympics has launched to help keep athletes fit is online fitness programming.
Staying fit at home
Special Olympics USA has created the School of Strength. The online video and live stream series is in direct response to the stay-at-home orders in most communities. The Special Olympics has even gone so far as to partner with WWE Superstar Becky Lynch to develop a series of peer-led exercise videos.
The School of Strength was specifically designed for special Olympians in their teens through their late 20s. The fitness program features peer-led videos on flexibility, strength, balance and endurance. There are also interactive toolkits that athletes, coaches, and caregivers can download. These toolkits contain recipes, a fitness tracker and fun games to help stay fit. School of Strength is meant to augment Fit5, which was a fitness program that Special Olympics created.
Special Olympic and coaches and athletes on the state and regional level are also promoting training at home and continued fitness using online platforms.
According to Special Olympics New York State Director of Training and Competition, Bill Collins, it is more important than ever for athletes to take ownership of their health and maintain a healthy body and mind.
"Special Olympics is made up of competitive sports with a governing body. It is the largest sports organization in the world," Collins said. "They are athletes and cannot just stop training. So we needed to come up with a way to keep them fit, but also stay safe."
Collins added that special Olympians are five times more likely to get and keep a job as their peers in their communities.
Keeping athletes involved
Mike Murray, New York State director of Powerlifting, added that it was critically important to keep these athletes involved.
"The positive impact the Special Olympics has had for many of these athletes has been tremendous," Murray said. "This may be one of the most marginalized groups of people in society. Here, they are encouraged and grow."
When asked about the actual competition, Murray said they follow rules like any other sport. The athletes are encouraged, but if they break the rules they are disqualified like anywhere else.
"These are athletes and we respect them, the sports and the competition. We hold them to the same standards as any other athlete and they love it. They train hard and when things don't go their way they work to get better."
Pennsylvania also has a fitness program to keep athletes in shape while competition is suspended due to COVID-19 called Commit To Fit. This program offers daily workouts with the purpose of keeping participants healthy, active, and connected.
Commit To Fit consists of daily workout videos where athletes can follow along through Special Olympic Pa.'s social media channels at 10:30 a.m. Monday through Friday. There are also live workout sessions every Monday and Wednesday at 7 p.m.
Strong support system
Marc Follmer, manager for Lycoming County Special Olympics, was very positive about Commit To Fit, but said that support was crucial for keeping athletes on track.
"Parents and caregivers need to be involved for Commit To Fit to be successful," he said. "Most athletes need help and guidance when logging on and following the programs. Like fitness programs for any child, parental involvement is huge. These athletes need this even more so than a normal population as some cannot just go outside for a hike or a bike ride."
Follmer added that having the exercise videos are positive, in that they allow athletes to stretch, exercise, stay active, and stay healthy.
"Coaches can also participate in Commit To Fit in order to learn how to be better coaches and encourage athletes to stay active and it gives parents and caregivers a resource since their athletes cannot participate in sports right now," Follmer said.
Along with promoting inclusion and fitness for the athletes, the Special Olympics is also dependent upon volunteers.
"We are always looking for new and interested volunteers", Follmer said. "Special Olympics is uniquely positioned in society to help people with intellectual disabilities. It helps promote exercise and participation in sport. We also have Unified Sports where people without intellectual disabilities are matched with athletes to compete on the same team. The volunteers get to share in the joy of athletes, win or lose. Everyone loves it."
Inclusive health
In addition to sport and competition, Special Olympics is promoting inclusive health, where people with intellectual disabilities are able to have access to the same level of healthcare as people without intellectual disabilities.
Often, this group is denied health services and has a life expectancy that is 16 years less than the average population.
"We are heavily involved in health and wellness. We often have medical professionals that will volunteer their time at events and the athletes can get basic medical checks on-site. I've seen athletes get eye exams, for example, at events and pick out the frames and the glasses are made on the spot", said Follmer.
The Inclusive Health program works to train health professionals, students, workers, and health advocates to work with people with intellectual disabilities. It also works to develop health partners to create inclusivity in health care systems, referral systems and resources.
For more information about Lycoming County Special Olympics or if you would like to volunteer, please contact Marc Follmer: (570) 772-4653 or mfollmer19@gmail.com or message them on Facebook.