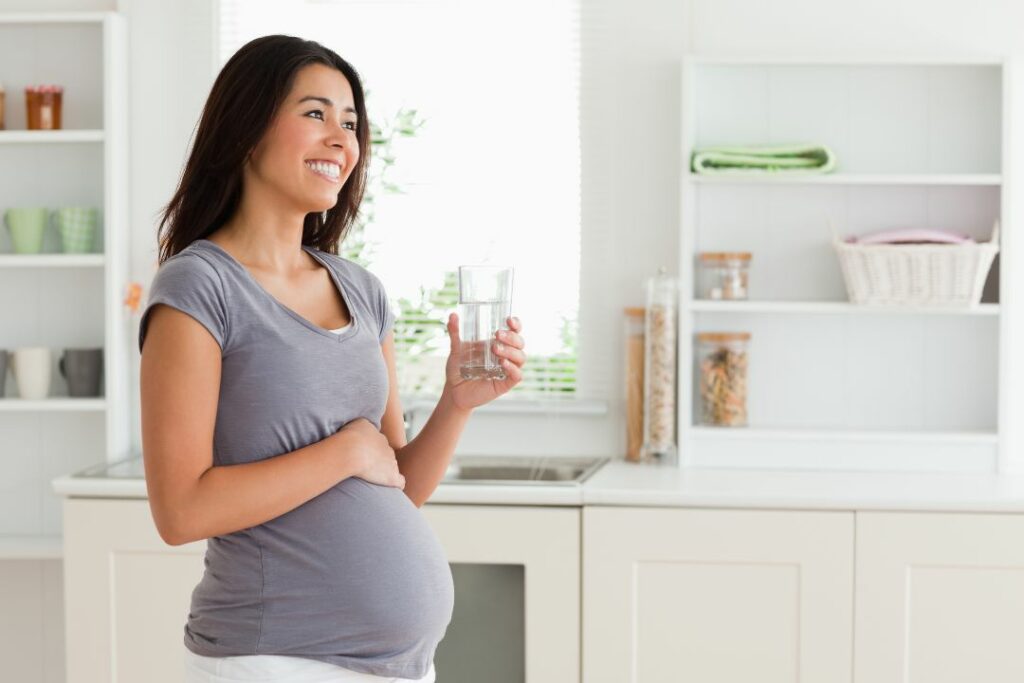 As your body and baby begin demanding more food, water, and rest, you may find it a little difficult to keep up. That's okay. We created this water-drinking guide while pregnant to help you quench your thirst and keep your baby and body hydrated. Grab your hydration buddy and read on! 
Buy a Water Bottle You Love
It's simple, but it's effective. Buying a water bottle you love can do wonders for your hydration habits. The water bottle market is highly saturated with designs, colors, custom features, and components. Find one that you love and stick to it. A few relatively popular features people and mothers report being useful are straws and handles.
The straw helps reduce the need to unscrew a cap, and a handle makes carrying and drinking more convenient. The goal with the water bottle is to provide ease in your hydration efforts, so it becomes second nature. Your remaining hydration goals will fall in line accordingly.
Eat Your Water
Even after buying a water bottle you love, you might still fall behind on your water intake. Give yourself grace. Your body and mind are hard at work creating a human, but also remember you can eat your water.
Yes, you can eat water, but not in the sense that water is chewable. The idea is to eat foods high in water content, such as celery, cucumbers, citrus fruits, and most green vegetables. Additionally, these options include other vital minerals and vitamins. Mixing these into your drinking water can give you and your baby the necessary nutritional values while ensuring you're staying hydrated throughout the day.
A few snack ideas to up your water intake include:
Celery and peanut butter
Cucumbers and your choice of dip
Orange slices
Broccoli, cooked or raw, with your choice of dip
Avoid Falling Behind
Falling behind is normal and almost expected sometimes, but you want to do your best to avoid this issue. Not only will you feel incredibly guilty, but you could experience the side effects of being dehydrated. You may go to bed extra thirsty or wake up with restless legs or cramps. Falling behind may happen occasionally, but do your best to avoid this to deter other potentially uncomfortable situations.
Another common issue pregnant mothers face is the battle with stretch marks. It's worth noting that genetics and hormones play a huge role in their creation, but by maintaining an adequate hydration level, you can help prevent or delay the overall appearance of pregnancy-related stretch marks.
Be Realistic With Your Efforts
As we mentioned above, give yourself some grace. Being pregnant, though sacred and beautiful, means your brain and body are doing immense work. Internally and externally, you are hard at work every second of every day. You will forget things, lose track of time, and feel significant fatigue. Be realistic with your efforts to help reduce the guilt around the moments you fall behind or forget a few things.
Our hope with this water drinking guide while pregnant is that you find ways to quench your thirst with ease and support your body and growing baby's needs in the process. Best wishes on the journey ahead!