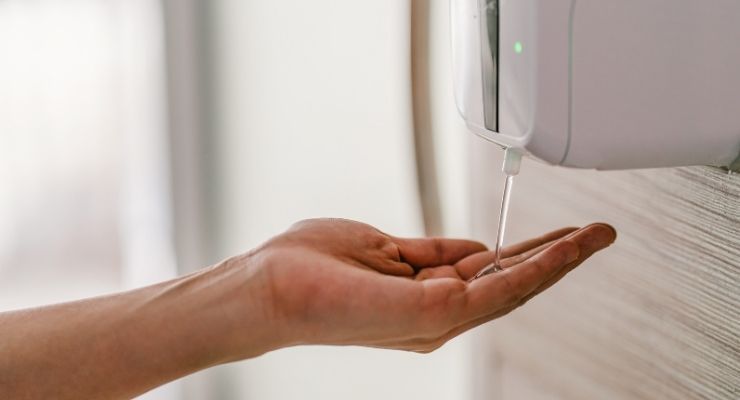 Now more than ever, global concerns focus on the importance of maintaining hand hygiene. In the ever-changing scope of business expectations, the general populace looks to manufacturing for innovations that redefine how goods are stored and accessed.
Engineers are challenged by the added complexity of reducing the physical interaction required to open or interact with packaging.
To stay ahead of the dangers of spreading infection through surfaces, designers must create new ways to present disinfectant products. Another major point of this design is to emphasize ease of use during the hustle and bustle of daily life. Manufacturers around the country are leading the charge promoting and creating new packaging solutions to promote hand hygiene.
Single-Use Dispenser
Many existing packaging types are shifting from convenient items to essential. Disposable packaging has an important place in reducing the spread of disease. The less often people need to touch a dispenser of any type, the better. Containers that are opened once, used quickly, and appropriately dispatched are especially effective.
Many companies are now producing travel-size custom packaging for their hygiene products to encourage their use even on the go. One of the top designs that match these needs is disinfectant wipe dispensers. The minimalist form of these packages enables users to minimally touch or avoid contact with the container altogether.
Touchless Dispensers
The need to separate hands from the objects that dispense disinfectants has always been known. However, with recent events, the urgency is even greater. Motion sensor technology is at the heart of automatic no-touch dispensers.
Rather than pressing, tipping, or squeezing a container, customers can access the cleaning product with a wave of the hand. The most common varieties feature upside-down product refill cartridges that maximize quick replacement and efficient usage of the product.
Bulk Solutions
One of the simplest packaging solutions to promote hand hygiene that customers are engaging strongly with has to do with cutting back on time spent in crowds. For many businesses, this is felt as a sharp decline in foot traffic. Having fewer individuals in a physical shop does not necessarily mean fewer sales, though. Instead, customers are shifting their purchase habits toward bulk offerings.
By buying more supplies per single trip, shoppers are can buy roughly the same items but in larger quantities. In terms of packaging, this often comes in the form of value packs. Large containers that feature easy to refill, highly portable, and mess-free features are becoming more popular.
Built-in Skin Care
With people washing their hands more frequently, skincare is also a major concern. To avoid raw skin, producers of hygiene products are finding new ways to combine disinfecting qualities with moisturizers.
The goal is to kill bacteria in the same way as applying water and soap or hand sanitizers. Rather than adding to the dryness of skin, though, customers can select a product with reparative traits. Often packaged in personal-sized dispensers, skincare disinfectants are a great way for individuals to personalize their hygiene needs even while on the go.