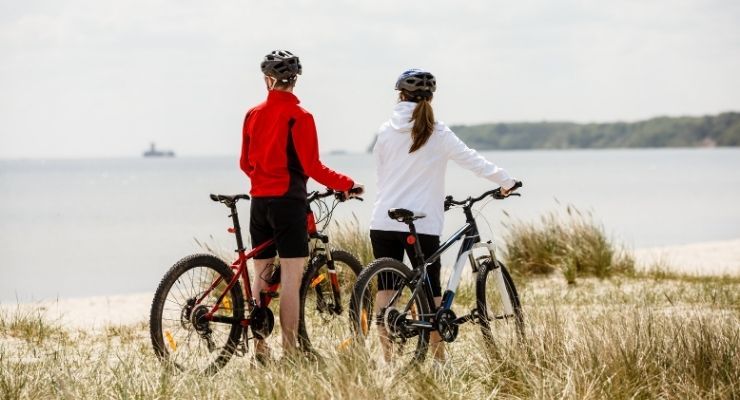 You want to be active and get your exercise, but the idea of being locked up in a health club or gym leaves you feeling cold and claustrophobic. Not to fear, as there are plenty of ways to flex your muscles, get your daily cardio, and soak up the sun and fresh air.
Whether you like to get around and see the sights or prefer the rules and regs of team sports, there are plenty of interesting ways to exercise outside. To give you a few ideas, here are the top sports that get you outdoors.
Softball
Prefer sports with a lot of running, throwing, chasing, and teamwork, but don't consider yourself an athlete? Try softball. Softball provides a fun and low-impact workout all genders can play together. Plenty of towns have softball teams for kids and adults.
It's good for cardiovascular workouts, improves your hand and eye coordination, and can expand your social circle and improve your mental wellness as well, as you play and otherwise interact with your teammates. Equipment is bare-bones too, so don't worry about dropping a lot of money to get started, though you may need to buy the occasional round for your team!
Bicycling
Bicycling is one of the few sports that can truly take you anywhere, and there are several types to choose from. If you favor wide-open spaces and rides through the town and country, long-distance biking is for you. Looking for more of a heart-thumping challenge with plenty of speed, stunts, and surprises? Riding a mountain bike will keep you up to your elbow pads in excitement.
All biking sports require certain types of protective equipment, but at base, all you need to ride is a helmet and a bicycle built for the challenges of that particular brand of biking. Bicycles are also good for cardiovascular workouts and building balance.
Running
Truly the most inexpensive sport to begin—all you need are your legs and the road beneath them. Running is, of course, supremely good for your heart and lungs, can burn off fat, and builds your strength and endurance. Being outside also ensures you're getting all the nutritional benefits of the sun and that lung-filling fresh air.
Swimming
Want an all-over body workout? Swimming is the ticket. Not only does swimming exercise virtually every muscle in your body—as if that wasn't enough reason to do it—but it's yet another great way to shed pounds as well as raise your heart and breathing rate and build up your overall endurance.
And if you do it every morning, it's a guaranteed wake-up that beats out any caffeinated beverage. Find a pond or lake brimming with natural beauty, and it ranks as one of the top sports that get you outdoors.