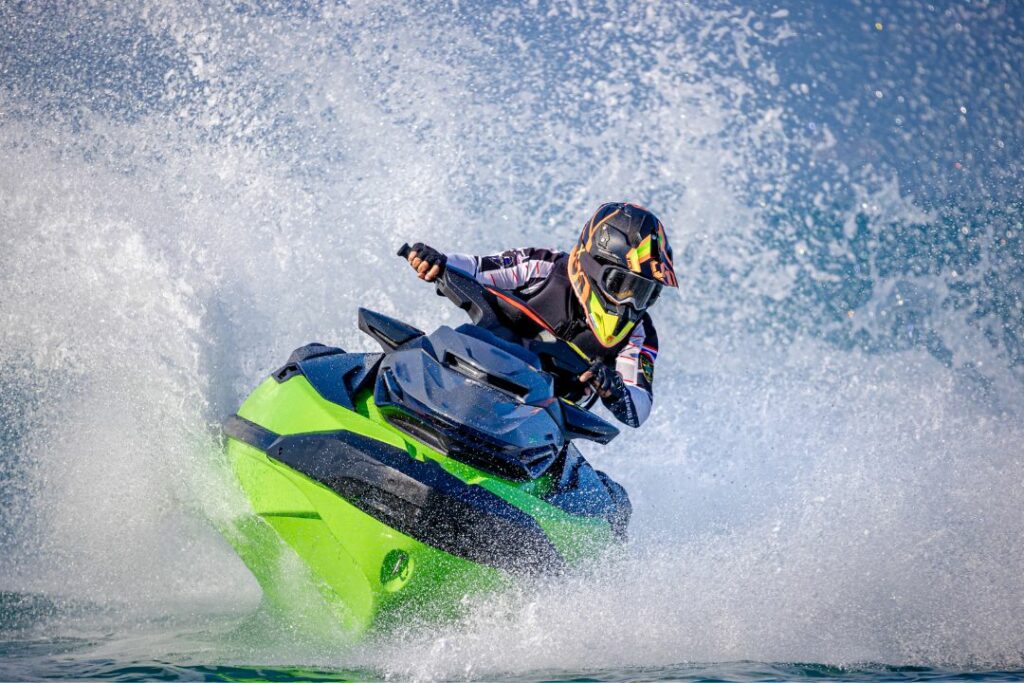 For those who own jet skis, there is nothing better than hitting the water and letting the wind rush past your face. There are so many fun activities you can do with your jet ski, from speeding across waves to pulling an inter-tube.
Did you know there were a few other interesting activities you could do? Let's dive in! 
Wave Jumping
Wave jumping is a little more typical for those who know a thing or two about jet skiing. There are a few techniques you can use to maximize this experience and enjoy it with more adrenaline.
Grab a friend for safety and head toward the nearest vessel in the water. Try to trail the watercraft's wake see what kind of waves you can jump or create with the addition of the vessel's back force. Another fun tactic is to hit the beach while the crowd is low and jump the deep waves at a cruising speed.
Race Your Lake Buds
Something really fun you can do with your lake buddies and potentially turn into a career is jet ski racing. Ensure there is no crowd on the water before embarking on this journey and create boundaries in the water for starting and stopping.
Racing is addictive, thrilling, and great for those with an adrenaline-driven spirit. It's easy to understand why jet ski racing may be a suitable profession for people who love adventure. Make sure you take the time to practice and understand the logistics.
Jet Ski Hunting
Because jet skis are relatively small water vessels, they make it easy to get in and out of remote locations in the water. In addition to their small size, you can easily maneuver and control them.
You can hunt in the water, go onto the beach and hunt for fish, or take a water-safe backpack and hunt on the shore of a remote island. Whichever is most accessible to you, use your jet ski as a mode of transportation to and from a unique hunting spot.
Jet Ski Fishing
Similar to how you will hunt, using your jet ski to go fishing is a really fun activity you can do. Of course, you need to know the water and where the fish lounge. They will disperse when the jet ski begins encroaching on their territory, so it's best to consider parking it nearby and then swimming to a safe location to begin the fishing.
No matter what you decide on, jet skis are a thrilling and worthwhile investment. While many think they can only ride around and soak up the sun, there are some really interesting and engaging activities you can do to pass the time on your wave runner.