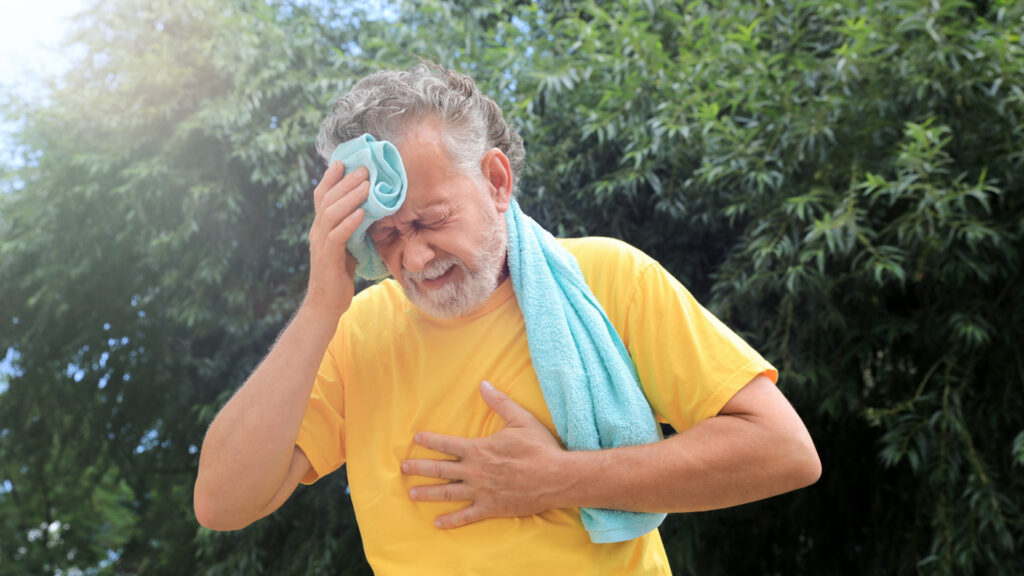 Whether you're lounging by the pool, grilling some burgers and hot dogs or enjoying the sun, summer is a time to head outside for fun. Here in the northeast, warm and sunny weather isn't around for long, so we look to take advantage and savor it while we can.
With warmer weather and longer days there's more time for outdoor activities, which can lead to injuries that aren't as common the other nine months of the year. It's important to be mindful of the risks and injuries that are more prevalent in the summer months. 
Heat Stroke and Heat Exhaustion
Warm weather is a treat, but often we're not acclimated, and it can be easy to overdo it. Heat-related illness can present as either heat exhaustion or heat stroke.
Heat exhaustion occurs when you've been exposed to extremely high temperatures and often is accompanied by dehydration. Specifically, a person experiences heat exhaustion when the body reaches a temperature of less than or equal to 104 degrees Fahrenheit.
Heat stroke occurs when the body reaches a core temperature of more than 105 degrees Fahrenheit. It is more serious than heat exhaustion. Heat stroke is a medical emergency that can result in brain and/or internal organ damage. The condition occurs after prolonged dehydration and exposure to high temperatures. Heat stroke often is a progression from heat exhaustion. It is a sign that the body's mechanisms have failed to control its core temperature.
When the weather is hot, it's important to take steps to prevent heat-related illness:
Limit physical activity in extreme temperatures.
Wear loose clothing and take frequent breaks.
Some medications, such as allergy, heart, or psychiatric prescriptions can put you at an increased risk, as these medications may limit the body's ability to sweat.
Beat the Rays
Sunburn is a common summertime injury. Unprotected skin can be burned by the sun's UV rays in as little as 15 minutes but can take up to 12 hours for the skin to show damage. CDC recommends staying out of the sun between 10 a.m. and 4 p.m., when its UV rays are at their highest level. Sunscreen is recommended for anyone working and playing outside in the summer, even on cloudy days. Hats, sunglasses, and long sleeves are also recommended for outdoors activities.
Grilling
There are 18,000 people rushed to the emergency department each year for grill-related injuries. Barbecues are a great way to eat tasty food and spend time with family and friends, and being aware of the various safety hazards involved can ensure you'll have as much fun as possible during your next cook-out. Some tips to make certain you're grilling safe and effectively include:
Keep both gas and charcoal grills outside and at least 10 feet away from the house, garage, or shed. It should not be underneath a porch or near any deck railings, decorations, and overhanging branches.
Clean your grill regularly. Grease and fat buildup can cause unexpected flare-ups.
If you are using a propane grill, check for leaks before using it for the first time each year. Use a solution of half liquid dish soap and half water and apply the solution to the hose of the grill. If there is a gas leak, bubbles will form on the hose.
Keep children and pets away from the grill area.
When using a charcoal grill, only use charcoal starter fluid. Keep it out of reach of children and away from heat sources. Also, allow the coals to fully cool before disposing of them when you are finished grilling.
Keep a water spray bottle and fire extinguisher near the grill at all times. A spray bottle can be used to tame small flare ups and won't ruin your food. A fire extinguisher may be necessary for unmanageable flames. If the fire is too much to handle, call the fire department immediately.
Water Safety
Two-thirds of drowning deaths happen between May and August. Many of these deaths are preventable. Prepare your family for water fun with these safety tips:
Ensure everyone knows how to swim. Encourage family members and children to take swimming lessons.
Up to 90% of drowning victims are within 10 yards of safety at the time of drowning. Ensure all young children are properly monitored.
Small children should never be unattended around any body of water—pools, bathtubs, lakes, etc.
Be aware of streams, creeks, ponds, ditches, and other small bodies of water on or near your property. Standing water left in buckets, wading pools, bathtubs, and toilets can be dangerous to toddlers.
Parents, guardians, and babysitters should be trained in CPR.
Swimming pools should be enclosed by a four-sided fence that is at least five feet tall and separates the pool from the house. Pool fence gates should be self-closing and self-latching. Complete pool fence enclosures reduce drownings by 50 percent.
All people in a boat or other watercraft should wear an approved personal flotation device.
If you or your child are unable to swim or unsure of your swimming abilities, wear a flotation device anytime you're around a body of water.
When involved with boating and water sports, always have a designated spotter aboard, a passenger whose sole task is to keep an eye on the person skiing or riding and communicate their needs to the driver.
As the driver, be vigilant and not reckless while hauling passengers or a skier or tuber.
Have a first aid kit on board and be able to communicate from the boat, whether it be a phone or radio.
In times of an emergency, minutes matter. Will you know what to do? UPMC launched Minutes Matter to provide community members with access to basic emergency information and education about life-saving interventions. Find more in-depth information on what to do in emergencies as well as what resources are available in the community for training for CPR, Stop the Bleed, drug overdose and mental health first aid by visiting MinutesMatter.UPMC.com.
---
Annalisa Negrea, BSN, is the trauma and injury prevention coordinator at UPMC Williamsport. For more information, visit UPMC.com/TraumaNCPA.