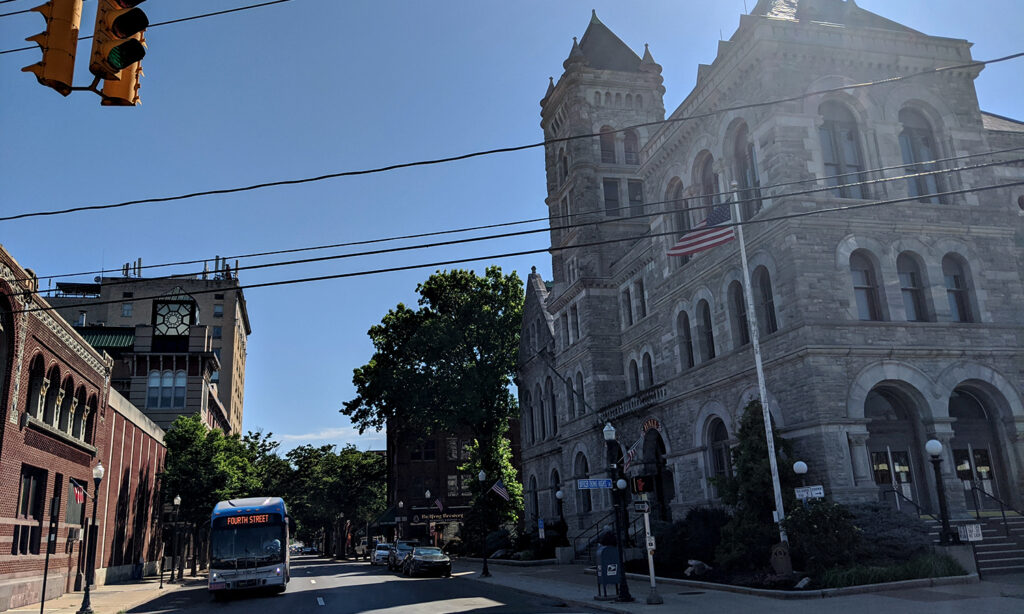 An investigation into the City of Williamsport by the Pennsylvania Attorney General's Office alleges years of misappropriation of funds within the city and could hold dire consequences for some current and former employees of the city, according to individuals familiar with the investigation.
A clear picture of the City of Williamsport's financial standing is impossible to determine, according to Mayor Derek Slaughter, who is facing mounting pressure from City Council to allocate funds to various projects and employee positions.
"Since I took over in January of 2020, there have been issues with the finances… The finances are not what they should be," Slaughter said during Williamsport's Thursday evening City Council meeting. "While we're trying to go through the budget, it's difficult when we don't even know what money we are working with."
Just days after taking office, Slaughter terminated long-time Director of Finance William E. Nichols Jr., who had worked for the city for over 40 years and who also managed River Valley Transit.
Slaughter said he became aware of discrepancies in the city's finances while serving on City Council and, shortly after becoming mayor, he sent a report to Lycoming County District Attorney Ryan Gardner. Gardner subsequently sent the report to Attorney General Josh Shapiro's office.
Nichols was called for comment for this article but did not respond.
Checks and balances
The outcome of the Attorney General's investigation has not been made public; however, this has not stopped allegations from surfacing about Nichols' handling of state and federal grant funds during his time with the city.
"There was clearly a pattern of unethical behavior," said Jason Fitzgerald, president of Penn Strategies, which consulted with the city for over eight years until Fitzgerald chose not to renew his company's contract with the city in 2020.
River Valley Transit receives grant funds from the state Department of Transportation each year to offset a large portion of its budget. It's alleged that portions of those funds were used for city projects instead.
According to Fitzgerald, it would have been simple for Nichols to move funds between the two agencies because he oversaw and managed finances for both.
"One man controlled everyone," he said.
Fitzgerald, who added that he and Nichols did not get along, said it was an ongoing pattern of behavior that went unchecked for years.
Lundy lawsuit
In July 2020, the city reached a settlement with Lundy Construction Co. for an outstanding payment of $12,000 for work done at Bowman Field. According to the lawsuit, Nichols said he would pay Lundy $6,000 if a donation was first made to the Hiawatha Riverboat for $2,450.
According to Frank E. Lundy III, CEO of the family-owned business, a check for that amount was sent, but the city never paid the $6,000.
At the time, then interim county District Attorney Kenneth Osokow said the money requested did not rise to the level of extortion.
An external audit of River Valley Transit's 2018 and 2019 finances is expected to be published soon, according to Slaughter during a recent city finance committee meeting. This audit is being facilitated by RKL LLP. The city's previous auditing firm, Baker Tilly, stopped working with the city in 2020.
Without an audit of the city's current financial standing, Slaughter said it is unclear what funds he is able to use in the city's various accounts.
Find money somewhere
Slaughter has received pressure from members of city council to find funds for the Bowman Field scoreboard project, which was approved roughly five years ago after receiving a $600,000 grant from the state.
"The previous administration fumbled the bids at least twice, which delayed everything," said Council President Randall Allison during the council meeting. Over the years, increasing costs have escalated the project cost about $64,000 over the granted amount.
Slaughter requested to use funds from the $25 million American Rescue Plan monies the city received for COVID-19 mitigation efforts. However, City Council denied the request because it believes it does not fit the scope of those funds..
Councilwoman Liz Miele voiced frustration with Slaughter for not finding an alternative funding source before the Thursday meeting.
"You can't default on all of your financial obligations because you're having one financial issue," Miele said, referring to the state investigation.
"But that one financial issue is related to everything," Slaughter countered.
In May, city Councilwoman Bonnie Katz called for Slaughter to fill the position of director of streets and parks department, which is currently managed by Adam Winder who also serves as interim manager of River Valley Transit.
Nichol's previous position as director of finance remains vacant.
Miele, Katz and Allison were contact for comment.
Katz and Miele said they were unable to comment on the investigation and Allison did not respond.
EDITOR's NOTE: This article was corrected to reflect that Winder is not the director of finance. This position remains vacant.