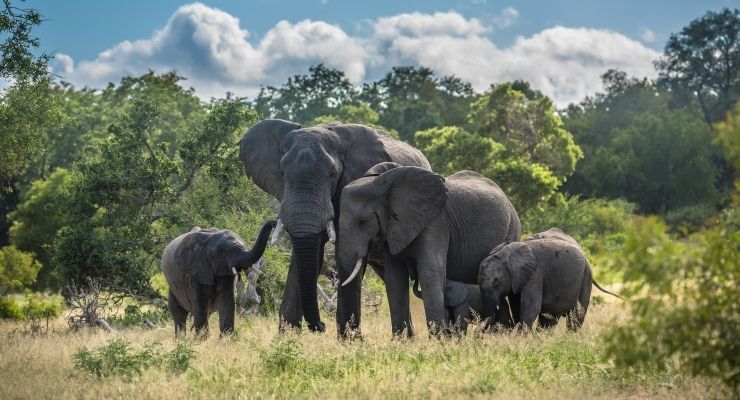 Families aren't just human phenomena. The genetic roots that bind families together are felt all throughout the animal kingdom. Some animals, however, have stronger family bonds than others. Read on to learn about the creatures with the strongest family bonds.
Elephants
Elephant herds are tight-knit communities consisting of between 8 and 100 elephants. The biggest female, or matriarch, uses her strong memory to lead the rest of the herd to food and water.
Males usually leave the herd at puberty—at around 8 to 13 years—but multiple generations of females raise the babies together. Elephants have also been known to mourn the deaths of loved ones. There are documented sightings of elephants returning to locations where friends have died, even smelling and touching their bones and corpses.
Orcas
Orcas earn their place among the creatures with the strongest family bonds because, unlike many animals, they stay with their families for life. These black and white ocean beasts travel in pods ranging from 5 to 50 members. Childcare is a community project, with younger females helping to care for the babies. The parents instruct their young on how to hunt prey and share the food with the pod.
Bees
Bees are some of the most family-centric creatures on Earth. Living in highly organized hives, where all the bees have specific roles, the colony lives to protect itself. In large part, this translates to the colony living to protect the queen.
Worker bees, which are females, may nurse new larvae, forage for pollen, and even sacrifice their lives by stinging predators that threaten their queen. Drones, which are males, exist only to fertilize the queen. And the queen, of course, lays the many thousands of eggs that populate the hive.
Dwarf Mongooses
Dwarf mongooses, like elephants, live in groups led by females. The matriarch is the only female that can mate, much like the queen in a beehive. The matriarch also gets the first right to food.
But, unlike many other animals, the babies get the second opportunity eat. The children will stay with the group until their mothers die. Then they will start their own families or join another. Dwarf mongooses also like to keep in contact when they're not together. When they're out looking for food, they'll emit brief chirps to check in with each other throughout the day.