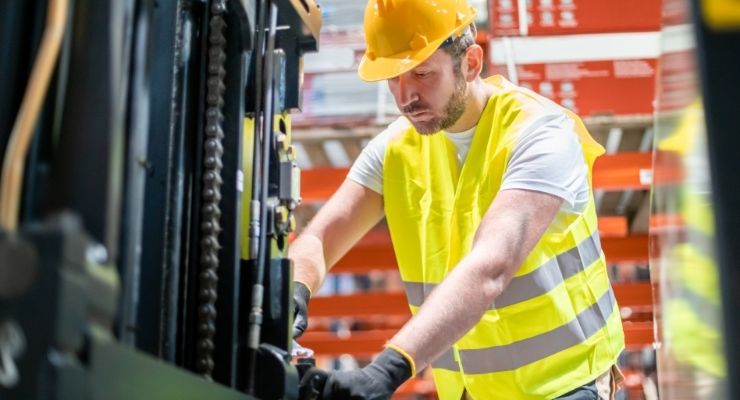 After operating a forklift for a while without issues, some operators choose to skip pre-shift inspections occasionally. Unfortunately, behavior like this increases the chances of forklift accidents occurring.
If you're unfamiliar with the importance of forklift pre-shift inspections, read the summary below. Although this might sometimes seem pointless, pre-shift forklift inspections are crucial for workplace safety. 
OSHA requires forklift operators to conduct a comprehensive inspection before each shift. One portion of the inspection begins before starting the forklift, while the second portion requires the forklift to be on and functional. Before starting the forklift and testing individual functions, operators have to inspect areas such as the tires, forks, and chains for any signs of damage. Don't just glance at these areas; look carefully for any cracks, holes, and other problematic conditions.
When an operator discovers mechanical problems with a forklift, they shouldn't wait to find a solution; hazardous forklifts should be swiftly taken off the floor until repairs occur. The sooner you find a solution, the sooner the forklift can be back out on the floor and part of the natural workflow. Forklifts are essential machines in the workplace, so downtime can be a significant detriment to workflow efficiency.
Due to the different forklift power supplies, inspections will vary depending on the specific machine at hand. For instance, inspecting an electric forklift's battery is slightly different from a liquid propane forklift's fuel tank, but they both serve the same purpose: finding signs of damage.
Worn components and fuel leaks can cause avoidable accidents in the workplace. A broken fork might not provide proper load stability, increasing the potential for products to fall from the forks or the vehicle tipping over entirely. Likewise, fluid leaks can cause an employee to slip and fall. By conducting pre-shift inspections, forklift operators can prevent these accidents and more from occurring. 
As you can see, the importance of forklift pre-shift inspections comes down to workplace safety. Tip-overs, collisions, and falling products are just a few of the common forklift accidents that can result in injuries or death.
Thankfully, forklift accidents are avoidable if the work environment and everyone involved is optimized for safe, responsible practices. Many factors go into keeping forklifts safe, and pre-shift inspections are a big one.