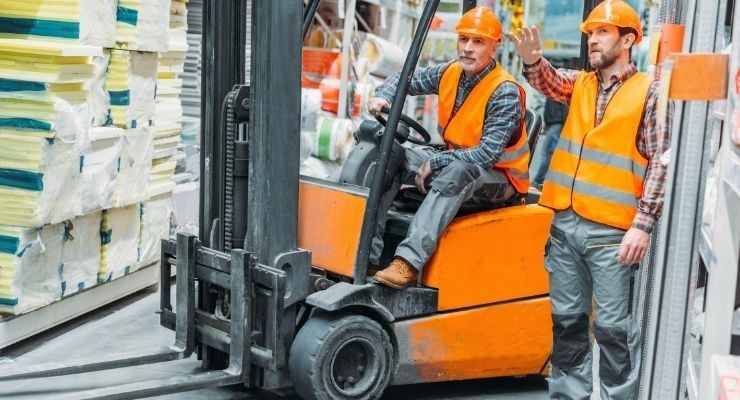 Forklift collisions can occur between two forklifts or between one forklift and a nearby pedestrian. If forklift operators aren't careful, they can also collide with nearby equipment or shelving units. Suffice to say, forklift collisions are something to avoid in the workplace. Though that sounds simple enough, these collisions are unfortunately quite common. This guide to the best ways to prevent forklift collisions will help you swiftly create a safer work environment.
Optimize Organization
Keeping the workplace floors free of clutter plays a key role in ensuring forklift operators can maneuver from place to place with ease and safety. Encourage employees not to put equipment or various trash on the ground near them. Instead, establish designated garbage cans and storage areas for such clutter.
If forklift operators have to make sudden course corrections to avoid obstructions on the ground, they can tip over the forklift, cause loads to fall from the forks, or collide with nearby pedestrians. Keeping the floors clean doesn't just look nice—it also provides your forklift operators with a safe means of travel.
Perform Routine Maintenance
Not only does your workplace need regular maintenance, but so do the forklifts inside of it. When a forklift operator is about to step into their vehicle for the first time each day, they must complete an OSHA-compliant pre-operating inspection that includes looking at the quality of the forks, tires, hoses, and other essential components of the vehicle.
That way, if something is wrong or a regularly scheduled maintenance task must occur, the operator can promptly address the issue in a smart, responsible way. This is one of the best ways to prevent forklift collisions because if you don't enforce these inspections, operators may drive a malfunctioning forklift, which can result in them, as well as others in the area, getting hurt.
Maximize Visibility
Unfortunately, forklift operators don't always have the visibility necessary to complete a task safely. This is why you should encourage forklift operators to reach out to a spotter if they need help responsibly maneuvering the vehicle. Teaching your forklift operators this quick and simple tip will prove beneficial during working hours. Additionally, frequently replace dim or burnt-out light bulbs to keep working zones well lit. Likewise, consider using LED warning lights on the floor. This will keep workplace traffic safe and consistent while also providing a variety of other advantages to your facility.