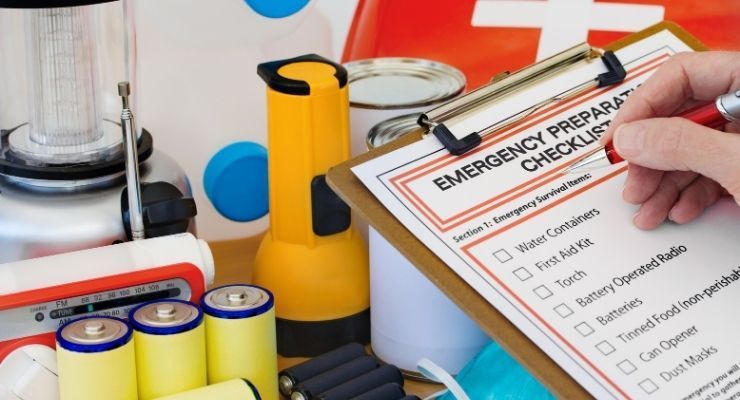 NOAA Weather Radio (Self-Powered)
Emergency strikes unexpectedly. Whether it's a fire, earthquake, hurricane, a family member falling ill, losing power for multiple days, or something else, an emergency can arise when you least expect it.
Creating a custom home emergency preparedness kit is not difficult if you know what to put in it. Read about items to include in an emergency survival kit for your family.
This multi-use radio, flashlight, and SOS alarm are a must-have in an emergency preparedness kit. The radio will work in any situation with three charging methods: solar, hand-cranked, or AAA batteries. It features AM/FM radio plus NOAA (National Oceanic and Atmospheric Administration) emergency broadcasts.
Set of Weather-Resistant Blankets
These Mylar thermal blankets can retain up to 90% of body heat and are waterproof, windproof, and moisture-proof. You can also convert it into emergency shelter tents if need be. They're incredibly lightweight and inexpensive.
First Aid Kit
Get a first aid kit that comes in a compact carrying bag with clear plastic pockets, so you can easily see the contents inside each pocket. Supplies include tapes, bandages, pads, sponges, gloves, sterilization wipes, and medical tools. A compact kit like this should serve all your basic medical needs.
Portable Water Filter
If you run out of or find yourself without clean water, a camping or hiking water filter will work. LifeStraws use a microfiltration membrane to remove 99.9% of waterborne bacteria, parasites, and microplastics (as small as one micron). With proper use and maintenance, a LifeStraw filter can filter through 1,000 gallons of water.
Multi-Tool Army Knife
A stainless steel swiss army knife can serve dozens of functions with all its tools. Functions include—but are not limited to—bottle opener, scissors, screwdriver, blade, and pliers. You can easily carry this compact tool in a backpack or pocket if you're on the go.
N-95 Filtration Masks
Since the Spring of 2020, the Centers for Disease Control and Prevention (CDC) has recommended people include additional items in their kits to prevent the spread of coronavirus and other illnesses. A set of N-95 masks for all adults and surgical masks for the kids will work fine. Of course, this would also include soap, hand sanitizer, and disinfecting wipes to disinfect surfaces.
An emergency preparedness kit will not only help you react appropriately during an emergency, but it will also provide peace of mind that you have done something to enrich your family's future.
Remember, if authorities call for an evacuation, take your emergency preparedness kit. It will contain vital supplies you could need on the road. We hope these items to include in an emergency survival kit for your family will help you when an emergency strikes.