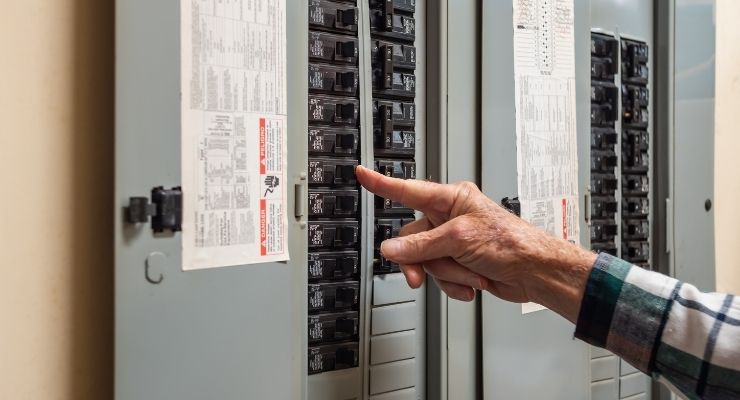 In instances where all the power in your home suddenly gets shut off, your circuit breaker is often to blame. But don't get too mad at the mechanism. Your circuit breaker likely had a very good reason for tripping.
Often, a circuit breaker cuts off power to prevent a fire from occurring when it detects too much electricity. To get to the bottom of your power outage issue, check out these common reasons for a tripping circuit breaker.
An Overloaded Circuit
The most common cause of a tripped circuit breaker is an overloaded circuit. If the circuit breaker attempts to draw a larger electrical load than its capacity can withstand, the electrical appliances connected to the circuit could become damaged. In addition, the circuit itself could overheat and start a fire. To prevent such consequences from occurring, the circuit breaker will trip and shut off all power instead.
One way to prevent an overloaded circuit is to redistribute your electrical devices and appliances, so there aren't too many on the same circuit. When redistributing your electrical devices and appliances, pay special attention to the placement of ones that draw a substantial amount of energy, such as your AC unit. Having too many power-hungry devices on one circuit will likely cause your breaker to trip. For a more long-term solution, you could also have an electrician add additional circuits to your home's wiring.
Short Circuit
A more perilous cause of a tripped circuit breaker is a short circuit. A short circuit occurs when a hot wire contacts a neutral wire in an electrical outlet. In such a case, an unimpeded flow of electricity will form and create more heat than the circuit can withstand.
To prevent a fire, the breaker will trip and shut off the circuit. If a short circuit occurs, your breaker will immediately trip again after you've reset it, and you may also notice a burnt smell around the breaker. While there are many potential causes of a short circuit, some of the most common include damaged or loose wires. To identify and resolve the problem, enlist the help of a professional electrician.
Ground Fault
Another common reason for a tripping circuit breaker is a ground fault. Similar to a short circuit, a ground fault occurs when two wires that aren't intended to touch make contact. In the case of a ground fault, a hot wire contacts either a ground wire or a metal outlet box that's connected to the ground wire.
When such contact is made, a surplus of electricity will pass through the breaker, and it will trip to protect the circuit and connected appliances. Common signs that a ground fault has occurred include discoloration around the outlet and the immediate tripping of the breaker after you reset it. Because ground faults pose a risk of fires and electrical shock, you should always contact a professional electrician to resolve the issue.