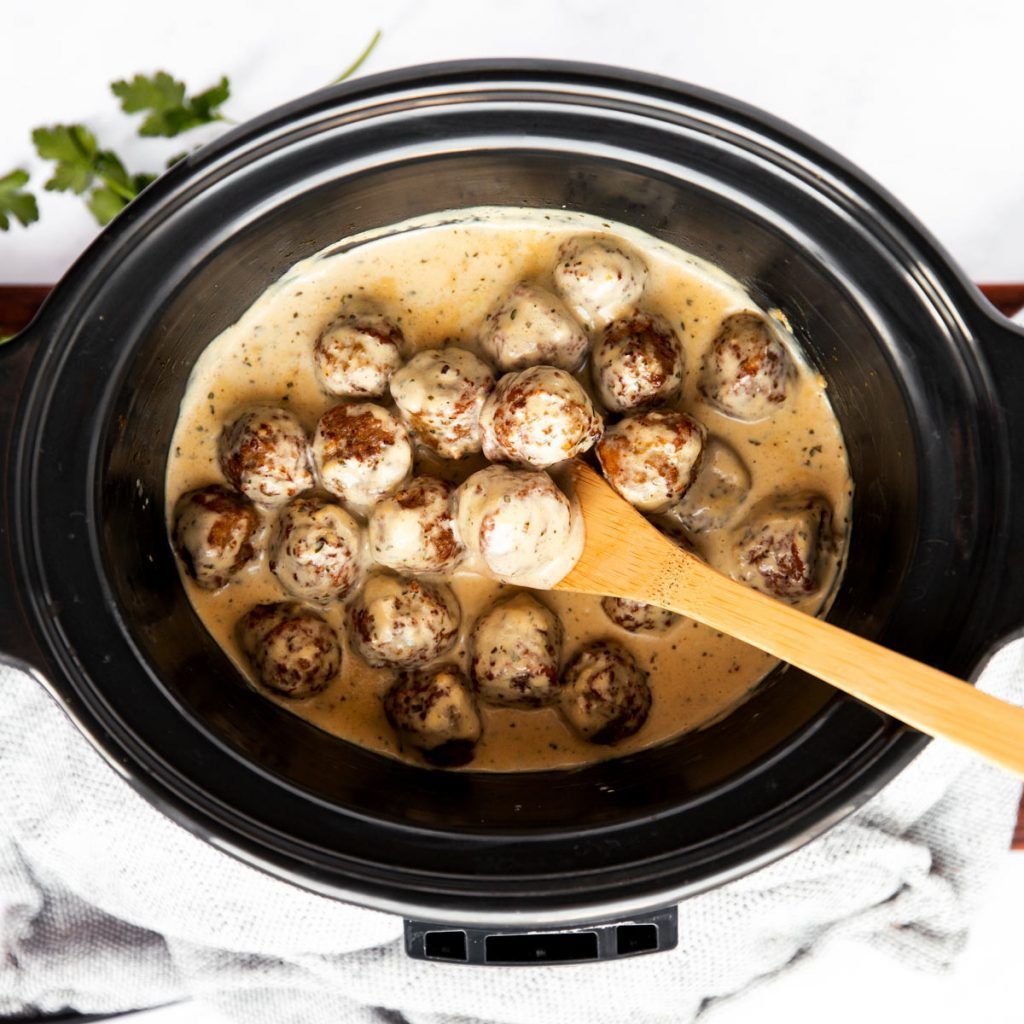 It's pretty easy to convert your favorite recipes to be in a crockpot.
If a dish usually cooks in the oven for 15-30 minutes, then it can go in a crockpot on high for 1.5 hours to 2.5 hours, or on low for 4-6 hours.
If you have a dish that cooks 30-60 minutes, then it can go in the crockpot on high for 2-4 hours, or 6-8 hours on low.
TIP: A crockpot requires less liquid, so reduce by half to 1 cup when converting recipes.
What is the difference between low and high settings in a crockpot?

The high and low settings just refer to how long it takes to reach a simmer point, so 7-8 hours on low, or you can do 3-4 hours on high. It is so simple to convert!

HIGH        LOW
3 hours    7 hours
4 hours    8 hours
5 hours    9 hours
6 hours    10 hours
Make sure to always thaw your meat before cooking!
Don't reheat dinners in the crockpot.
Crockpot meals are so easy to prepare, freeze, and have ready to pop in the crockpot at any time.
Check this recipe out!
I love my crockpots so much that I have four in all different sizes. You can cook pretty much anything and everything in them. My favorite crockpot recipe has to be my lasagna. Yes, you can make lasagna in a crockpot! The best part? You don't even have to cook the noodles!
Here is my recipe:
CROCK POT LASAGNA
Ingredients:
1-½ pound ground beef
1 small onion, finely diced
1 tbsp. garlic, minced
1 jar (26 oz.) spaghetti sauce
1 cup water
1 (15 oz.) container small curd cottage cheese
2 cups shredded mozzarella cheese, divided
1/2 cup grated parmesan cheese, divided
1 egg
2 tbsp. Italian seasoning(optional)
1 teaspoon pepper
Lasagna noodles, uncooked
Pepperoni (also optional)
Salt, to taste
Directions:
Brown ground beef and onion in a large skillet.
(You'll be able to add the sauce and water to it after the meat is cooked)
Then add garlic and cook for an additional 1-2 minutes.
Drain excess grease from beef. And put it back into the skillet. Pour in spaghetti sauce and water.
Stir well and taste to see if you need more seasoning.
In a separate bowl, mix together cottage cheese, 1 1/2 cups mozzarella cheese, 2 tbsp. parmesan cheese,egg, pepper and chopped parsley.
(Put your remaining cheeses back in the fridge, you'll be using those after your lasagna is cooked)
Spray crockpot with non-stick cooking spray. Scoop approximately 1 cup of meat sauce into the bottom of the slow cooker. Top with one layer of uncooked lasagna noodles. Just do your best to break them up to fit into your crock pot. Then place pepperoni's on your noodles. Next top with a layer of cheese mixture. Keep adding layers, ending with meat sauce. (I put a few pepperoni's on the top as well!) Put the lid on and cook on low for 4-6 hours. (It took exactly 4 hours in my crockpot). You want most of the liquid to be absorbed and noodles should be soft. Put a knife through the noodles to see if they are soft.
When it is finished cooking, add remaining cheeses. Put the lid back on for about 10-15 more minutes until the cheese is melted. Slice and serve it up with a crisp salad and some garlic bread.