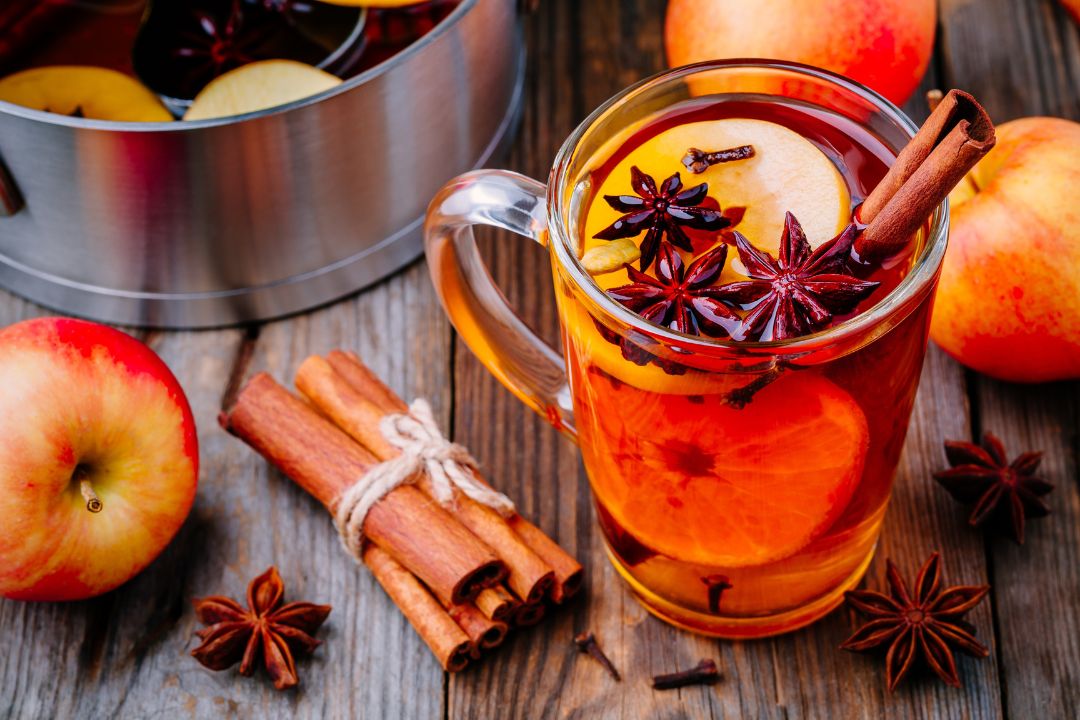 Fall is a season full of change, festivities, reflection and great food. While pumpkin spice has gained popularity recently, apple is a classic fall flavor with great versatility. Explore four delicious ways to enjoy apples this fall.
1. Apple Cider
An apple a day keeps the doctor away, and that's true even when you turn the fruit into a beverage. Apple juice provides adults with many health benefits, including supporting cardiovascular and digestive health.
Apple cider is a more autumnal spin on regular apple juice. Cider is unfiltered, and the apple solids in the drink give it a slightly cloudier appearance and a different texture.
Make Semi-Homemade Cider for a Get-Together
You don't have to make cider completely from scratch, but you can easily top the cider you buy from the store. Heat apple cider, sliced apples and oranges, cinnamon sticks, whole cloves and white sugar in a stock pot. Let simmer for 15 minutes, then enjoy.
2. Apple Crisp
Apple crisps are another delicious way to enjoy the fruit this fall. Try crisps if you love apple pie but want to try something that's easier to make at home.
This dessert has soft, cooked apples in cinnamon sugar under a crunchy streusel topping. You can add nutmeg for a warm, slightly woody flavor and ginger for a kick. Eat it hot alone or topped with vanilla ice cream.
3. Caramel Apples
Fall is the season for apple harvests and county fairs, which may be why eating caramel apples can feel nostalgic. You can eat caramel apples plain or with toppings such as crushed nuts, chocolate, shredded coconut, candies or sprinkles.
Make Caramel Apples
Put whole apples or apple slices on sticks. Melt caramel candies with a splash of cream to create a silky-smooth caramel sauce.
Dip the apples into the caramel cream. Allow the excess caramel to drip off before dipping the apple in toppings. Finally, put the apple on a lined baking sheet, then place the tray in the fridge to set.
4. Apple Butter
Apple butter is a great way to enjoy the fruit throughout the season. This spreadable preserve has a flavor that's richer than applesauce. You can make it with sliced apples, sugar, cinnamon and festive seasonings like allspice, nutmeg and cloves.
Put apple butter on toast, pancakes and cinnamon rolls or use it as a glaze on roasted meat. The sweet, creamy spread transforms your year-round foods into seasonal dishes.
Hot cider, apple crisps, caramel apples and apple butter are four takes on this staple ingredient in fall food. Whether you're spending time alone at home or gathering with loved ones, take time to enjoy these treats.