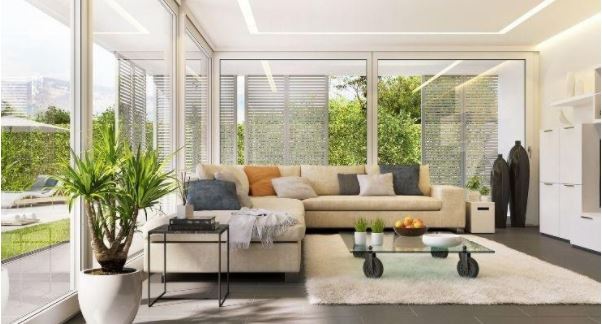 You can treat your patio like an interior room as you decorate it with its own set of furniture.
Companies create the chairs and tables you purchase for your patio specifically with that setting in mind, but it's also possible to integrate these pieces inside your home as well.
We'll show you why you should consider doing this by presenting three reasons to use outdoor furniture indoors.
They Offer a Different Look
Outdoor furniture pieces offer a lot of different looks, but they are all meant to mesh well with nature. You'll find that their hard frames are more dominant than most indoor furnishings. Whereas a normal chair or sofa will probably have upholstery fabric covering its whole body, an outdoor equivalent will often only have fabric on its back and seat cushions. This leaves more space for designers to let other materials shine.
Your outdoor furniture may have woven wicker-style bases, prominent wood frames, metal parts or a combination of all of these. Some outdoor sofas even include attached side tables formed from wood and metal extensions at their sides. These can all give your home a unique, rustic appearance.
They're More Durable
Most of the time, outdoor furniture sits without any protection from the sun, wind, and precipitation. Therefore, it must have a sturdy design so that it doesn't deteriorate.
Its high durability makes for a compelling reason to use outdoor furniture indoors. You can place outdoor pieces in high-traffic areas throughout your home that you know will receive a great deal of wear on a daily basis.
For households with young children and pets, having sturdy furniture that will maintain its look even when treated roughly is highly attractive as well. You can also learn how to update outdoor furniture upholstery to easily revive your pieces when they start to look a bit roughed up.
You Can Use Them Year-Round
When you restrict your outdoor furniture to patio use only, it'll sit untouched for a good portion of the year when temperatures become too low for you to spend time outside.
You can get more value from your outdoor pieces by bringing them indoors during the winter where you can enjoy them in comfort. At the same time, this will give you a reason to switch up your décor arrangements that will help keep your home feeling fresh.
It's also possible that you've wanted an extra seat in a certain spot but could not justify purchasing a new furnishing for that purpose. With your outdoor furniture, you can fill those needs.