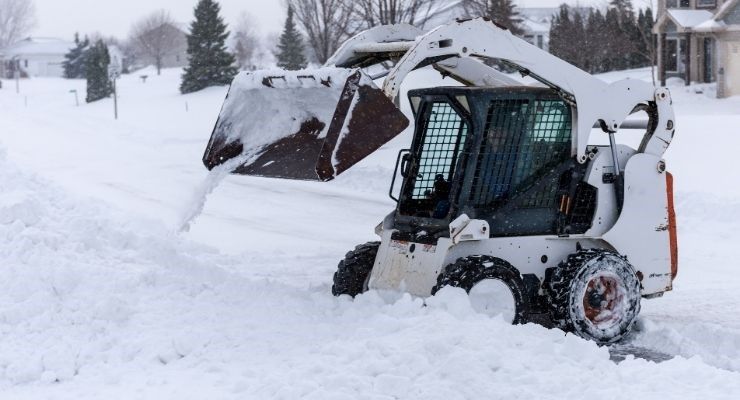 In the summer, skid steer loaders are invaluable for excavations, demolitions and landscaping. Once winter rolls around, they're just as valuable for their ability to blow snow from roads, sidewalks and parking lots. 
But just because these machines are versatile, doesn't mean that they don't need preparations to make them winter-ready. These winter tips for your skid steer loader will keep it running all season long.
Avoid corrosion
Anyone who has ever hit the highway in the snow knows that the winter can be brutal on a car's exterior. With the ice, slush, and road salt, there is plenty to cause corrosion, and the same is true for skid steer loaders.
This corrosion can impact the machine's body as well as rubber hoses and even the battery. Fortunately, there are a variety of corrosion inhibitors that can be applied directly to the body of the machine to help winterize your skid steer loader.
Be diligent with maintenance
Tires
When the temperature drops, so does a tire's air pressure. Pressure levels should be checked regularly. Along with this, you may consider replacing the tires with ones that have better traction for winter applications. For instance, tires that are narrower and taller tend to have better tread, especially when working in the snow.
Tracks
For those using a skid steer with tracks instead of wheels, such as a Bobcat 864/T200 machine, you won't have to worry about air pressure in your tires. However, extreme cold temperatures can cause rubber, like the rubber that makes up the tracks, to crack. Inspections of the tracks should occur before every use.
Fluids and fuels
When temperatures dip to freezing, all the liquids in your machine including fluids and fuels may be affected. Change engine and hydraulic oils and consider alternative diesel fuel before the weather gets too cold to ensure the fluids you are using will have the proper viscosity in cold weather. Use this opportunity to change your fuel filters as well.
Batteries
As mentioned, winter can be tough on batteries. There are the corrosion-causing conditions of course, but the amount of energy required to start a machine in the cold also puts additional strain on the battery. Operators should regularly check the batteries for signs of them going out, and operations should have extra ones on standby.
Pay attention to winter attachments
The skid steer isn't the only thing needing attention in the winter. The more it snows, the more wear and tear the cold weather attachments are going to take. Inspect attachments such as spreaders, blades, scrapers and pushers regularly for damage. Also be aware of ones that need hydraulic fuel to operate them, as the cold weather may impact how well these will work.