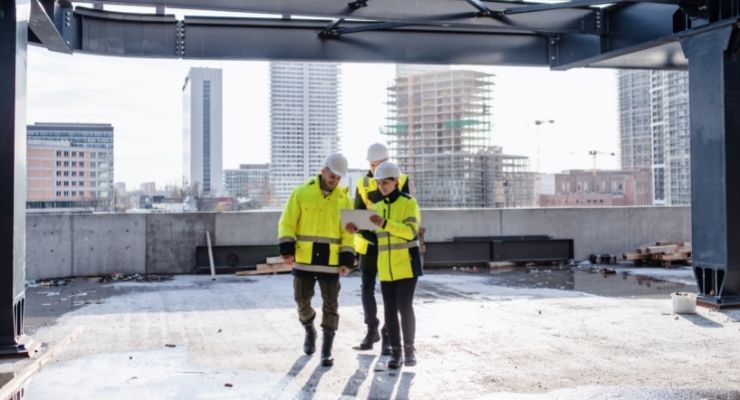 A positive workplace culture is integral for any industry, including construction. One of the essential methods for creating and maintaining a positive company culture is putting safety at the forefront.
It's easy to say, "We're working around heavy machines, so accidents are going to happen," but harder to face the consequences of those accidents.
This guide is about more than trying to scare you into changing your ways; it's about understanding the importance of safety on construction sites. Read the list below to learn the many ways job site safety impacts your construction company.
Employee Health
The biggest reason to prioritize workplace safety on-site is to promote employee well-being. In certain circumstances, it might seem like a good call to cut corners with safety protocols, whether the issue is time, budget, or something else entirely.
However, falls, collisions, and exposure to dangerous materials are avoidable if you plan your construction job precisely and responsibly. Employees shouldn't have to fear for their lives due to their working conditions. After assessing the hazards present on the job site, you can find the gear that minimizes the chance of accidents, whether it's PPE or heavy machinery.
For example, understanding the types of industrial manlifts can be integral to finding the safest option for your site. After all, different equipment pieces can come with various finishes and materials that make them suitable for combating specific hazards.
Peace of Mind
Being aware of one's surroundings and the hazards present is critical for responsibly working on a construction site. That said, as mentioned above, the job site conditions shouldn't excessively add to fears.
Instead, construction crews should feel confident using the proper techniques for operating equipment and conducting tasks around the job site. They should be able to trust that the equipment will provide the same reliability. When construction workers have this degree of peace of mind, they can focus more on the task at hand and do it efficiently.
Thus, you should always be precise when choosing construction equipment. Beyond optimizing the equipment for on-site hazards, always be sure you're buying gear from reputable sources. If you properly train employees and care for equipment, both can work in tandem beautifully.
OSHA Guidelines
Understanding the importance of safety on construction sites requires paying careful attention to OSHA guidelines, which you can easily do by visiting the organization's website. The Occupational Safety and Health Administration (OSHA) uses its website to list specific standards and practices for businesses to follow.
However, OSHA's guidelines are for more than suggestions. In some cases, if OSHA finds problematic practices in your workplace, it will deliver a citation. You will then have a chance to improve your practices without financial repercussions.
That said, serious OSHA violations can result in substantial fines. Depending on the specific violation, OSHA fines can range from 14,502 to 145,027 dollars. Thus, not only does prioritizing workplace safety keep your team healthy and efficient, but it also helps you avoid hefty fines in the future.