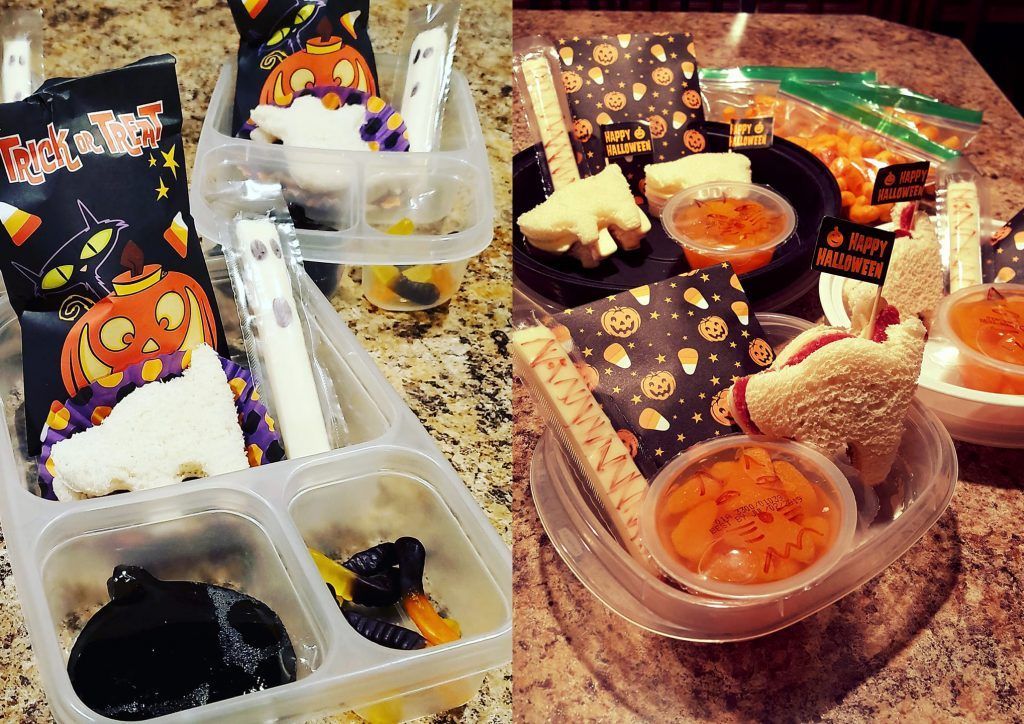 Packing a fun Halloween lunch for my kids at school is tradition. My kids love it so much! They honestly would be so sad if they opened up their lunch at school and didn't have that fun spooky surprise. Plus, their peers and teachers love it!
I have done this for them since they were little. It is such a fun tradition. I even do one for my husband!
Here are a few different things I have done the past few years:
Cut out bread with Halloween cookie cutters. Make cat, bat, ghost or pumpkin shaped sandwiches.
Use Halloween muffin cups to sit the sandwich on.
String cheese, you can take a permanent marker and draw a ghost face on the plastic part.
Make jello jigglers out of Halloween cookie cutters.
Plastic spiders, worms, and eyeballs are great just to add a touch when they open their lunch up.
Get pre-packaged mandarian oranges, and draw a jack o'lantern face with a permanent marker on the lid.
Halloween treat bags are perfect for goldfish, Cheez-Its or cheesies! (see the orange theme here?)
I love putting in fun Halloween candy, like gummy worms, gummy eyeballs, candy corn and foil wrapped pumpkin chocolates.
Get cute Halloween napkins.
Put cream cheese or peanut butter inside an inch-long piece of celery. Place a slivered almond at the end for a fingernail. It will look like a finger.
Peel a mandrian orange, and stick a tiny piece of celery in the top for the stem.
Cut cheese and tortilla shells out of halloween cookie cutters!
Place plastic vampire teeth in a donut! Eyes are optional. You can get the cute candy eyes in with all the sprinkles, or just use the backside of an M&M.
Take bread and cut out a circle from a sugar cookie cutter. Place eight pretzel sticks in the sandwich to make spider legs. I then used two chocolate chips for the eyes.
Another fun thing to do with bread is take a piece and cut zig zags all the way across the middle so it looks like teeth. I put ham in between the bread slices and let the zig zag piece open so you can see the ham in the middle. I put two pieces of pepperoni for the eyes, held with a cut toothpick, and have shredded lettuce coming out of the top of the sandwich for crazy hair.
Have fun with it. Get creative, and remember, this is something your kids or grandkids will never forget!