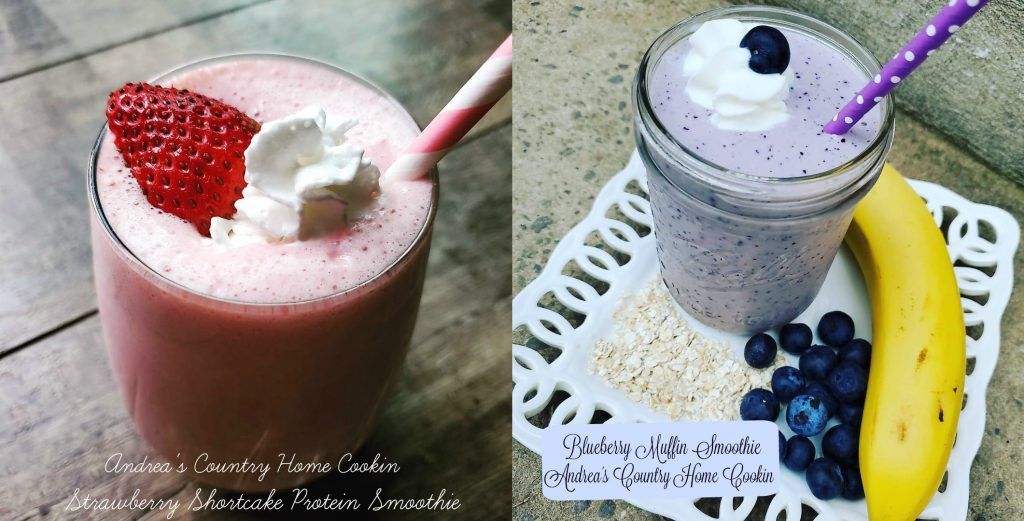 Are your mornings rush rush rush and no time to eat?
Breakfast smoothies are a great alternative to get a different flavor each day, and get your fruits, veggies and protein in before 9 a.m. I love them because they are so quick. I prepare bags of fruits in my freezer so they are ready to go when I need them.
Smoothies are also great for a midday snack if you are watching your weight, and also a healthy dessert if you are craving something sweet!
I want to share a few of my favorite smoothies with you for you to enjoy during your busy days.
Strawberry Shortcake Protein Shake
200 Calories and one of my favorites!
1 cup Unsweetened Almond Milk
1 cup Strawberries
1 tsp Vanilla Extract
1 scoop Lady Boss Lean Vanilla Cake
(Or vanilla protein powder)
1 cup ice
Mix in a blender and enjoy!
Peanut Butter Banana Vanilla Protein Shake
360 Calories for something this good!?
1 packet vanilla breakfast essential
2 Tbsp of PB2 (powdered peanut butter)
1 banana
1 cup milk
1 cup ice
Mix in a blender till smooth.
Blueberry Muffin Smoothie
320 Calories and Oh So Delicious!
1/2 cup milk (I used unsweetened vanilla almond milk)
1– 5oz Vanilla Greek yogurt (1 individual-sized container)
1/2 cup frozen blueberries
1 frozen banana slices
1/4 cup raw, uncooked quick oats
1/2 cup ice cubes
DIRECTIONS
Add ingredients to Nutribullet or mixer and blend till mixed. About a minute or so. Top with a dollop of cool whip or Reddi- Wip, sprinkle of oats and a blueberry. Enjoy your guilt free smoothie. 
Frozen Yogurt Birthday Cake Shake
A great dessert shake/smoothie!
1.5 Quarts of Frozen Yogurt
2 cups of milk (Give or take on how thick or thin you like your shakes!)
5 Tbsp. of confetti box cake mix
Mix all ingredients well in the mixer.
*Makes approx. (6 cups) of milk shake.*
Cooks Notes: To put sprinkles around the brim of your glass, simply put an inch of water into a bowl and dunk the top of your glass into the water. Then place the glass into a bowl of sprinkles and turn until sprinkles are stuck fast.
Banana Mango Green Smoothie
This is the perfect introduction to a green smoothie. The sweetness of the apple juice and bananas masks the taste of those greens!
1/2 medium banana
1 cup mango chunks, frozen
1/2 cup coconut water
1/2 cup apple juice, or fresh apple cider
2 handfuls fresh baby kale leaves
1 handful fresh baby spinach leaves
Caramel Peanut Butter Banana Oatmeal Protein Shake
425 calories for the whole batch!
1 frozen or ripe banana
⅓ cup quick oatmeal
1 Caramel Premier Protein Shake
2 Tbsp of PB2 (Powdered Peanut Butter)
Ice (About ⅔ cup)
Makes enough for two drinks.
Orange Julius
Because who doesn't love a traditional Orange Julius!?
1 (12 oz.) can frozen orange juice concentrate, partially thawed 
1 cup milk 
1 cup water  
¾ cup "pulp" orange juice (If you don't have this, you can still make it without) 
1/3 cup sugar 
 1 tsp. vanilla extract 
2 ½ cups ice cubes 
Put all your ingredients into the blender. I put the liquids in first, then the ice, because it seems to mix it up better. Poor into glasses and place in freezer about 20-30 minutes to chill. Slice oranges and place on rim for festive beverage. Enjoy this frosted treat!