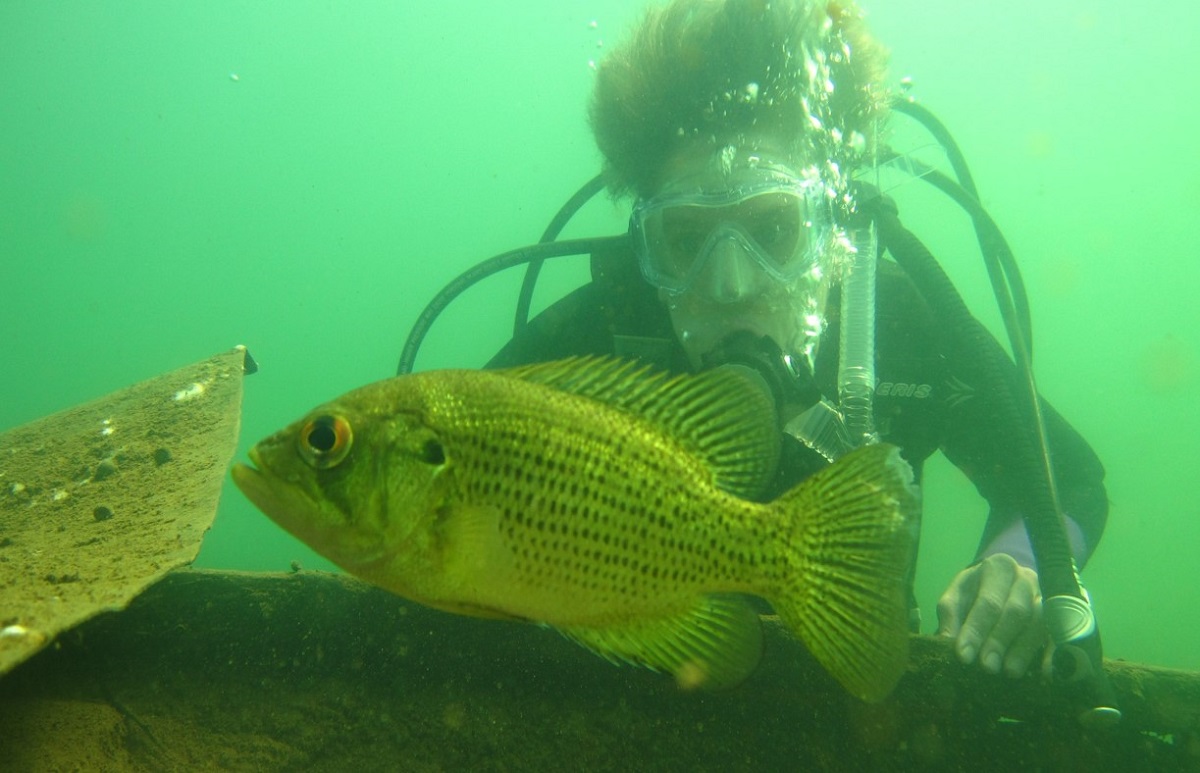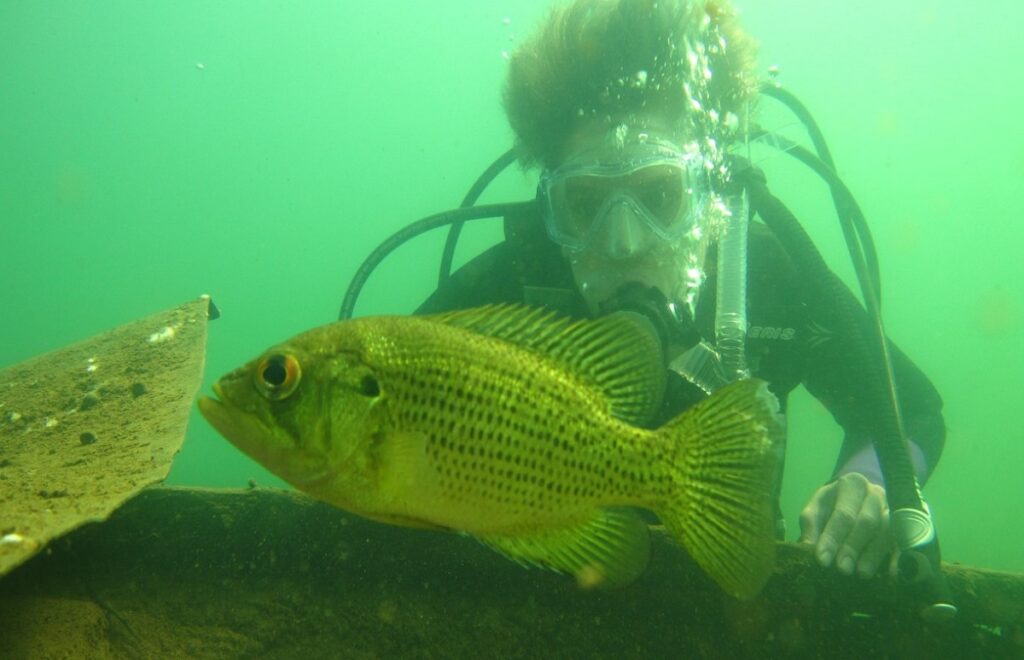 "I grew up snorkeling all over the greater Williamsport area," says Loyalsock High School graduate Gabe Cellini. "Some of my fondest memories are when my grandfather, brother and I would snorkel behind Bowman Field on Lycoming Creek. We would ride our bikes over in the morning with all of our snorkel gear, fishing rods, and lunch and spend the entire day there."
Perhaps the notion of a youth spent snorkeling in the Susquehanna Valley seems unlikely. But actually, a wide spectrum of underwater activities is available on area waterways; some involve two local shops that provide not only equipment but also service and training for year-round scuba-diving in Central PA.
Underwater wildlife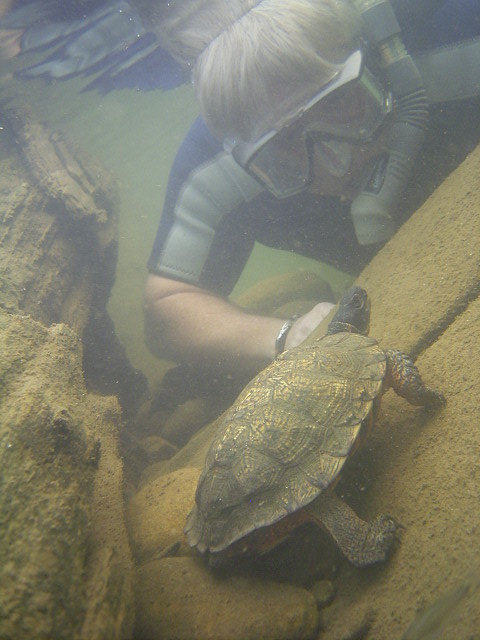 Local snorkelers and scuba-divers enjoy wildlife in and on the water; they dive at night and during winter; go "snorkel-fishing"; clean up tires and other waste; search competitively for pre-sunk "treasure"; and of course, they explore bottom-dwelling boats and lumber cribs—not to mention sunken trains.
Cellini, who lives and works locally after four years serving in the U.S. Marines, has observed "all types of fish, amphibians and crustaceans" in Loyalsock and Lycoming creeks—including catfish, turtles, waterfowl, muskrats, beavers and even otters.
"You'll also find crayfish, which I like to use for 'snorkel fishing,' " he said. "I attach one to a few feet of line, swim up to a structure, let the crayfish go and catch everything from rock bass to channel catfish. It's amazing to see how fish act in their natural environments, especially if you're an angler."
Cellini recommends waiting till summer when the water warms up—though "if you were really serious about it, you could purchase an insulated diving suit and start a little early."
But for that, you have to know what you're doing, and this is where the two local dive-shops come in.
Scuba shops
Sunken Treasure Scuba Center in Jersey Shore and A Water Odyssey Scuba in Williamsport both offer equipment, service, training and trips for beginners and experts alike.
Sunken Treasure is now in its 44th year under owner Rich Best, while A Water Odyssey, overseen by Frank Morrow and his wife, Lynn, has been in operation since 1965. Each offers scuba certification through PADI (the Professional Association of Diving Instructors)—along with sales, repair, rentals and refills.
Best, who was PADI instruction-certified in 1979, told On the PULSE that he tries to organize a dive "every other weekend, generally at Jay Street in Lock Haven." In addition, "We do two underwater cleanups each year, along with just picking up trash when we see it"—plus night-dives, underwater pumpkin-carving contests and even some forays with metal-detectors.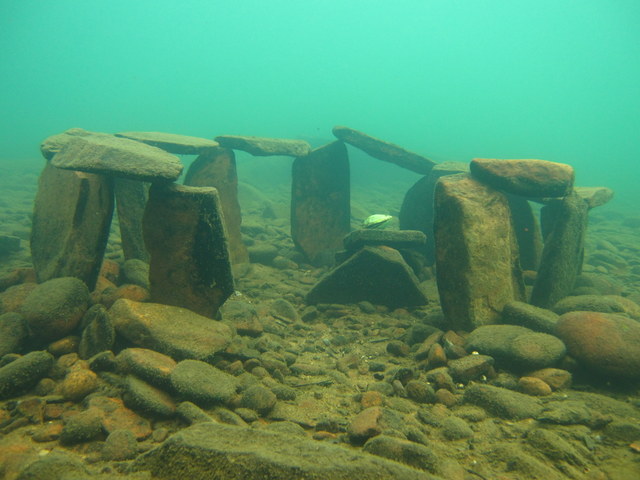 Best scuba spots
Meanwhile Morrow, with over 50 years' experience, was also certified to instruct in 1979. As with so many other lifelong divers, his interest in scuba stems from Jacques Cousteau, and he began diving as a youth in the Finger Lakes with his younger brother.
Locally, says Morrow, the water is rarely deeper than 25 feet. Nonetheless, "there are many places to explore the underwater world in Central PA. Loyalsock Creek, Lycoming Creek and the West Branch are open to exploration. Most divers dive the local area from May to October. Some limit their trips to warmer times of year, and a few enjoy diving beneath the ice in winter."
Morrow adds that in addition to these recreational activities, many local divers work tirelessly—and often voluntarily—to help locate submerged items for criminal investigations, and to recover drowning victims.
Loyalsock resident Al Almarzouqi, who has dived all over the world—and who got married underwater off Key Largo in 2001—points out that there is good public access at Lock Haven's Jay Street Bridge. He also recommends former train trestles along the Pine Creek Rail Trail—plus the so-called "Cannon Hole," a deep spot where Loyalsock Creek flows into the Susquehanna.
Almarzouqi likewise suggests the Arch Street Bridge, "where there are tons of old log cribs and also sunken parts of an old train. I have not done that dive in years, but in the summer, parts of that train would be visible from our boat."
Several other locals mentioned log cribs—large wooden structures that held logs together during downriver runs in the glory days of Central PA's bustling lumber industry.
"Many are still underwater from Lock Haven to Williamsport on the Susquehanna River," says Best. "They are massive to look at, attract a lot of fish and you just never know what you might find around them." For fans of underwater artifacts, Best points out that there's a sunken concrete barge on the north side of the Susquehanna about 200 yards below the Antlers Club in Williamsport; it is marked by a buoy.
The river also contains a sunken boat from the 19th century—but Sunken Treasure Scuba Center has sole permission to dive that site for historical purposes. Two other sources hinted at underwater limestone caverns in more distant Pennsylvania locales; but these can be dangerous, and no one wanted to give details.
Speaking of far-off dives, Dr. Frank Lynch, of Hershey, recalled exploring water-filled quarries near Dutch Springs and Bainbridge. These sites—carefully curated for divers—contain bulldozers, vans, airplanes, a trolley car and even a Sikorski helicopter. Though they are no longer open to the public, Morrow has a photo of his grandson at the controls of a submerged commercial airliner at Dutch Springs.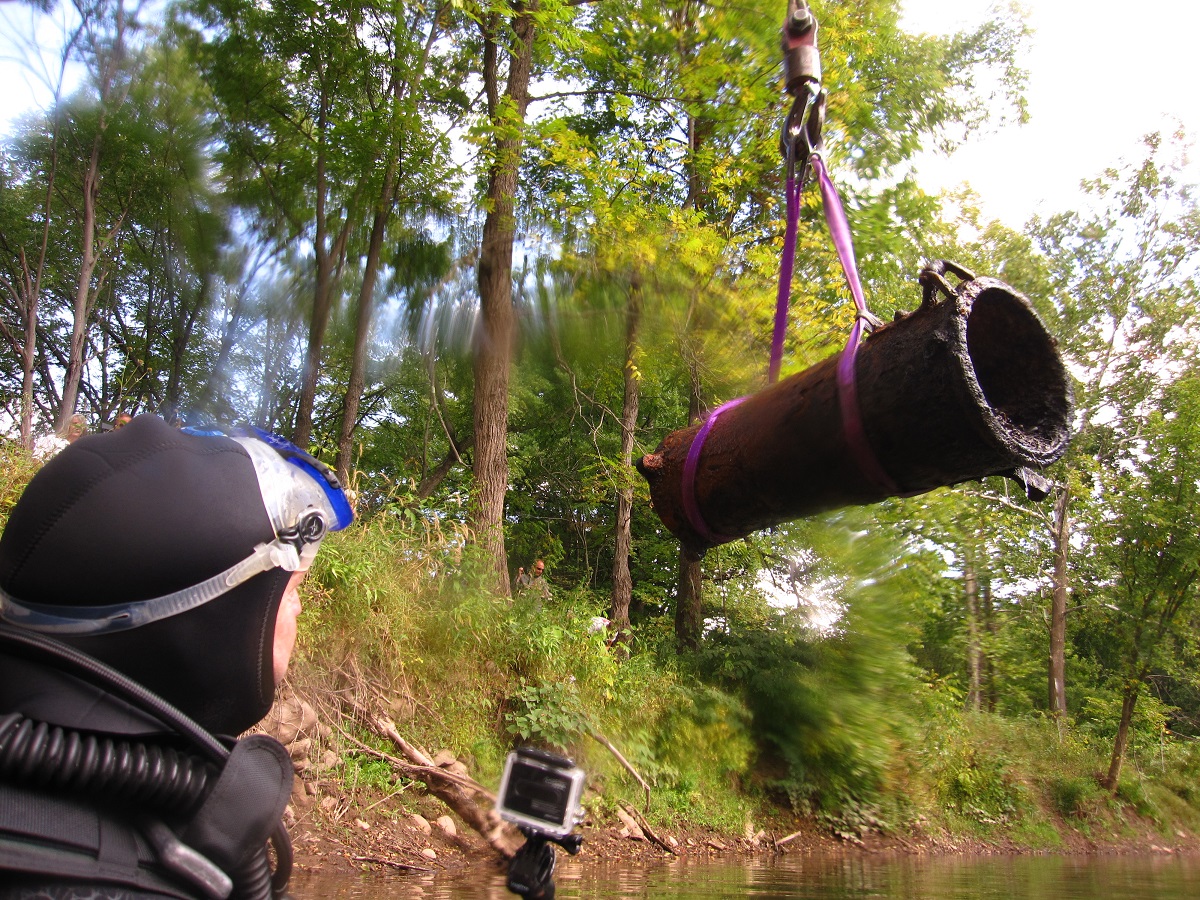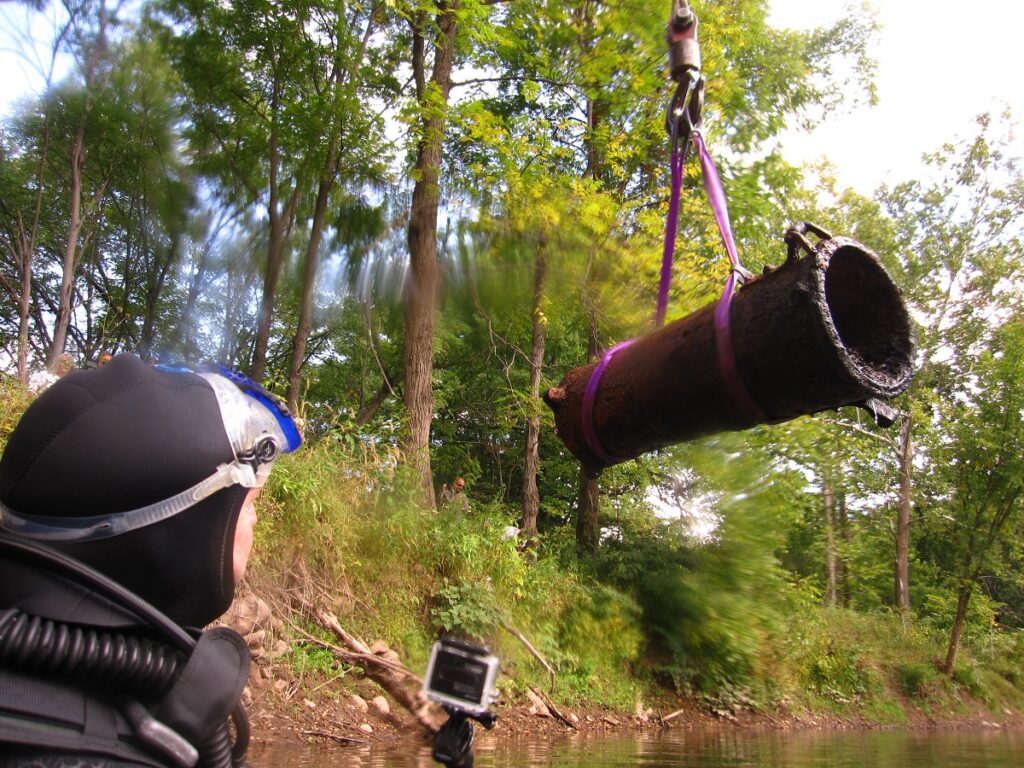 Exotic underwater finds
In July 2013, Dushore resident John Smithkors was scuba-diving in Loyalsock Creek when he came upon the remains of a steam locomotive that had been in the water for 108 years.
Exploring extant abutments from two long-gone bridges near Hillsgrove, Smithkors found the 40-inch smokestack from a Climax B steamer known as "the dinky in the drink," the engine's crew having gotten a bit overzealous while dismantling the bridge it was sitting on.
With help from local divers, conservationists, two high school classes and a couple of firms that donated time and equipment, the aging relic was carefully removed and cleaned, then transported to the Sullivan County Historical Society museum in Laporte, where it remains on display.
Closer to the Susquehanna, the water is not always clear enough for this sort of find. Best points out that due to boat traffic and seasonal conditions, visibility is strongest in the winter and on weekdays, rather than the more heavily traveled summer weekends. Cellini cautions that below the spillway near Wegmans, the Susquehanna itself "tends to be quite murky, so it's harder to snorkel enjoyably … but I've found a few places there as well."
Best also reflects on the improvement in water quality over the past several decades: "When I started diving in the seventies near Lock Haven, there was nothing alive in the water—so many streams were polluted due to mine acid.
"Now it's common to see large schools of bass in the area, along with trout, crappie, suckers, turtles, walleye, rock bass and blue gills. The other year the state put in over 22,000 freshwater American eels in the Lock Haven Basin. You might even get a peek at the strange-looking hellbender"—a large salamander which is docile and harmless despite its name and startling size (up to 30 inches).
Becoming a scuba diver
Several divers stress the importance of getting permission when entering the water from private property—and all are imperative about safety. This includes the buddy system, which means never diving alone, together with regular inspection of equipment. Morrow urges a "diver-down flag"—"so the boaters know where you are."
With the increasing number of recreational boats, Best reemphasizes that weekdays are the best choice for the busy Susquehanna; on weekends, creeks are both safer and less crowded.
Morrow adds that "you may not dive from the Fish Commission boat launches, but you can dive from a boat or the rest of the shore." For snorkelers, he recommends an inner tube as a base of operations: "It's a good place to rest on the surface and an important safety device."
"Respect what's underwater," observes Almarzouqi. "Watch for sharp metal objects or old nails on some of the cribs. Always have a dive flag. Get certified and join a local dive crew."
More information is available at the AWOS and STSC websites; but to conclude on a personal note: I've done scuba and snorkeling in distant lakes and ocean but never nearby. Having finalized this piece in May, I stood on the sunny banks of the Loyalsock looking at a stretch of knee-deep, tea-colored water and thinking, "I could snorkel there."
Any "buddies" game to join me?