On the PULSE is honored to announce the premiere of our documentary The Hidden Truth of Human Trafficking in Pennsylvania at 3 p.m. on March 18 at the Klump Academic Center Auditorium at the Pennsylvania College of Technology. 
The premier is free to the public and will include a screening of the documentary as well as a Q&A panel discussion with local experts in the fight against human trafficking as well as survivors of trafficking.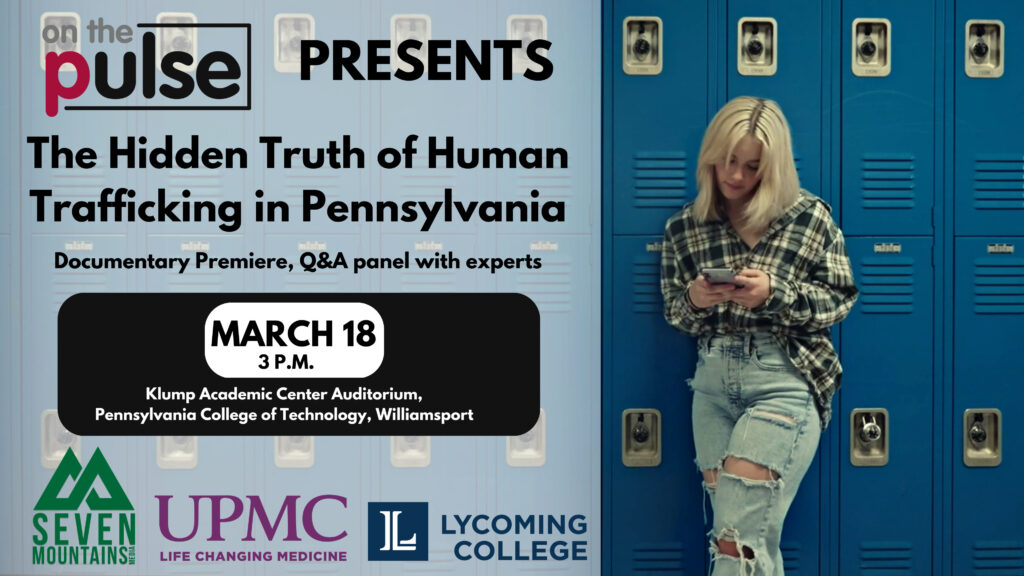 Through this documentary we will answer the following questions: What does human trafficking look like in small towns, rural regions and neighborhoodsPennsylvania? What can the public do to stop it?
For many, the trafficking of humans is not a concept associated with the local community. It's a big city or international problem that thrives within the world of the sex trade, drug traffickers, elite business tycoons and foreign drug lords.
It looks like women and young girls locked in cages or houses, pimped out to a different person every week, day or even hour. And while this is the cruel reality for many who are trafficked, it's not the whole story. The reality of human trafficking is much more sinister.
If we knew that the young girl next door to us is being trafficked to different men by her mother, would this horrify us more? 
This side of trafficking is lurking so deep within local communities that many victims never make it to the police to report the crimes against them. There are few statistics to show how wide the issue permeates, but victim advocates, trafficking survivors and law enforcement agree that trafficking can accor among families, friend groups or within relationships.
The truth is that people are not just trafficked by strangers who lure and abduct them on the street. It happens within their own home by people they should trust. And the painful reality is that these victims continue to live, work and suffer among us every day.