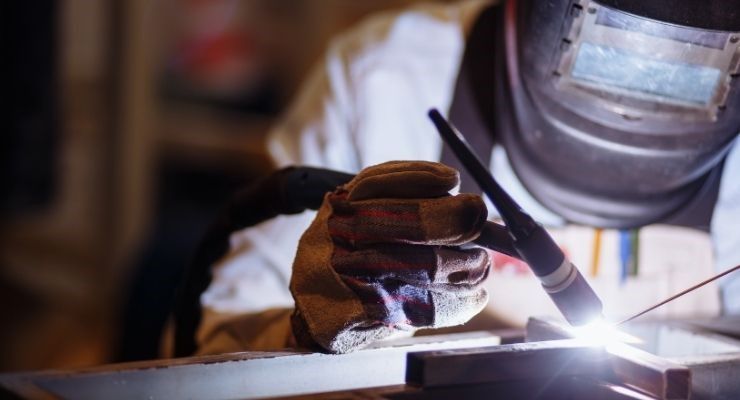 There are many safety precautions welders must take before each project due to the safety risks involved. One of the most common safety hazards that welders have to prevent is inhaling toxic fumes, gases and vapors created during the process. Each one of these three ways to prevent toxic fume inhalation while welding plays a big role in keeping welders safe on the job. 
Wear a Suitable Respirator
Welding helmets are crucial to wear during welds, but they won't totally protect you from toxic fumes. One of the best defensive measures to take against hazardous particles in the air is wearing a suitable respirator. There are multiple respirators on the market that are suitable for welders, some of which use filters to remove harmful chemicals from airflow, whereas others supply clean oxygen from an external source.
Whichever respirator you go with, take the time to research OSHA requirements to ensure you're choosing a respirator in accordance with the right safety standards. OSHA has strict guidelines in place regarding workplace respirators and some requirements vary between different types.
Use a Local Exhaust System
Aside from having a general ventilation system in place to provide the entire room with smooth, consistent airflow, you should also invest in a local exhaust system. Out of all the ways to prevent toxic fume inhalation while welding, local exhaust systems are arguably the best tool for the job.
Don't assume that means you can use one of these systems and remove your respirator. Using all three of these tips in tandem is what's important, not using one at a time. There are a variety of local exhaust systems you can use for welding, all of which sit near the source of the toxic fumes and extract them from the air before they can enter your breathing zone.  
Monitor Your Surroundings
While you're welding, a mechanical malfunction can occur, causing your ventilation equipment to breakdown or weaken. As a result, toxic fumes will begin accumulating around you. To avoid accidentally creating a harmful workspace, regularly monitor your surroundings during your weld.
We mean this responsibly, of course. If you're constantly welding without looking at the torch, you can wind up hurting yourself. Simply take some time every so often to look at your surroundings.
Not only will this help you spot toxic fume accumulation, but it will also help you keep an eye out for other hazards like fires too. If you ever notice toxic fumes building up all around, stop welding immediately and exit the welding zone. Then, you can safely find the issue, as well as a good solution so you can get back to welding responsibly as soon as possible. Toxic fumes, gases, and vapors are a major safety hazard to all welders. However, welders must prepare for a variety of other safety hazards as well, including but not limited to fires, burns, and electric shocks. Luckily, with the right preparation, welders can successfully minimize the chances of enduring harmful illnesses and injuries while completing projects.