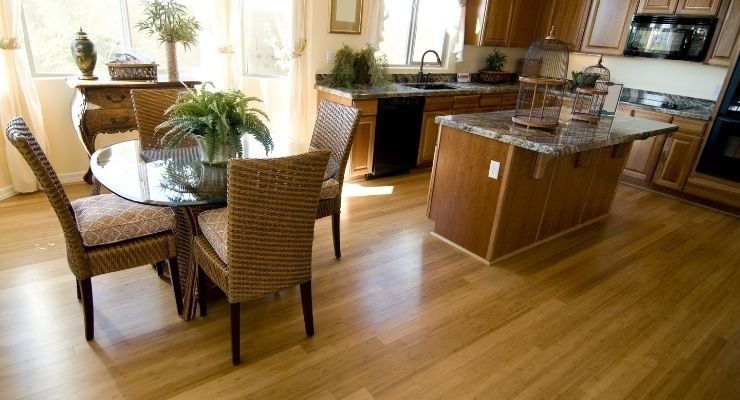 There's a variety of flooring options to consider if you want to update your home. The ages of your family members and the number of pets you own may be important factors to think about when you're considering these options.
Young children and pet accidents will be harder on certain flooring choices more than others. You'll also want to think about which rooms the flooring will be installed in and which options will be easier to repair if damage occurs.
Knowing what to account for when you're looking at the different ways to update your flooring and weighing the pros and cons between the options will help you make the right decision for your home and your circumstances.
Carpet
Carpeting is soft and plushy. If you have crawling children or an early walker, carpet will cushion their knees and falls. Carpet also absorbs sound and retains heat better than other flooring options. This leaves the room feeling warmer, mentally and physically.
However, carpet is made of fibrous material; therefore, it's never really 100% clean. Spills will seep in, and whether you can see the spot or not, the slightest trace will always remain. Additionally, bacteria, dirt, dust, and more can build up in carpet. If you damage an area of the carpet, you'll have to recarpet the entire room.
Vinyl
Vinyl is made of synthetic material, so it can be printed in many patterns. It has a clear layer of protection atop the printed design layer. Due to its makeup, it doesn't expand and contract with humidity and changing heat conditions. It's also water resistant, making it ideal for many rooms and for young families. It can come in planks, which allows you to easily replace damaged pieces. It's a solid-surface flooring, meaning it won't absorb anything you spill; instead, you can easily wipe it up, leaving no trace.
Some cons of vinyl flooring include the fact that it's made of synthetic material, making it less heat absorbent. This could be uncomfortable to the touch if you walk barefoot in colder months. Plus, the design is only a printed pattern; there isn't a trace of real hardwood. The synthetic material may make the floor feel cheaper in larger rooms.
Laminate
For people who want hardwood but don't have the budget for it, laminate is a great compromise. It's not necessarily hardwood, but it's made of wood material that has been turned into a pulp, so it reacts the way wood does. Laminate can be designed to closely resemble hardwood, so you'll be able to see details such as graining and textured characteristics. It's more moisture resistant than hardwood.
However, there are limits to the level of moisture this type of flooring can handle; if oversaturated, it can start to warp. Though this material is made of wood byproduct and warmer to the touch, it can change slightly with humidity over time.
Hardwood
Hardwood is classic, and buyers value it highly. It's warm, it's clean, and it's complimentary in most rooms. You can choose a stain that best fits your space and choose from unfinished or prefinished wood based on the time you have for installation and the look you're going for. Furthermore, if a plank gets damaged, you can replace it without compromising the entire floor.
Real wood, though, means great care. If spills and wet messes happen often in your home, there's a chance they could severely damage or warp your flooring. Wood is susceptible to temperature and humidity changes, and if you don't regulate the indoor temperature throughout the year, you may find negative deviations occurring.
There are advantages and disadvantages to all flooring options. Understanding the different ways to update your flooring based on what you need and on whether you'll want to sell later is essential. Consider all the options before making a decision, and remember that choices that leave little room for easy repairs may cost you more later.