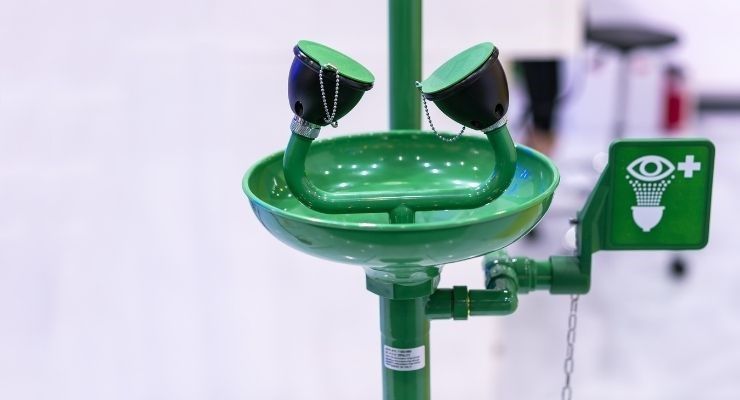 Laboratories are known for using many chemicals and substances for various purposes. Though many professionals work with these substances regularly, they can still be extremely hazardous.
Some may present dangers to a person's health from improper long-term exposure, while others could easily cause fires or explosions. That is why placing proper signage throughout laboratories is crucial. Learn what signage every lab should have by reading below.
Eye Wash and Safety Shower
Signage for all washing stations is absolutely necessary in any laboratory setting. With so many types of chemicals being handled, procured, and mixed, there are frequent risks to lab workers spilling hazardous substances on themselves or getting them in their eyes. This is why you must boldly label eye wash stations. The signage should be accessible from any part of the laboratory. Safety showers are another washing station that should be available with proper signage. Specific laws mandate that new installations should be placed as close to a potential hazard as possible.
No Open Flames
There are many pieces of equipment used in laboratories that produce open flames. Some of the most common examples include Bunsen burners, lighters, and matches. These all present a risk of creating serious fires, especially around different organic chemicals. Including safety signage for these items will ensure lab staff is aware of the potential dangers that could ensue should an open flame be left on.
First Aid Station
When wondering what signage every lab should have, indications of first aid kits are vital. Worksites of every type should have first aid kits available. These kits contain the standard materials and items to help anyone in case of injury. They should be routinely checked to make sure no items are missing and that all remedies are up to date.
Health and Biohazard
Health hazards in a lab setting may include carcinogens, respiratory sensitizers, reproductive toxins, aspiration toxins, target organ toxins, and mutagens. Signage that helps staff recognize these health hazards will make it easier for them to identify when they need to use the proper personal protective equipment (PPE). Biohazard signage is also incredibly important. These are often necessary in medical lab settings for fridges and freezers that contain blood samples and other biohazardous materials. Workers should always wear proper PPE and follow appropriate safety protocols when handling these substances.
Poisonous and Toxic Material
Signs displaying the symbol for toxic material should be present in areas where any poisonous chemicals and substances are also present. These include substances that staff could be exposed to through skin contact, inhalation, and ingestion. Not only should the containers holding these chemicals be marked, but if any of these substances are being discarded, they should display hazardous waste labeling and marking as well.
Explosive, Flammable, and Combustible Hazards
If any chemicals that have explosive properties are present, signage that displays the explosion symbol should be displayed clearly. Flammable and combustible marked signs need to be in clear view of anything that could ignite and burn in the air. Common materials to look out for of this nature are gases, aerosols, liquids, or solids.